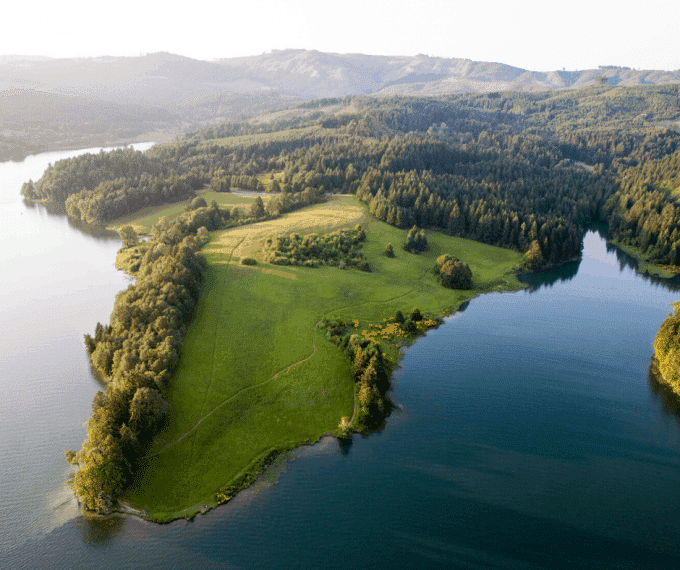 Can you believe we're talking about planning your RV travels for 2021? As we near the end of 2020, it's time to start planning ahead for those can't miss U.S. RV destinations.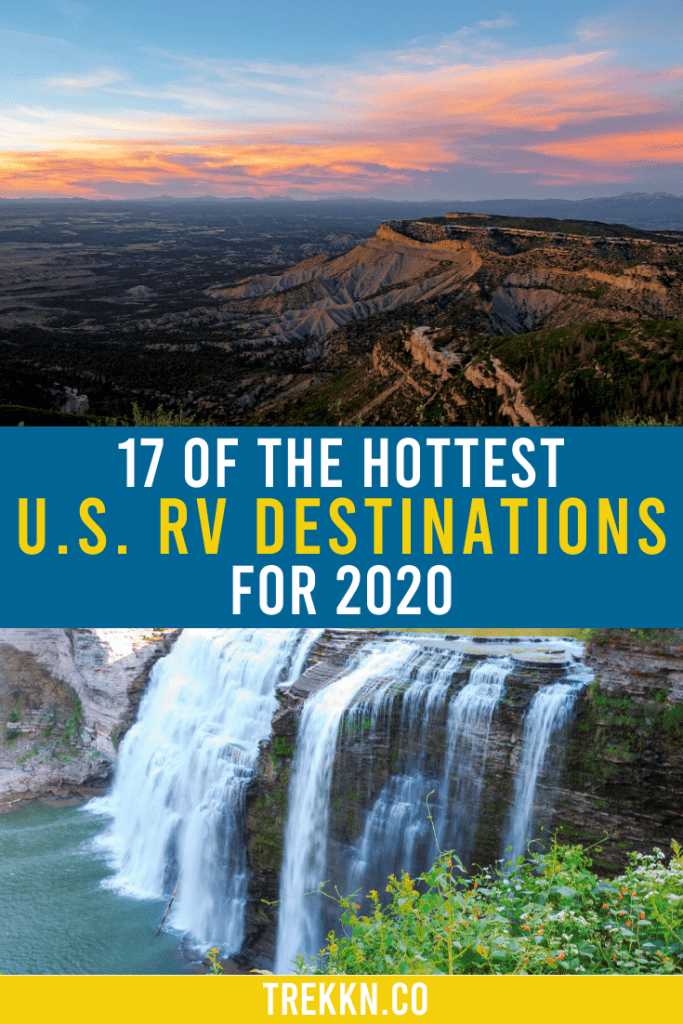 We have a feeling 2020 is going to be a big year for RVing and destinations across the U.S. have caught on to this fantastic way of travel, making sure their locations are not only RV-friendly but that they offer endless amounts of activities for every kind of RVer out there.
From Alaska to New York and a few places in between, we have quite the RV bucket list for you!
Alaska RV Destinations
Chugach State Park, Alaska
We can't mention RV bucket list destinations without giving a shout out to Alaska. While we haven't personally RV'd in Alaska (yet), we used to live there and our son worked for a boat tour company for the spring and summer in Seward, Alaska. He was also born in Anchorage. Needless to say, this destination means a lot to us.
If you're looking for a beautiful RV destination in close proximity to Anchorage, Chugach State Park has come highly recommended.
Chugach State Park is the nation's third-largest state park encompassing half a million acres of wilderness and is one of Alaska's most accessible outdoor recreation areas. From kayaking Ekultna Lake, berry picking in Arctic Valley or hiking by frozen waterfalls, the park has something for any type of adventurer.
This area is an RVer's dream as far as sightseeing goes. Heading south from Anchorage, travelers drive along scenic Turnagain Arm and can look for sheep at the pullouts, or scan the ocean for beluga whales. The Seward Highway is the ticket to day trip fishing adventures in communities like Whittier, Seward or Kenai.
After a day of exploring, visitors can park their RV at one of the multiple convenient and comfortable RV parks and campgrounds within city limits. Find more information on RV camping here.
California RV Destinations
Highway 395, California – Eastern Sierras
If you're looking for an unforgettable RV road trip experience in Calfornia, Reet & Julie Singh from Trip Outside have a fantastic recommendation:
"Taking an RV road trip down highway 395 is an unforgettable experience. This part of California is lesser-known and quieter, but no less majestic. It took us almost 4 months to make the 475-mile trip starting in Tahoe and ending in Joshua Tree National Park," says Singh.
"There are so many incredible places to camp, visit, hike, bike, and explore along the way.
As soon as you leave Tahoe, you enter a world of high desert, mountain peaks, winding roads, hot springs and historic towns. We loved spending time in the quaint Western towns of Lone Pine and Bishop, visiting some of the oldest trees on earth at the Bristlecone Pine Forest, soaking in hot springs near Mammoth Lakes, and scrambling over rocks in the extraterrestrial landscape of Alabama Hills.
Along the way, we camped among royal pines at the Glass Creek campground (free!) and between the rock formations at Alabama Hills BLM (also free!). This side of California is not to be missed," Singh shares.
Just reading Julie's description makes me want to pack up the RV and go ASAP.
Flying Flags RV Resort in Buellton, CA
Here's another California RVing destination to add to your travel plans. If you're looking for a resort to stay at that is a destination unto itself, Flying Flags RV Resort in Buellton, CA is it.
This RV resort offers two pools, bocce ball court, horseshoes area, sports field, and playground. Every Friday night guests can dine on a delicious Santa Maria-style BBQ dinner and live music plays on the patio on weekends, and daily in summer.
After having RV'd in Santa Barbara, we can verify that the weather is just about perfect for camping. It's warm enough to explore and get outside during the day and the nights are chilled just enough to sit by the fire. And Flying Flags has new wood-burning fire pits found throughout the resort for you to enjoy.
While you're there, be sure to get out and see everything Buellton has to offer.
You can feed ostriches and emus at Ostrichland USA or take a tour of the Mendenhall Museum, a personal collection of interesting gas station/automobile memorabilia and other antiques.
Does beer, wine or spirits catch your attention?
Buellton was the original craft beer destination on the Central Coast, with California beer aficionado favorites Firestone and Figueroa Mountain Brewing Co. calling the area home. The town is also home to the first distillery since prohibition in Santa Barbara County and a robust winemaking scene with tasting rooms throughout the city.
Todd and I had a chance to experience wines from the Santa Barbara Wine Country and they did not disappoint. For more information on what to do in Santa Barbara, as well as info on the Urban Wine Trail Pass, read our post here.
Colorado RV Destinations
The Views RV Park in Delores, CO
The great state of Colorado is an RVer's dream destination for beautiful mountains, near-perfect weather given its abundance of sunny days and a never-ending amount of outdoor activities.
Josh and Liz Smith from Peanuts or Pretzels, are RVer's based in Colorado and spent 3 months RV'ing the state. They stumbled across a newish RV park in Delores (just north of Cortez) in the southwest corner of Colorado called The Views.
"We were surprised by this RV park because it was so clean and some of the spots were huge. In fact, we were in spot 10 and had the most incredible view out over the valley – looking straight out over Cortez toward Mesa Verde. The park really lived up to its name," Smith shares.
For you National Park lovers who are working on checking them off your bucket list one by one, the nearby National Park is another fantastic reason to visit.
"That's what's also great about this park, Mesa Verde is an amazing National Park which we had never been to before. It was fascinating being able to go down and tour the ruins and discover the deep history of the area. This park is truly an archeological treasure that is overshadowed by other, more popular National Parks," says Smith.
Florida RV Destinations
The Florida Keys
If you haven't added the Florida Keys to your bucket list, do so right now. We visited the Keys in our travel trailer and not only is the drive there absolutely incredible but the RV parks are as well.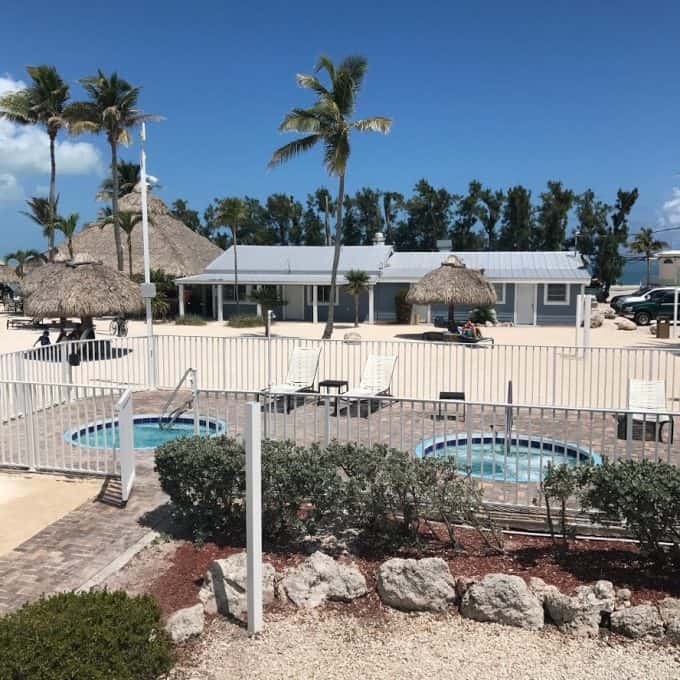 If you're looking for first-hand recommendations, we stayed at Fiesta Key RV Resort and really enjoyed our time there. It has everything you could want in a visit to the Keys and David Kosofsky from Go RV Rentals agrees.
He says, "We stayed at Fiesta Key RV resort which is a fine amenity-filled campground that accommodates big rigs 40ft and longer. The scenery is beautiful located right on the shores of the Gulf of Mexico. Of course, the Atlantic Ocean is on the other side of the road because the Keys are a fairly narrow strip of land at the southern tip of Florida."
Not only is the scenery absolutely stunning and the RV resort full of amenities, but there is no shortage of things to do. Fiesta Key RV Resort is in the perfect location for activities and sightseeing.
"Fishing starts a few steps from the camper and the sunsets in the morning and evening are to die for. This is a great place for scuba divers especially at John Pennekamp Coral Reef State Park in Key Largo," says Kosofsky.
For all of you National Park lovers, this is an incredible location to visit a few unique and memorable parks.
"And here it comes, the 'cherry on top Fiesta Key Resort is on Long Key which is about in the middle of the keys making it a convenient base camp for visiting three different National Parks located within a couple of hours drive. The Parks are Everglades NP, Dry Tortuga NP, and Biscayne National Park," shares Kosofsky.
Book a Stay at Fiesta Key Resort
Florida's Historic Coast
How does a Florida Coast RV trip sound? We spent about 6 weeks RVing in Florida and the coastal areas absolutely blew us away. Florida RV parks, in particular, were the cream of the crop as far as amenities, cleanliness, and friendliness of the RV community.
Florida's Historic Coast includes St. Augustine, Ponte Vedra and 42 miles of pristine beaches.
Along the coastline, there are a number of RV resorts and campgrounds that offer the perfect escape and get away for RVers.
From the 130 wooded sites at the beautiful Anastasia State Park to the 30-heavily wooded acres on a barrier island at North Beach Camp Resort, there are many options for an oceanside RV retreat.
If you're looking for some outdoor recreation on your trip, there are miles of water and currents flowing in every direction, making the St. Augustine outdoors one of the most kayak-friendly places in the U.S.
Plus, the fishing can't be beaten offering both saltwater and freshwater spots.
Visit
this link
to see all of the camping and RV Resorts located in this area.
Ginnie Springs, Florida
Have you ever heard of Ginnie Springs in Florida? According to RV Share, the first and largest peer-to-peer RV rental marketplace, this is the place for RVers to check out in 2021. They named it their top predicted RV destination in 2020.
What makes it so special?
RVshare's spokesperson Maddi Bourgerie says, "We combed our customer database to find the top reported destinations. While National Parks reign supreme as the most visited places across the country for RVers, Ginnie Springs in Florida snuck to the top of the list. This newcomer has seen extreme growth in interest by RVers and we can see why."
She continues, "Located northwest of Gainseville in Gilchrist County, Ginnie Springs has seven natural springs with crystal clear water and a five-star RV campsite, making it 2020's must-camp destination!"
Be sure to check out their entire 2020 RV trend report
here
.
Navarre Beach, Florida
How does an RV trip to a quiet Florida panhandle community known as "Florida's Most Relaxing Place" sound? If this sounds like the perfect escape to you, then add Navarre Beach in Florida to your 2021 travel plans.
Visitors will find uncrowded white sand beaches, crystal blue waters and a variety of low impact outdoor activities.
Choose your own laid back adventure from lounging on the banks of the Blackwater River and drifting in an inner tube along Coldwater Creek to strolling across the sands of the Gulf Islands National Seashore and watching the sunset from the Navarre Beach Fishing Pier.
Yes, please!
Here are a few RV parks you'll find in the area:
The Hideaway Retreat
Formerly known as the Magnolia Beach Campground, The Hideaway Retreat is under new management and owners but is still an amazing place to get away from the craziness of everyday life. Nestled under mature Oak and Magnolia trees, TheHideaway is where you go to reconnect with nature and one another the old-fashioned way — face to face. This campground features both RV and tent sites, allowing you to camp however you want.
Location: 9807 Navarre Pkwy, Navarre, FL 32566
Santa Rosa RV Resort
Kickback, relax and enjoy the first-class amenities at this beautiful property ideally situated beside the Santa Rosa Sound. The resort has recently installed a heated waterfront pool, a 3,000+ sq. ft. outdoor gathering area and fire pit,a fenced-in dog park, plus upgraded Wi-Fi equipment. Guests also enjoy nearly a quarter-mile of private sound side beach, which makes staking out a secluded sunbathing spot even simpler.
Location: 8315 Navarre Pkwy, Navarre, FL32566
Escribano Point Camping
Let's get primitive! Pitch a tent at Escribano Point's tranquil Bayside and Bayoucampgrounds, which provide excellent scenery and easy coastal access as well as portable toilets, fire rings, and picnic tables. Bayside is open to tents, campers or small RVs and provides a sandy shoreline and views of the shallow bay. Bayou is only open to tents and overlooks the wild salt marshes of FundyBayou, a tidal creek that connects with Blackwater Bay. All campers at both sites must obtain a (free) permit.
Location: Grassy Point Rd, Navarre, FL 32566
Georgia RV Destinations
Tybee Island, Georgia
When we were planning our trip east in our RV, Tybee Island, Georgia was high on my list of must-visit places. I had heard so many good things about this little beach town and our trip there did not disappoint.
We only had one day there which I wrote about here and this definitely was not a long enough stay. Needless to say, we'll be back!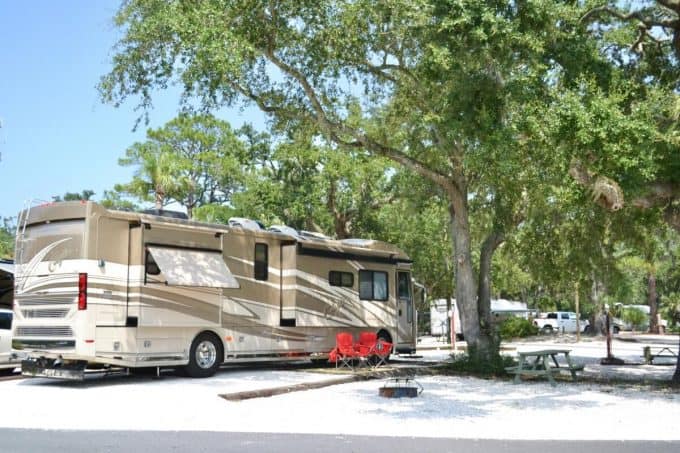 One thing you may not know about Tybee Island is that it's a fantastic camping destination. Tybee Island is home to River's End Campground & RV Park, so visitors can get the best of both worlds by camping and also having access to a beach. This RV park offers a unique lodging experience for those looking to stay a little closer to nature.
Visit Tybee shares six reasons why your next RV destination experience should be on Tybee Island:
Shady RV Stations: No one likes a shady beach but everyone loves a shady campground! For those traveling by recreational vehicle, River's End Campground offers a variety of full hookup sites. Grand live oaks grace the campground creating an ideal outdoor environment to sit back and relax under the tree canopy.
Cozy Cabins: No RV? No problem! River's End offers a comfortable alternative for those looking for cozy accommodations.
Amazing Amenities: When you're done exploring everything Tybee Island has to offer, rest easy knowing that you'll have everything you need at your fingertips. Meet new friends at the community pavilion for a cookout or game of cards. Pick up a few necessities at the campground shop or simply relax in a hammock and use the complimentary WiFi. There are even several private bathhouses on site! From a fully-equipped fitness center to the 24-hour laundry room, you'll have the comforts of home that you love while traveling.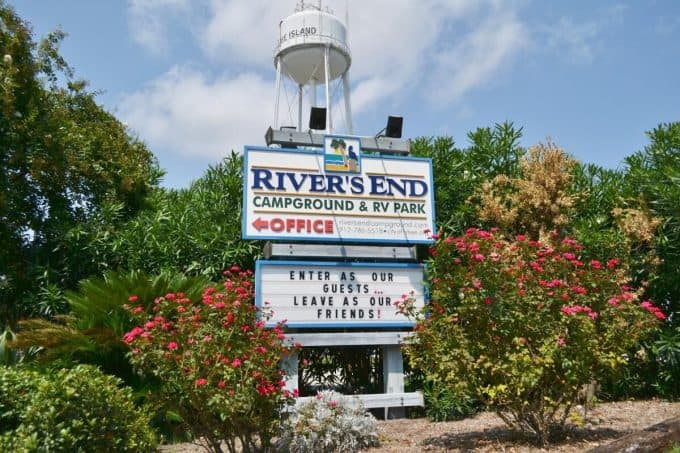 Take a Dip: While Tybee's North Beach is located just minutes from the campground, don't let that stop you from taking a dip in the island's largest swimming pool. Recently renovated, this refreshing watering hole is perfect for campers looking to skip the sand and splash around.
Minutes from Island Attractions: Tybee Island's North Beach community is home to one of the island's quietest stretches of beach and historic attractions – including the Tybee Island Museum and the Tybee Island Lighthouse, Georgia's oldest and tallest light station. Early morning risers can go shell searching during low tide then enjoy an afternoon of shopping at the Shoppes at 1207 before catching a show at the Tybee Post Theatre. With so much surrounding the campground, you'll have easy access to plenty of iconic Tybee spots.
Located in the Most Desirable State: One of the best parts about visiting River's End is that it is located within the state of Georgia. Tybee Island is just 20 minutes from historic Downtown Savannah and is the closest beach to the state's capital, Atlanta, just four hours away
Delaware RV Destinations
Delaware Shore and Southern New Jersey – By Way of the Cape May-Lewes Ferry
If you're looking for a unique RVing and outdoor experience, here's one you may not have heard of or considered. The Delaware Shore and Southern New Jersey – by way of the Cape May-Lewes Ferry.
Andrew Baird from Cape May-Lewes Ferry shares what makes this trip unique:
"The unique opportunity about this location is you can bring your van, RV, truck, bikes, etc on the Cape May-Lewes Ferry, which crosses the Delaware Bay and allows you to experience campgrounds throughout South Jersey and along the Jersey Shore as well. The Beachcomber Camping Resort is great for tents, parking your RV, or renting a cottage and accessing boat rentals, an arcade and three pool complexes among many other amenities. Not to mention it's nearby Cape May, NJ – one of the most family-friendly shore towns along the East Coast. "
If you love the outdoors, Delaware's top state park is a must-visit location.
"Cape Henlopen State Park is rated Delaware's top state park offering more than 7,000 acres of coastal environment and history. Visitors can bike through sand dunes, swim in the ocean, fish from the bayside pier, birdwatch along the salt marshes, horseback ride and tour Fort Miles, a WWII military base. Set up camp for the night at the newly renovated campground that offers a variety of accommodations, and make sure to bring a bike as the trail system in the Park connects with and provides easy access to nearby Rehoboth Beach, DE," shares Baird.
New York RV Destinations
Finger Lakes
In time for 2020's 100th anniversary of the 19th Amendment granting women the right to vote, the Finger Lakes region will celebrate its role as the birthplace of women's rights with its new "100 Ways to Celebrate Women's Empowerment" list, which can be checked off seamlessly by RV.
The following four campgrounds can be used by RV travelers, who may also see the related women-focused spots and add even more monumental attractions from the "100 Ways" to enhance the journeys between!
– Stop 1: Travelers can start at the "Grand Canyon of the East" at Letchworth State Park, where they'll set up camp for the night right off the famous Genesee River, a short distance from the cliff-surrounded, 100-foot Middle Falls. The Park is also located close to the former home of American Red Cross founder Clara Barton and the home-turned-museum of suffragist Susan B. Anthony less than one hour away in Rochester, NY.
– Stop 2: The next campground stop is on the lakefront hilltops of Cayuga Lake State Park, an eight-minute drive from the location of the first, 1848 Women's Rights Convention in Seneca Falls and the new home of the National Women's Hall of Fame.
– Stop 3: Next, RV'ers can traverse to Watkins Glen State Park, voted one of the country's most beautiful state parks that sits close to a female-led culinary tour of Ithaca, female glassblowers showcasing demonstrations at the Corning Museum of Glass, and Elmira College, the nation's first college to grant a degree to women equal to that of a man..
– Stop 4: As a final stop, Fillmore Glenn State Park is nestled among dense woods on the Owasco Lake inlet, and is within a half-hour's drive from the new Equal Right Heritage Center in Auburn, the last home of Harriet Tubman, and the Howland Stone Store Museum in Aurora, where visitors will find a cabinet of curiosities that includes a piece of Susan B. Anthony's 78th birthday cake (1898).
Info provided by Finger Lakes Regional Tourism Council
Nevada RV Destinations
Nevada RV Road Trip – The Great Basin Highway
There are a number of reasons Nevada is well-loved by RVers. It could be the weather, the abundance of things to do or the fact that it's called the "Road Trip Capital of the USA."
Travel Nevada offers some fantastic information on 10 branded road trips for every kind of adventurer.
One of these road trips that are perfect for RVers, is The Great Basin Highway. Here's why:
Leg 1: Drive from Las Vegas to Valley of Fire State park, where you'll learn about geologic and natural history, explore trails through area canyons and ancient rock formations, and even view ancient petroglyphs! RVs can stay at Atlatl Rock Campground, which offers solitude and stunning scenery.
Leg 2/Leg 3: See migratory birds at Pahranagat National Wildlife Refuge, look for the fossilized remains of trilobites at Oak Springs Summit Trilobite Area, and check out rosebud-lined streets in Caliente. Spend the night in Kershaw-Ryan State Park, which offers a trail with "gorge-ous" views, a spring-fed pool, and lush gardens. Don't miss Cathedral Gorge State Park nearby, which features cave-like formations and cathedral-like spires resulting from geologic processes tens of millions of years ago.
Leg 4: Check out enormous (30 feet high by 27 feet wide!) 19th-century charcoal ovens at Ward Charcoal Ovens State Historic Park, fish for brown trout at Cave Lake State Park, and stroll downtown Ely. Don't miss Garnet Hill just 4 miles west of Ely, where you can search for 2-carat-sized gems. Places to overnight include KOA of Ely and more – see here.
Leg 5: You're almost at the grand finale: Great Basin National Park. You'll see aspen groves; stalactites, stalagmites and over 300 shield formations in Lehman Caves. It's also an amateur astronomer's dream, with the darkest skies in the continental U.S.Lower Lehman Creek Campground offers pull-through sites for RVs and trailers.
Ohio RV Destinations
Hocking Hills
The perfect place for RVers and nature enthusiasts is Hocking Hills, tucked away in Southeast Ohio.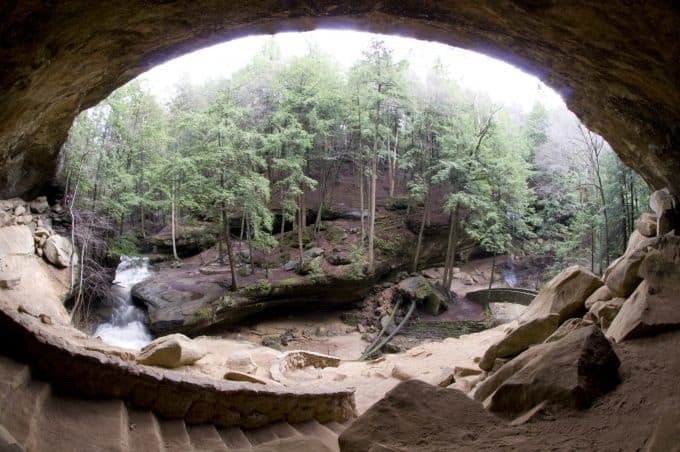 Nature lovers can check out the acres upon acres of scenic hiking trails to wander, dozens of idyllic waterfalls to transfix them, along with massive caves to explore.
For campers and RVers, this Ohio location features over a dozen beautiful camping grounds to enjoy. The drive to this undiscovered gem is picture-perfect. The scenery along the drive provides a canvas of tall trees that stretch for miles, open plains and never-ending skies giving a sense of stress-free freedom.
Are you looking for an adventure?
The Hocking Hills Canopy Tour is always a visitor favorite. The zips take guests over the Hocking River, wildlife, through the trees, over recessed caves and more. The full Canopy Tour lasts about 3 hours but there is also the option of the Super Zip and Night Flight.
Hocking Hills also has something for RV and Airstream enthusiasts.
For an unconventional type of camping, Hocking Hills annual holds the Urban Air: Wake Up Downtown, where 75 iconic Airstream travel trailers from all across the nation line six block of the historic downtown. Logan's typically peaceful town square will be transformed into a buzzy pedestrian mall, inviting festival-goers to wander among the Airstreams, meeting their interesting and well-traveled owners, as they learn about these offbeat trailers and the fascinating folks behind the wheel. Below is a press release with further information.
Image and info provided by Explore Hocking Hills
Oregon RV Destinations
Tualatin Valley
Oregon is definitely on the top of our list of best places to RV. It has something for everyone from beautiful coastlines and gorgeous mountains to an active wine, beer, and food scene.
One place that offers natural beauty, numerous celebrated wineries, a bustling culinary scene, and countless outdoor activities is Tualatin Valley.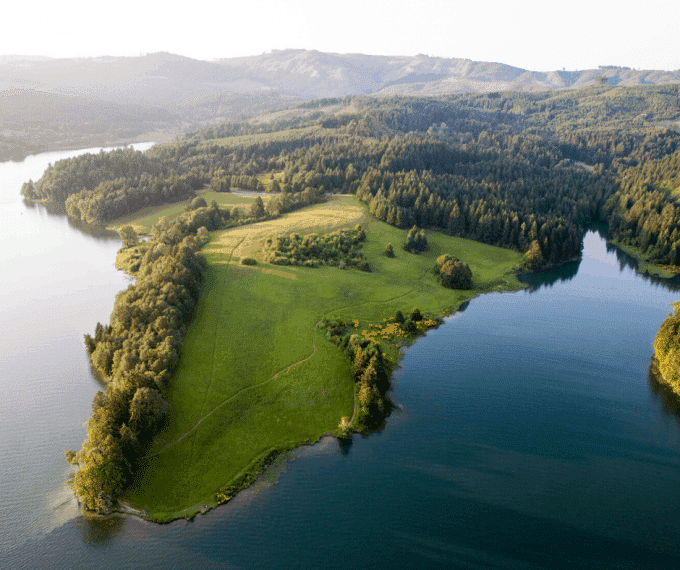 This Oregon destination is minutes from Portland for those of you who want a taste of the city.
Tualatin Valley is also home to three RV parks:
– L.L. Stub Stewart State Park: Complete with full hook-ups, the park also has a designated full-service horse camp area with 16 campsites at Hares Canyon. Spend their days exploring and adventuring across 1,800 acres of rolling hills, forest glades, gleaming streams and wildflowers, all crisscrossed with over 25 miles of trails.
– Roamers Rest RV Park: Minutes from wine country, shopping and golfing, and located along the Tualatin River, Roamers Rest RV Park is a 93-site RV park with full-service hook-ups, cable TV and wireless Internet access.
– Pheasant Ridge RV Resort: Conveniently located near shopping, entertainment and restaurants, Pheasant Ridge RV Resort offers propane, cable TV, and an indoor pool and spa.
Another thing this location offers that we learned becomes crucial on RV trips are dump stations and Tualatin Valley is home to five of them: Texaco, Olinger RV, Rock Creek Station, Durham Station, and Forest Grove Elks Lodge.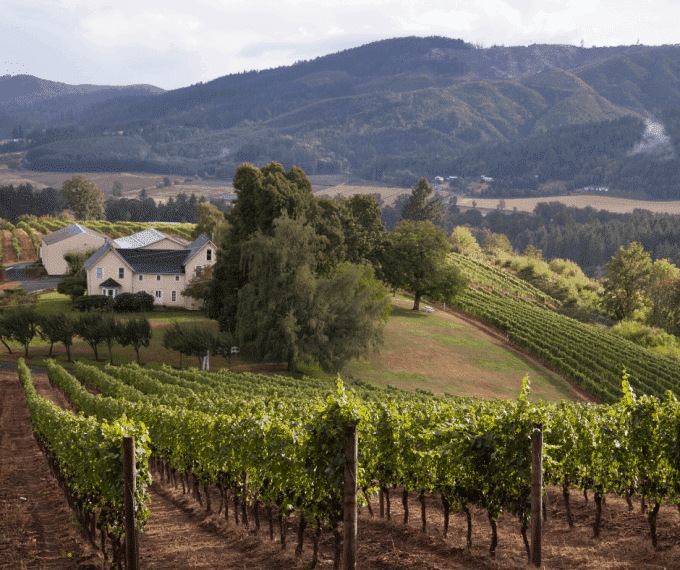 For RVers who love wine, you can choose from their more than 32 wineries, as well as stroll through the farmer's markets.
Click here for more info on Tualatin Valley
Images and info provided by: Katie Schoen, Tualatin Valley
Tennesse RV Destinations
Bristol, TN-VA The Birthplace of Country Music
I don't know about you, but whenever I think about country music, I think of Nashville. But did you know there's only one place designated by Congress as the "birthplace of country music?"
It's true and that place is Bristol, Tennessee-Virginia, a little town located farther east and split down the middle by the state line.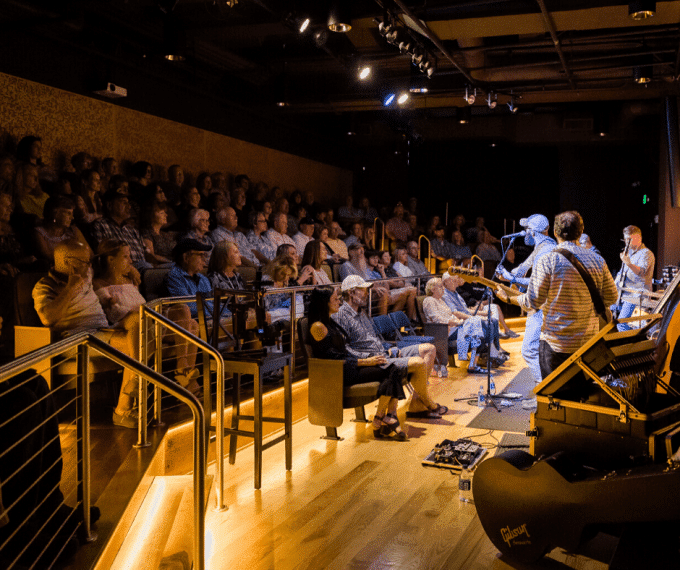 Why should 2020 be the year RVers discover this gem of a place? Three words: music, racing, and mountains.
*Be sure to check dates and cancellations for 2021*
From September 10-19, 2020 the twin cities of Bristol will host mega-huge "Rhythm & Racing" events that encompass the 20th anniversary of the award-winning Bristol Rhythm & Roots Reunion music festival (lineup TBA Dec. 13), three NASCAR races at the world's fastest half-mile, and a ton of events in between. This is the perfect opportunity for RV campers to experience the music and racing culture of the region as well as its natural beauty.
As far as RV parks go, Bristol is conveniently located near a KOA, and there are several RV campgrounds around Bristol Motor Speedway. There's also RV camping at nearby Shadrack Campground, Lakeview RV Park, Lake Retreat, Sugar Hollow Park, and sites in the Cherokee National Forest on South Holston Lake at Little Oak Campground and Observation Knob.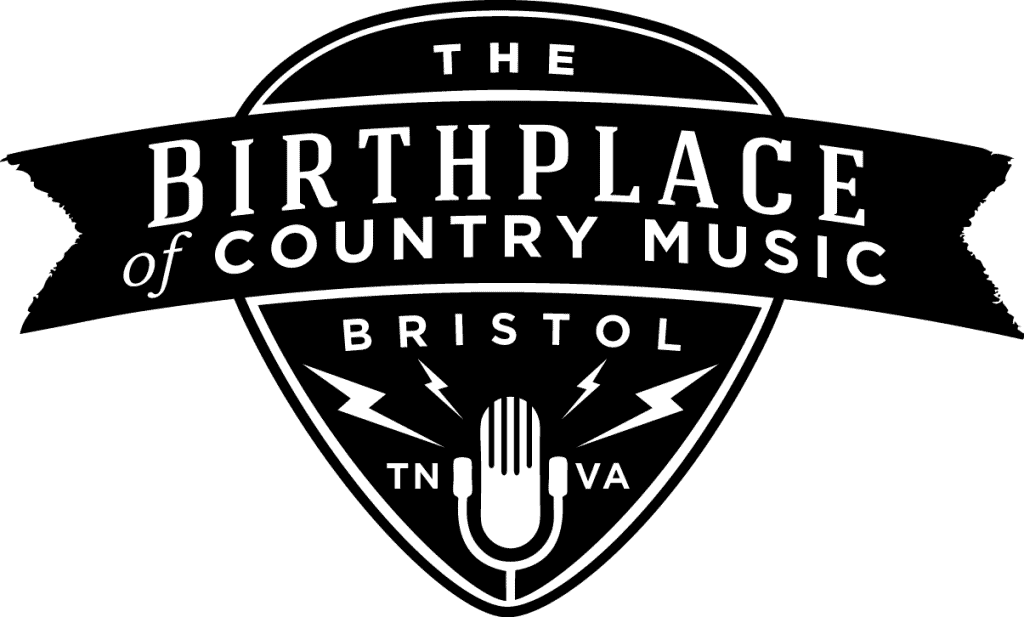 Image and assets provided by: Charlene Tipton Baker | Marketing Specialist, Communications | Birthplace of Country Music
Texas RV Destinations
Bastrop, TX
If you're looking for an authentic Texas experience, look no further than Bastrop, a great RV destination that provides families with a down-to-Earth experience of Texas hospitality.
Bastrop is located just 30 miles southeast of Austin, making it a convenient Texas destination.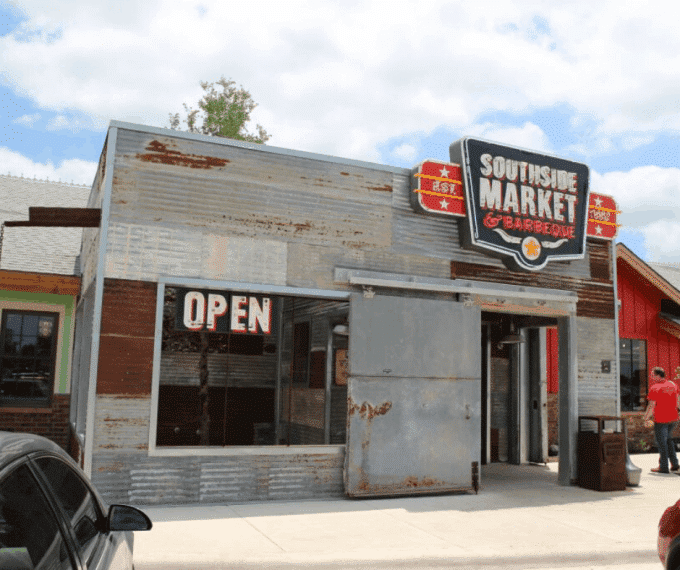 An RV trip just to taste some good 'ol Texas BBQ is well worth it and Bastrop just so happens to be home to world-famous BBQ. You can even eat it at the gas station from the Texas Chainsaw Massacre.
It's also home to 130+ historic buildings, a historic Bastrop Opera House where you can catch a Broadway show for off-Broadway prices and lots of outdoor activity options like canoeing, kayaking, hiking and more.
Bastrop State Park, known for its loblolly trees, is a great site to park your RV and offers free fishing gear.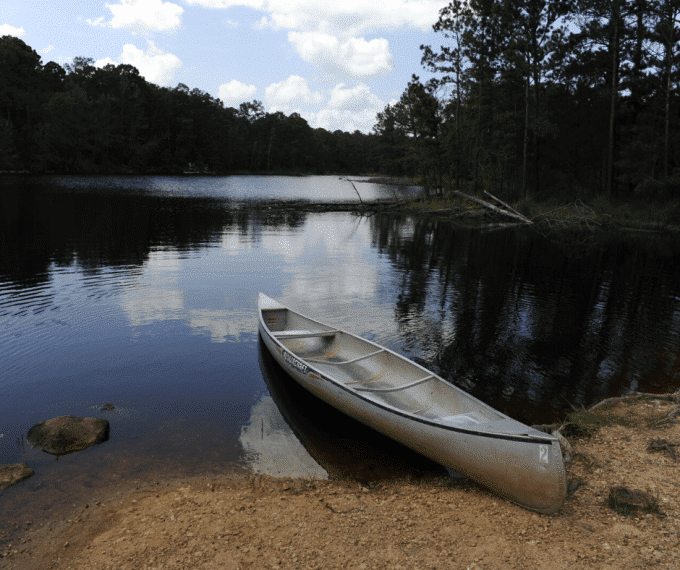 Click here for more info on Bastrop, TX
Images and info provided by: Visit Bastrop
Washington RV Destinations
South Beach Campground in Washington State
If you're on the hunt for a campground conveniently located near gorgeous beaches and stunning hiking routes, Sasha Yanshin from LazyTrips.com has just the place for you.
Here's why South Beach Campground in Washington State stood out to Yanshin:
"The campground sits just off Highway 101 and you can park your RV right on the edge of the ridge that falls down to a gorgeous beach that stretches all the way to the horizon.
The setting, just off the Olympic National Park means there you are just minutes from some of the most beautiful hiking routes in the entire country.
In the morning, you will wake up to the gentle muttering of the ocean waves as they roll onto the beach below and into the driftwood that lines the coastline.
The view from your RV will be a panorama of the deep blue pacific waters and if you're lucky or come in May, you might see migrating whales making their way up to Alaska. That's right – you can watch whales (and seals, dolphins and orcas) with your morning cup of coffee right from your RV.
There are only 55 sites costing $15 a night and you can't book ahead so get there early as they are allocated on a first-come, first-served basis. The site is only open during the summer months starting from mid-May."
And that's a wrap! Did any of these hot RV destinations catch your eye? Let us know where you're planning on traveling in 2020.
PIN THIS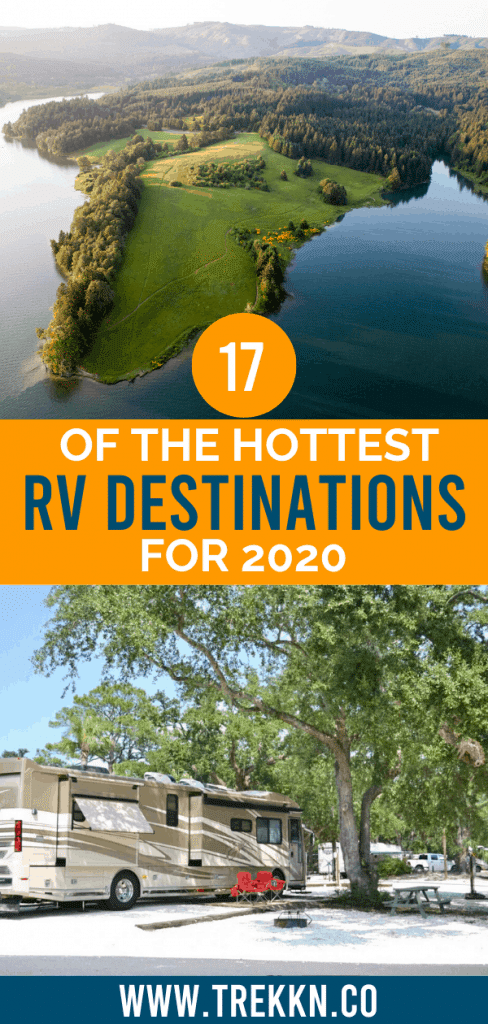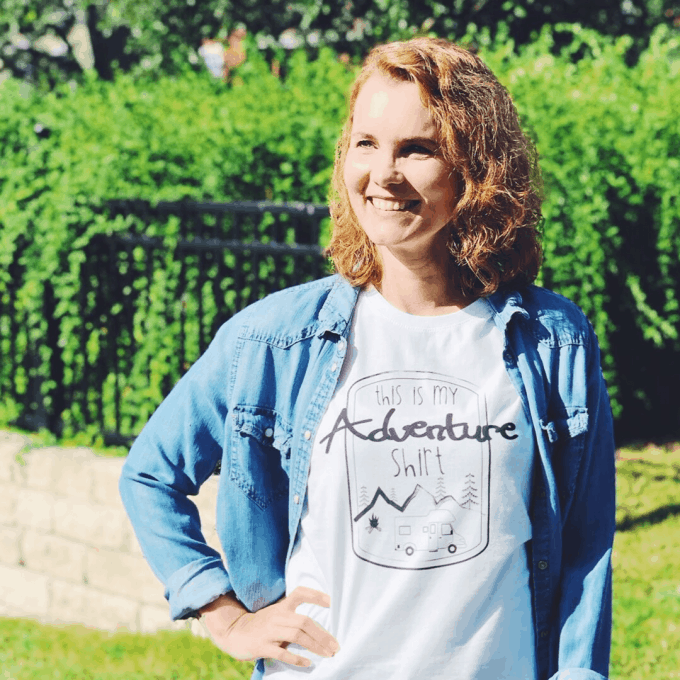 Julie Bonner is one-half of the TREKKN team. She specializes in helping you whip up delicious meals in your tiny RV kitchen, as well as RV organization tips and helping fellow RVers make their RV feel like home. Her favorite RVing spot is in Banff National Park in Canada where yes, the water really is that blue and the people really are that nice.