2020 Keystone Montana High Country 295RL Fifth Wheel: Everything You Need to Know

Julie and I recently got the chance to get inside the 2020 Keystone Montana High Country 295RL fifth wheel at Crestview RV in Georgetown. After exploring every nook and cranny, gathering every spec and every detail (and taking ALL the pictures) we are now ready to share with you everything you need to know.
Our hope is this will help you decide whether this rig might just be right for your RVing adventures.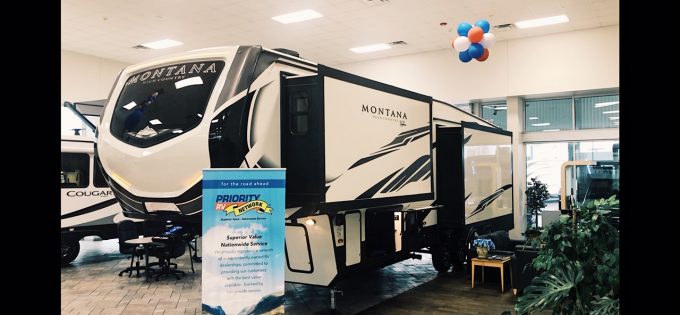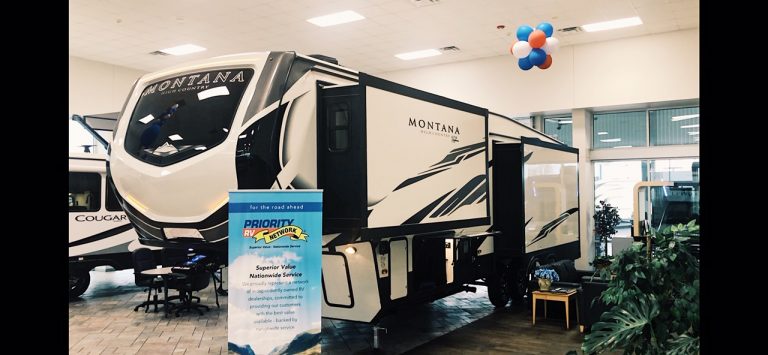 *Note: The MSRP on this particular fifth wheel, with all added options, is over $71,000. As of the writing of this post, it is being offered at Crestview RV for a "no haggle" price of $49,995. So if you are interested, give them a call!*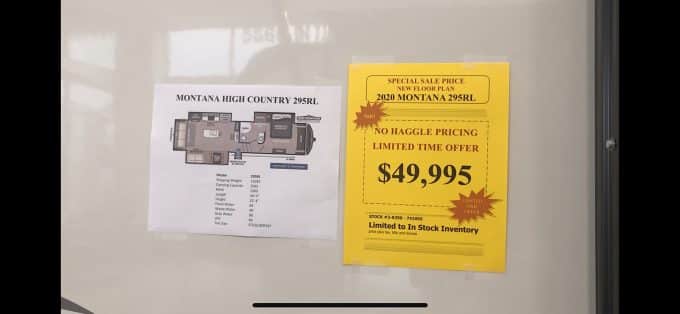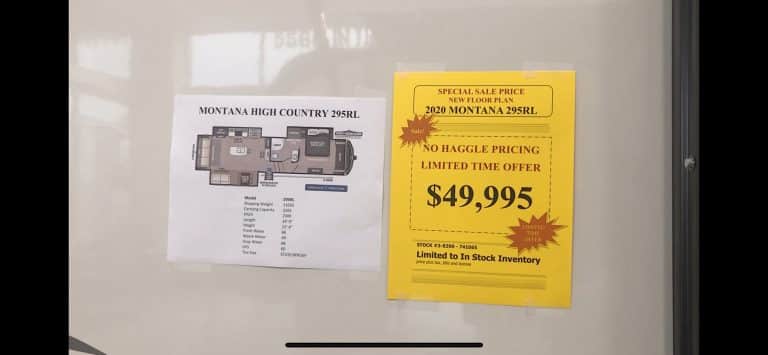 Previously, we featured another Montana model: the 3561RL fifth wheel. We had plenty of good things to say about that larger model, but we really think you are going to like many of the features and benefits of this smaller 29 foot model as well.
I will try to cover everything you could possibly need to know, but if I miss something then please chime in below in the comments and let us know what you need. We will do our best to help you out and track down the right information. And with that…let's jump in!
Keystone Montana High Country 295RL Fifth Wheel: Everything You Need to Know
In case you weren't aware, the Keystone Montana family of fifth wheels has been the best-selling fifth wheel on the market for a number of years. That doesn't happen by accident. Have people ever had issues with them? Of course, it's an RV.
There's not an RV on the road that hasn't had its share of issues. But dollar for dollar, I think you will have a hard time finding the features and quality of the Montana in another fifth wheel brand.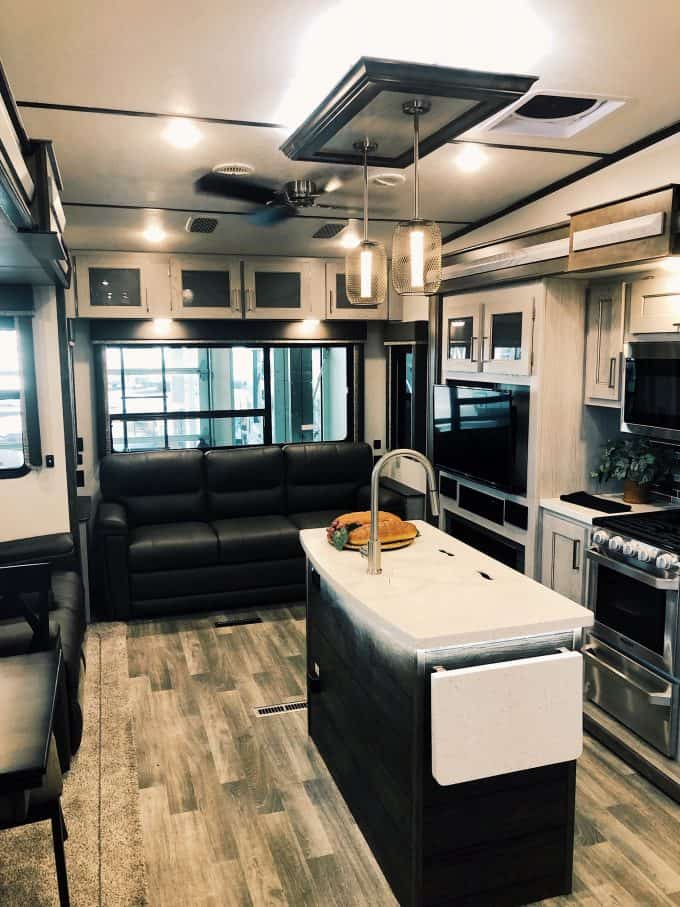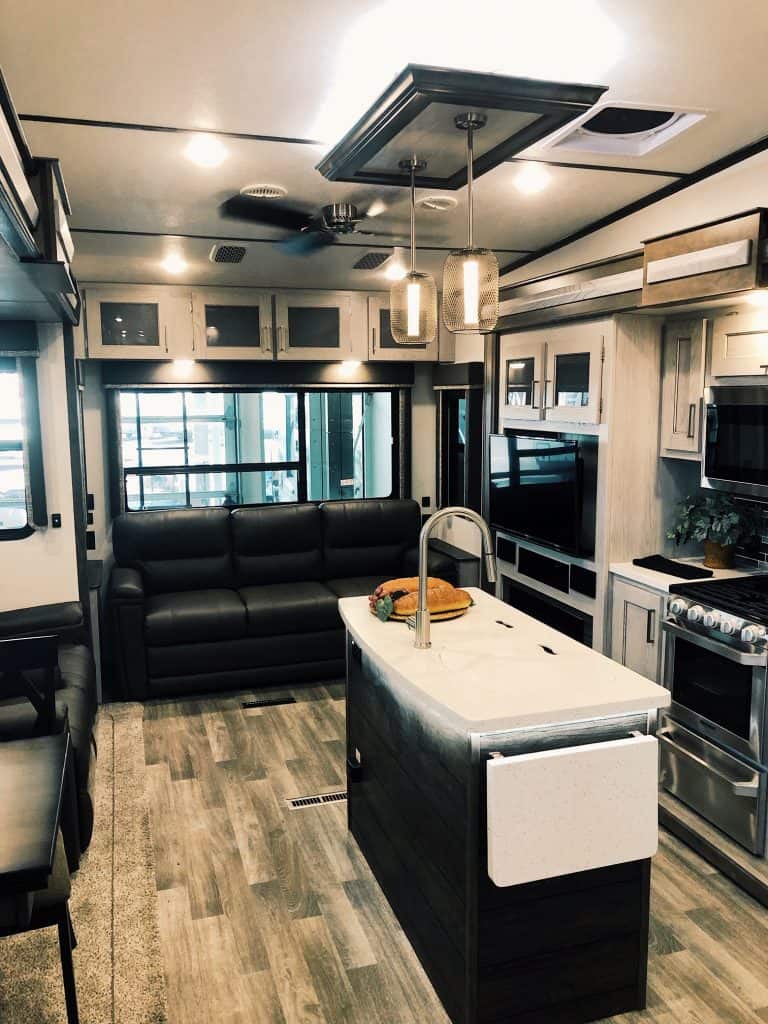 On this model, you've got "the 3 Ls": Luxury, Light Finishes, and Laundry-ready. We'll get into more detail on all of those below.
But let's get started with the initial specifications on this rig first of all, so that you can get a feel for whether it's something that might suit you from a size, weight and capacities standpoint.
Important Specs & Details
Dry Weight: 11,305 lbs
Cargo Capacity: 3,265 lbs
Gross Weight: 14,570 lbs
Hitch Weight: 2,300 lbs
Exterior Length: 34′
Exterior Height: 13′ 4″
Fresh Water Capacity: 66 gal
Black Water Capacity: 49 gal
Gray Water Capacity: 88 gal
Sleeping Capacity: 4 persons
Slides: 3
Refrigerator: Residential French Door with Ice Maker (plus digital inverter to allow it run off of battery power)
Tire Size: ST235/80R16F
Master Bed Size: King
Floorplan Style: Rear Living
You can view complete specs for the High Country lineup here.
Exterior Highlights
On the outside of this rig, we have plenty of important features to point out that will probably be of interest to you.
As you'll typically find with Montanas, you have a Road Armor™ pin box on this rig that will ensure you have the smoothest and safest towing experience possible. Add the Road Armor™ suspension components with 360 degree vibration control, and you are in for the best ride of your life.
In addition, you have the Hitch Vision™ feature, a mirrored surface above the hitch that makes backing in and connecting to your fifth wheel much easier and safer. (I personally love this little addition…not that I have any problems backing up or anything.)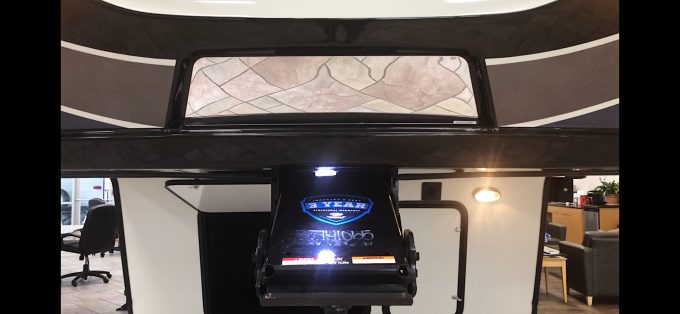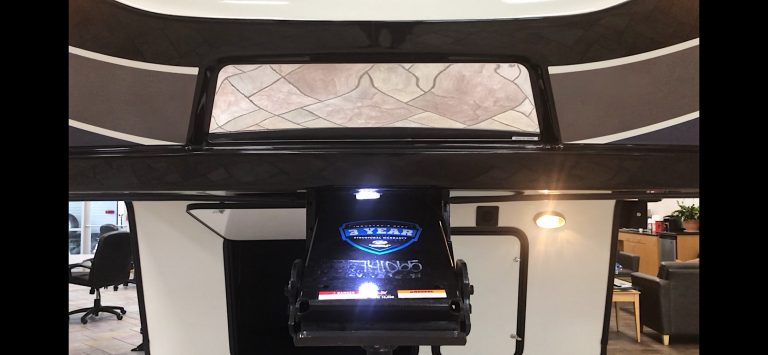 Leveling System and more
Next, you'll enjoy the electronic leveling system by Lippert Components® to make setup at your RV site a much more pleasant experience.
The massive drop frame pass-through storage compartment will allow you to forget about "packing light" and instead make it possible to bring along everything you could possibly need for your life on the road without any issue.
You'll see an attached ladder on the rear of the vehicle leading to a fully walkable roof that makes it so much easier to monitor and maintain the condition of your roof.
8-lug aluminum rims rated at 110 PSI and approved for load range G tires will have you looking stylish and feeling safe as you roll down the road in luxury.
At the main entrance, you'll be glad to see the Morryde® StepAbove™ strut-assisted stairs for added safety, security and convenience.
If you've owned an RV before and worried about that exterior finish, you'll be thrilled to know that High Country models come standard with a painted fiberglass front cap. This cap includes six layers of highly resilient automotive-grade paint with Key Shield™ paint technology.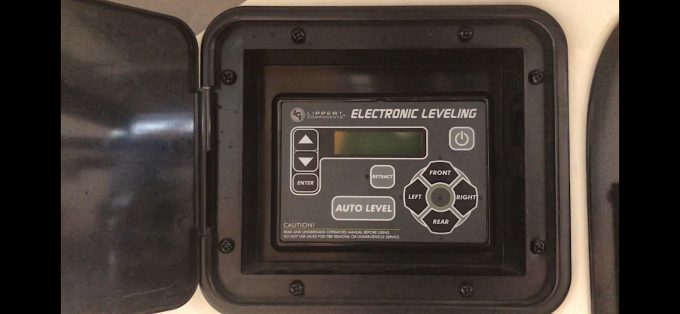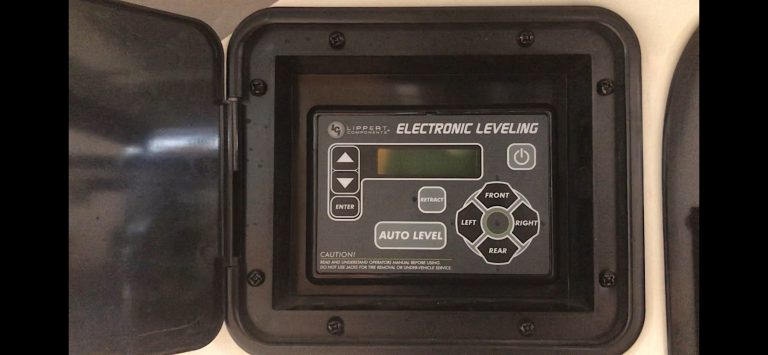 Solid Stairs and Cold Weather Equipped
3 Slides with Tru-Fit™ Slide Construction will greatly reduce functional motor and structural stress, and resist the all-too-common problem of slide leaks experienced in many RVs.
And last but not least, if you're interested in some cold weather camping (like we did), you can find some peace of mind knowing that this High Country Montana has been zero degree tested and rated. You can comfortably camp in temperatures down to zero degrees Fahrenheit without worrying about water lines or tanks freezing up on you! (Been there, done that. Don't do it.)
Interior Highlights
All of the exterior features that we covered will provide you with plenty of peace of mind, knowing that you have the safety and durability of the Keystone RV brand behind you as you hit the road.
But as we move to the interior, we are focusing primarily on luxury, functionality and convenience that will make your life on the road as enjoyable as it could possibly be.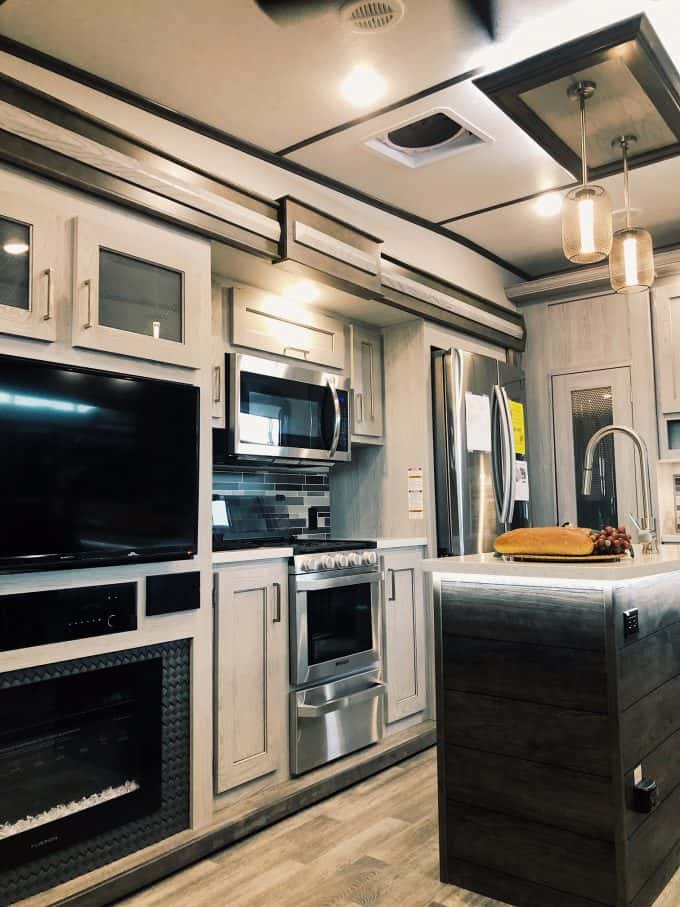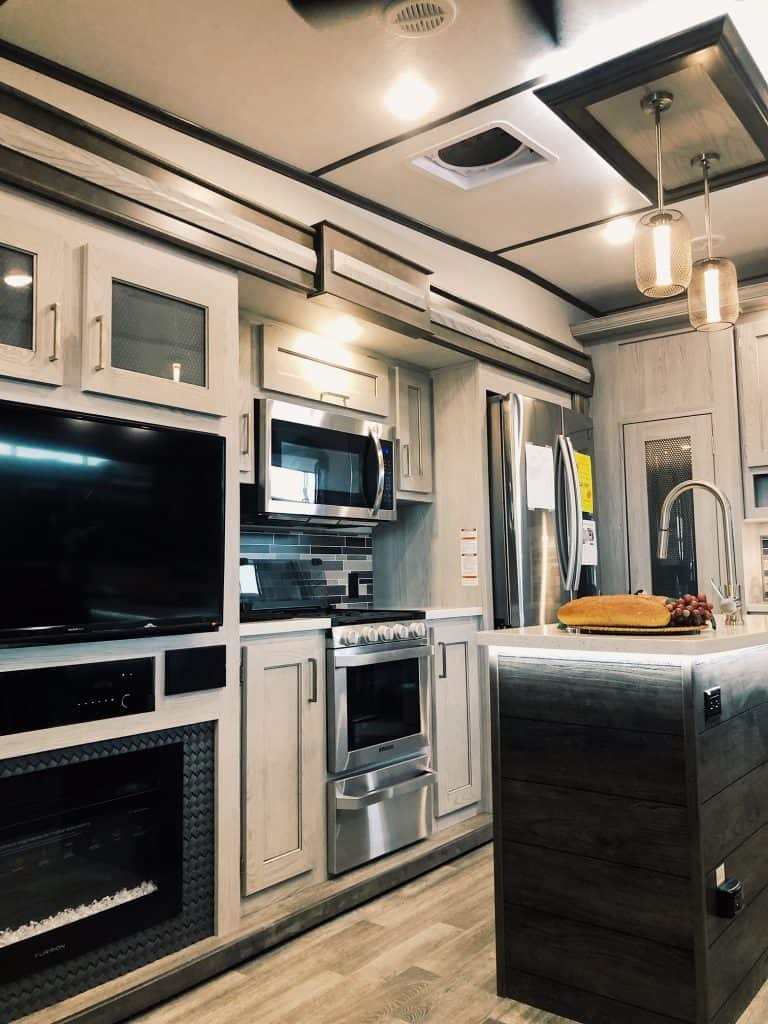 Kitchen
The first thing that will blow you away in the kitchen is the light-colored Homestead finishes. Moving away from the darker woods that have been prevalent in the industry for decades, Keystone brightens things up with this light gray finish on the cabinets and pantry door. Couple this with a slightly darker wood-panel finish around the island and the slightly off-white solid surface countertops and you have yourself a luminous interior to brighten every day.
And if you need a little more counter space for a larger group, there is a counter extension on the island that you can raise up when needed to give you more than enough surface to operate smoothly.
The cool LED lighting in the kitchen, including accent lighting on the island countertop, gives your space a touch of class and comfort that makes it feel just a bit more like home.
Your 60/40 split stainless steel sinks are nice and deep, and coupled with the high-rise faucet with integrated pull-out sprayer, you'll be capable of handling clean up on any size holiday feast!
Of course, let's not forget about that all-important refrigerator: An 18-cubic foot residential refrigerator with French doors and a digital inverter will keep your grocery purchases cool and uncramped in any situation. (No doubt about it, my wife would have paid dearly for that option in our travel trailer…where it wouldn't possibly fit.)
A spacious pantry, Furrion™ 21″ stainless steel cooktop and oven with triple glass door, and a 30″ over-the-range microwave finish off your kitchen perfectly.
Seriously, my friend, if you can't make this kitchen work for you then it's probably best you stay with bricks and sticks. Because this one offers all the creature comforts you could hope for!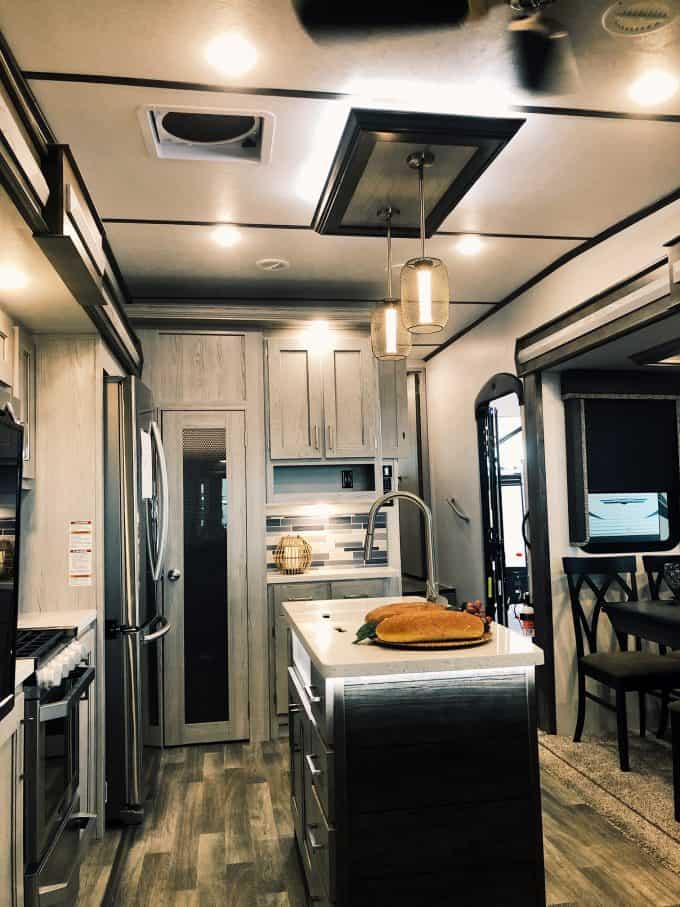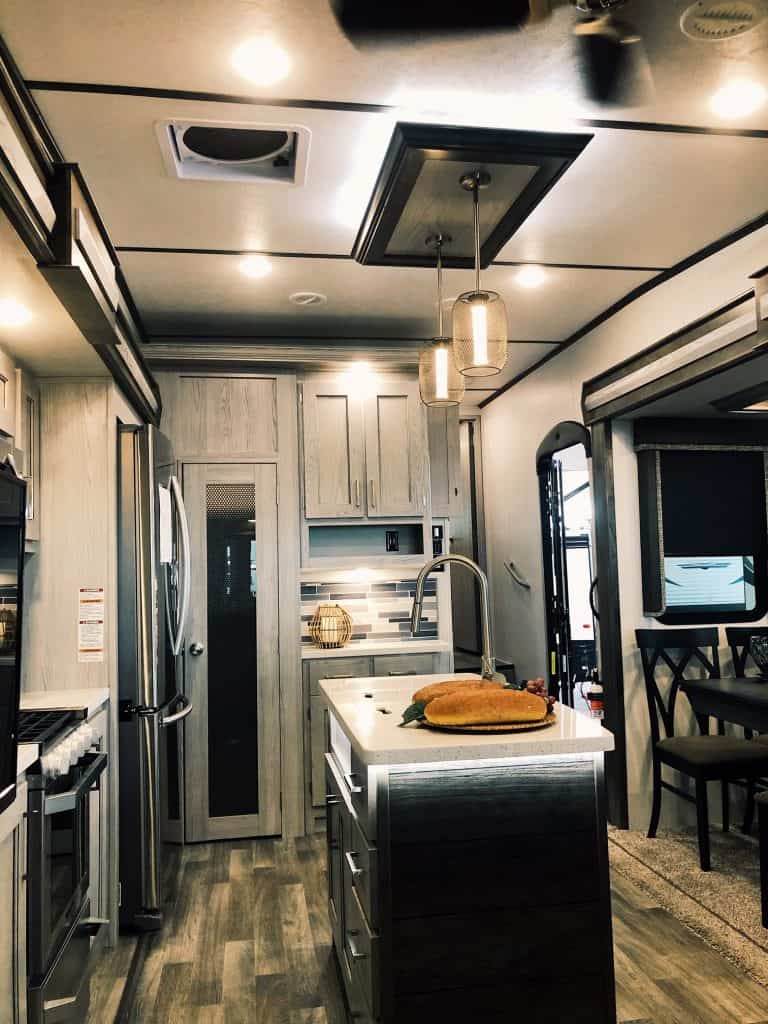 Bathroom
When I stepped into the dual-entry bathroom, I was pretty shocked at both the overall space it offered and the amount of cabinet space I observed. The largest cabinet is located in the same slide with the master bed, so it really opens up the space and allows for ultimate functionality.
Part of the space in that large cabinet can be used for a washer/dryer combo or stackable unit since it has laundry connections ready to go (including separate 20 amp circuits for each appliance). But if you opt out of the laundry option, then you really have more storage space than you can imagine in there. Put it to good use!
The porcelain foot-flush toilet and the large radius-style shower with smooth sliding doors offer just another taste of home and provide for a very livable space.
Top all of this off with a seamless countertop and a 12-gallon DSI gas/electric water heater with 16.2 GPH fast recovery and you are living in the lap of luxury!
Master Bedroom
So we know you can cook a mean meal and you can keep up with your personal hygiene without any major obstacles in this rig…but what about that bedroom? Can it offer the same level of comfort and convenience?
Well, from what I can tell the feature that I like the most in this bedroom may be the only issue you have with this space: the patent-pending front windshield.
This large front window brings so much light into the space and gives you ultimate viewability of your surroundings, which I would absolutely love. However, it does come at a price: The large closet that is so typical in similar fifth wheel models is nowhere to be found.
Instead, you have an extra large dresser beneath the window, two narrow wardrobes on either side of the window, and then a smaller dresser located at the foot of the king size bed (complete with bedside storage areas).
As I said, you will have to decide whether you are able and willing to give up that large closet for the great view and added light in the bedroom. Me? I would give it up in a heartbeat.
Living Area
Moving back down the hallway, you'll find a very convenient addition near the main entrance: a small coat and key rack. It's a very nice added touch and a great way to make full use of wall space in a smaller living area like this.
And opposite the kitchen area on your left is a free-standing 4-person dining table with leaf extension.
In the living area itself, you have two separate seating areas: A 2-person power theater seating (reclining love seat) w/USB port and a 3-cushion tri-fold hide-a-bed sofa. Together these two areas can comfortably seat 5 adults while you enjoy conversation around the fireplace or a movie on your HD TV above the fireplace.
And finally, to keep your entire space looking clean and tidy, you will definitely enjoy the central vacuum system.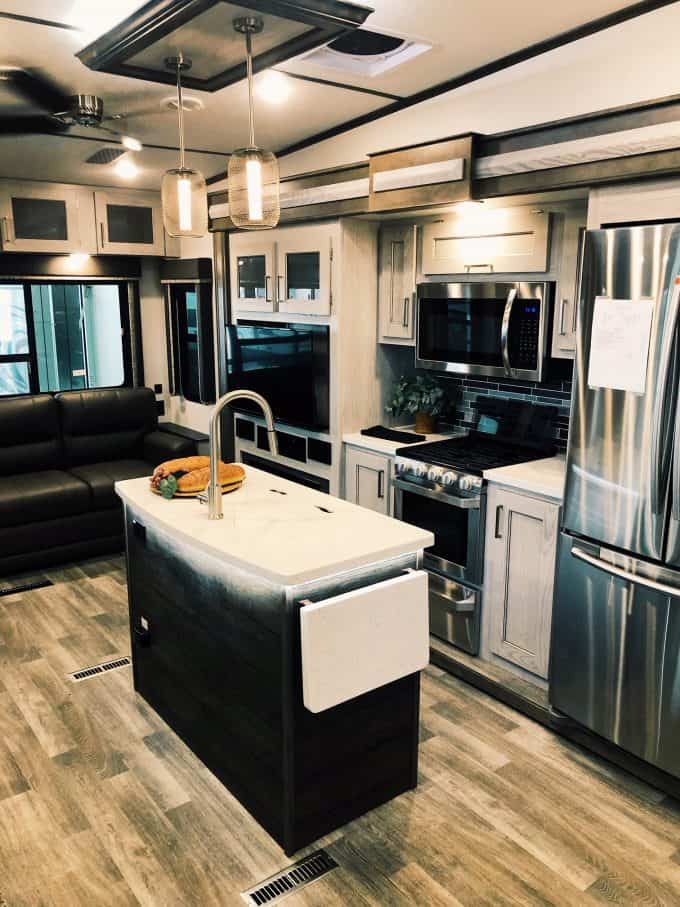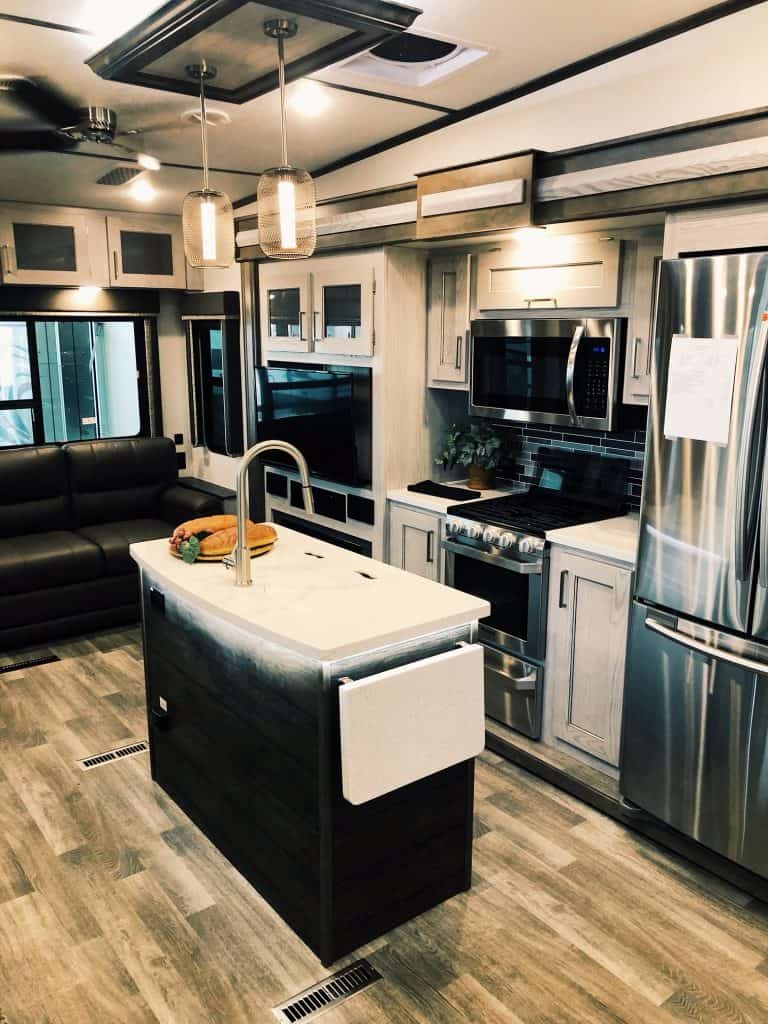 What's Your Favorite Feature on the Montana High Country 295RL Fifth Wheel?
I know, I know, there's plenty to love here. But if you had to narrow it down to just one thing that makes you think this is the right rig for you, what would it be? Be sure to share in the comments below.
And when you're ready, reach out to Crestview RV and see what they can do for you. We had a great experience buying our first RV through them and I believe they will absolutely treat you right. Be sure to tell them that Todd and Julie at TREKKN sent you their way!
PIN THIS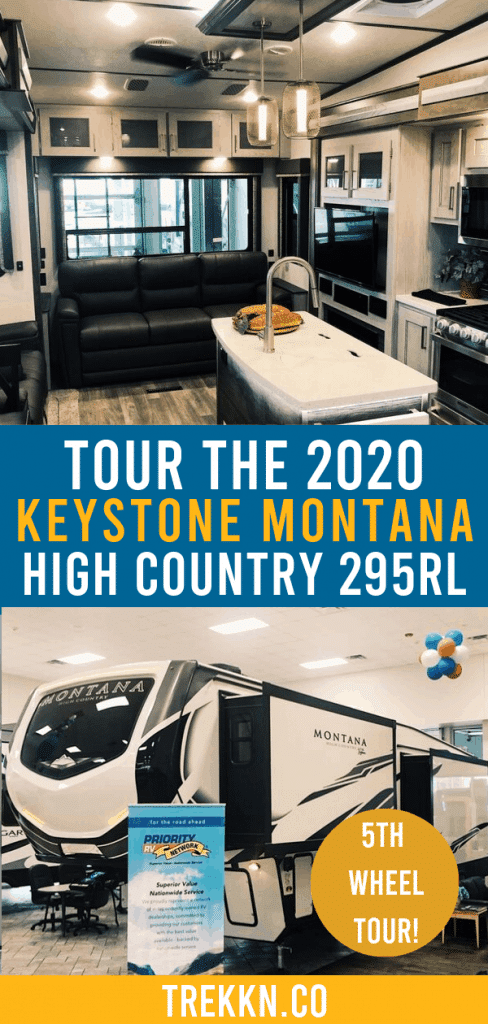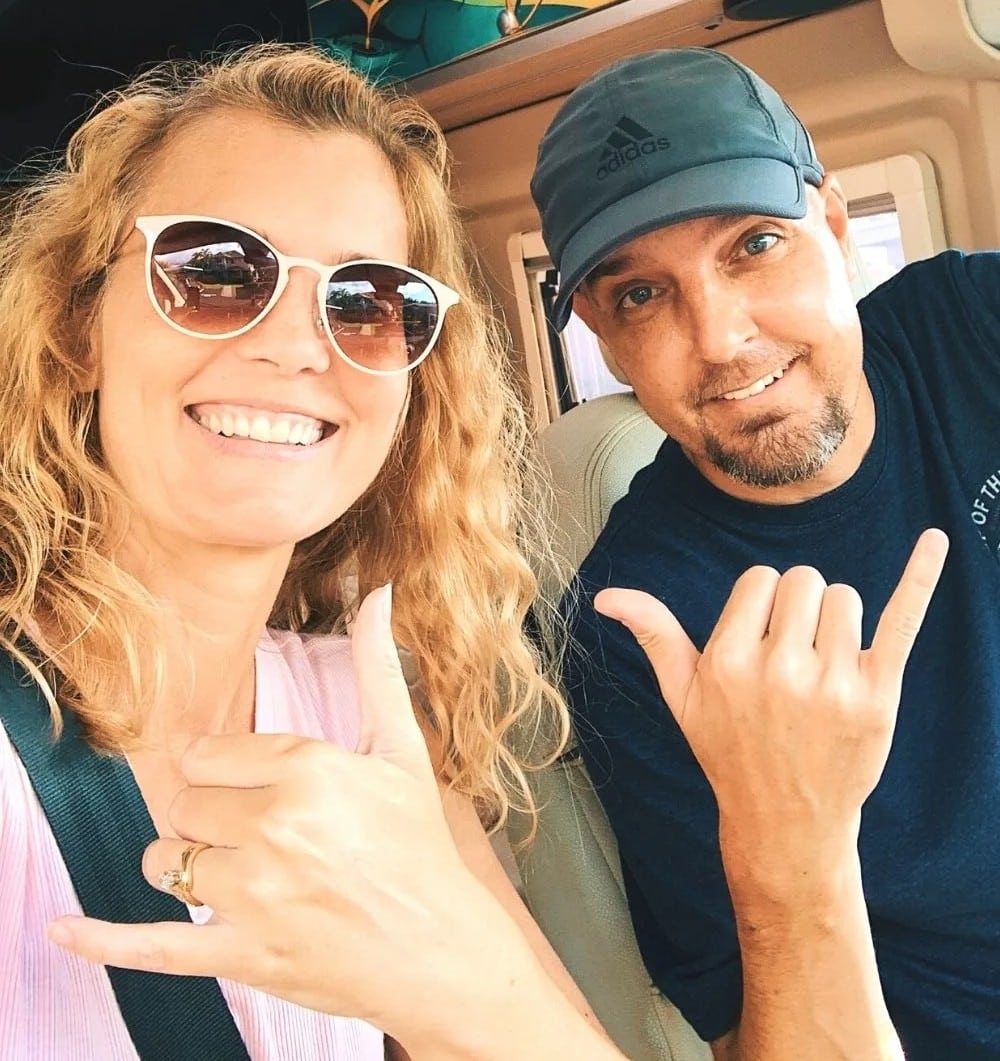 Todd loves a competitive game of table tennis, a breathtaking hike, and exploring new places. He lived and traveled in an RV with his family as they traveled throughout much of the US and parts of Canada. Todd has extensive knowledge about RV travel, safety, and accessories and has shared many of his stories here on TREKKN. When he's not busy launching and building small businesses, you may find him staring at pictures of Glacier National Park (probably his favorite spot on earth).