13 RV Convection Oven Recipes to Make Your Mouth Water

You're heading out of town to go camping for the week or the weekend, and you want to eat well with the people you're with, right? Well, your grocery list, and what to pack, start with some epic camping recipes.
But many RVs come equipped with a convection oven and microwave combo unit, and no "real" oven.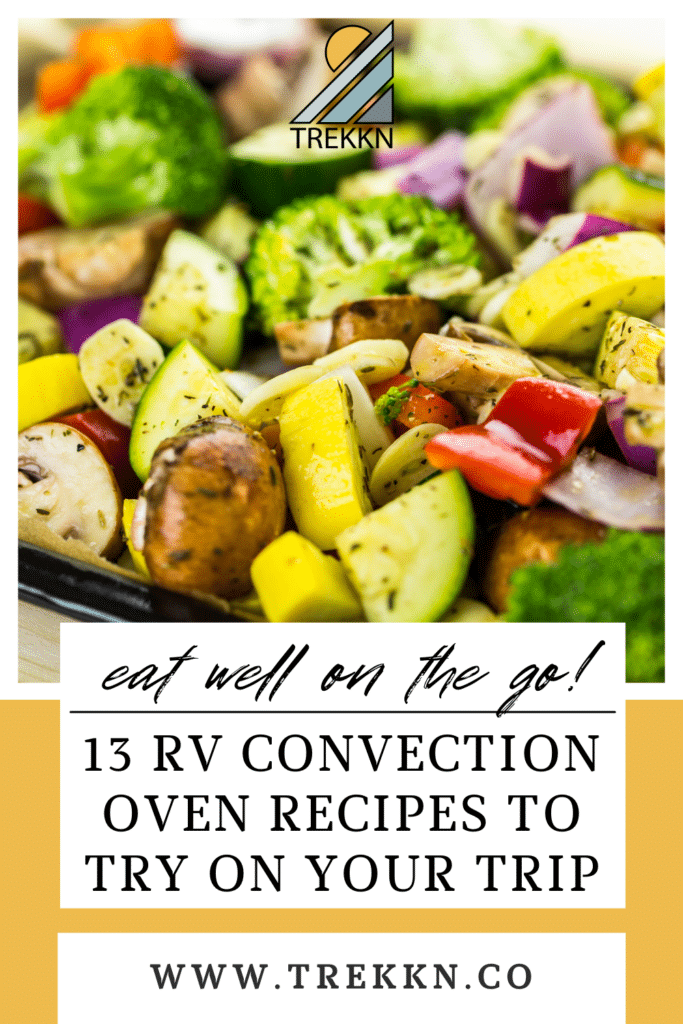 Can You Make Delicious Food in a Convection Oven?
Have no fear! The convection oven will serve you well in whipping up delicious meals for your camping trip. We've put together 13 convection oven camping recipes to make your summer trip extra tasty.
Each recipe was chosen with a few things in mind:
Ease of preparation- you want to enjoy your vacation and not spend all day stuck in the RV kitchen, right? These recipes can be prepared in 40 minutes or less.
Quick cleanup- no recipes requiring a dozen dishes here. We'll provide tips for how to reduce the cleanup and get back to camping fun as quickly as possible.
Delicious- tiny kitchens can still produce food with big flavor. Each of these recipes promises to not only be quick and easy but also delicious.
How A Convection Oven Works
Many people don't use their RV convection oven because it's different from what they're used to in their sticks and bricks. A convection oven uses a fan to circulate hot air around the food.
This is an amazing technology that cooks food evenly, there's no reason to avoid using your convection oven. There's just a tiny bit of a learning curve.

The air circulating method is more efficient than a standard oven, so you may need to reduce your cooking times by up to 20%. At least err on the side of checking your dish earlier than the recipe's suggested cook time.
And remember to use shallow dishes (with low sides) so the hot air can reach and cook your foods.

In no time, you'll find that your convection oven is excellent for crisping, roasting, toasting, and baking your favorite foods. Let's dive into some simple and tasty recipes!
13 RV Convection Oven Recipes You Have to Try
Main Dish Recipes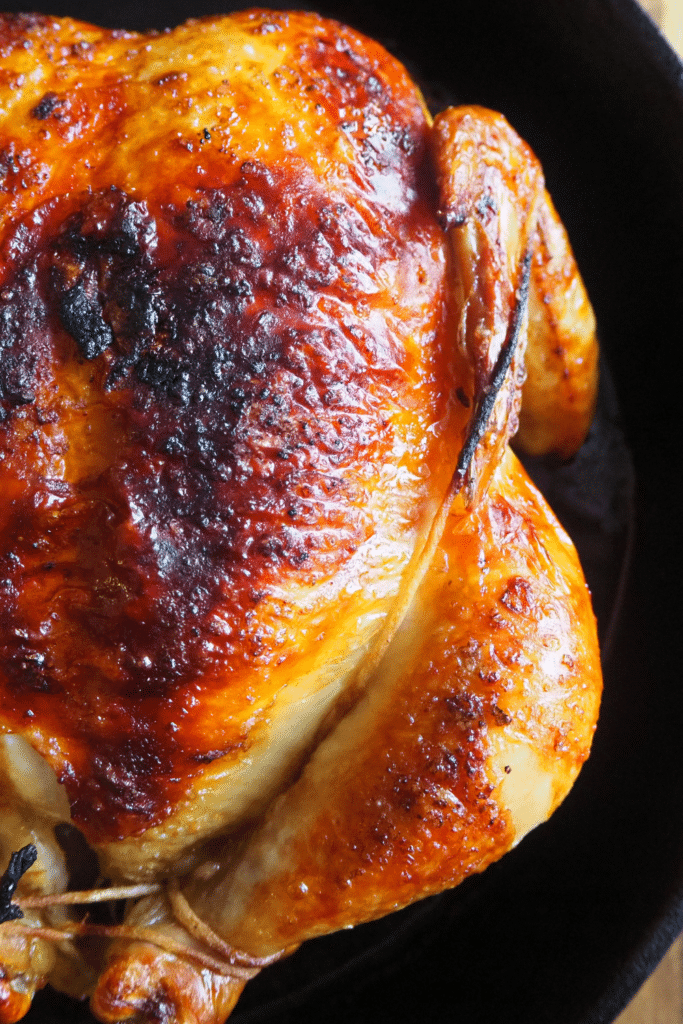 This delicious recipe is ideal for Sunday supper, according to The Mountain Kitchen. This is a great recipe for your convection oven because the oven will help brown and crisp the chicken skin to perfection.
Whole roasted chicken is also a budget-friendly meal to feed the whole family.

Prep Time: 15 minutes
Cook Time: 2 hours 20 minutes (for a 5lb chicken)
Yields: 6 servings
This easy one-dish bake will save on dishes and likely serve-up leftovers, too. So have breakfast for dinner (why not? You're camping!) and then have leftovers for brunch the next day. We love it when you can cook once and eat twice.

Prep Time: 35 minutes
Cook Time: 1 hour 45 minutes
Yields: 12 servings
Whether you've got kids around or not, everyone will love this baked chicken nugget recipe. It's a quick and easy crowd-pleaser, making it a win-win for the chef and guests alike.
Plus, baking the nuggets in your RV convection oven will make them more healthy (than frying).

Prep Time: 10 minutes
Cook Time: 15 minutes
Yields: This recipe is adjustable based on how many mouths you need to feed. Use the open box at the top of the recipe to customize your portions.
Another one-dish bake that makes for an easy, hearty meal. A little heavy on prep time, this dish is worth it. It's made with oven-ready noodles, to save you the extra step of boiling pasta. We love shortcuts on camping meals.

Prep Time: 40 minutes
Cook Time: 1 hour
Yields: 6-8 servings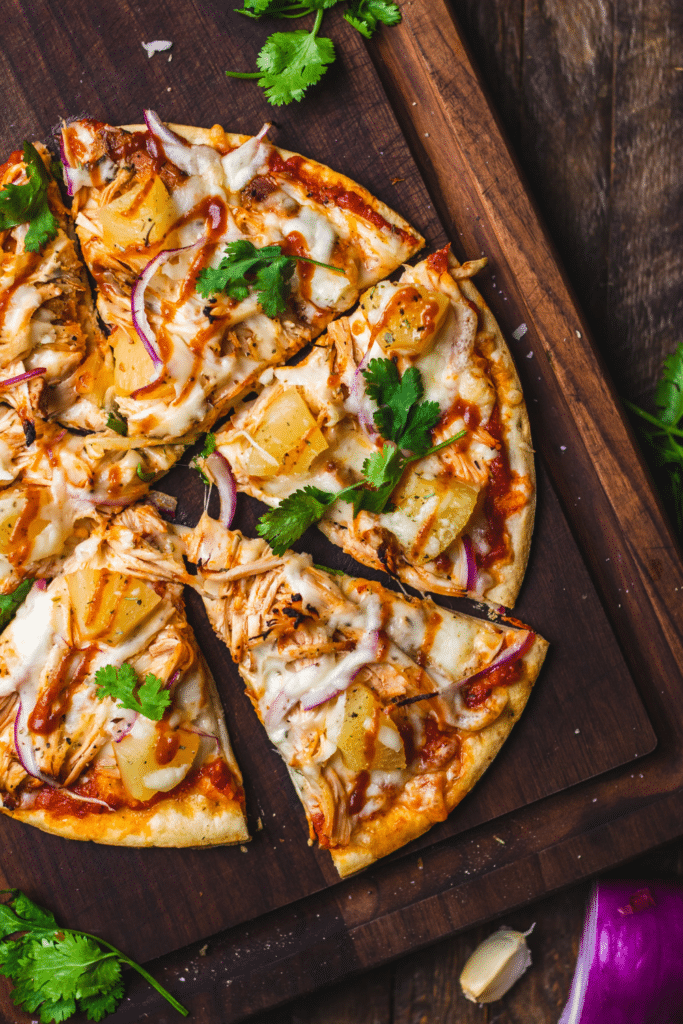 There are a million pizza recipes, and everyone has their own favorite. The good news is that you can make multiple personal-pan-sized pizzas in your RV convection oven, and everyone can have what they like.
We recommend trying this arugula-prosciutto pizza recipe by The Food Network, to mix up your typical pizza routine. I know it's making my mouth water just looking at it.
Note: a 12-inch pizza may not fit in your RV convection oven, so be sure to check the sizing first. You may need to reduce the size of the dough ball to accommodate the dimensions of your oven.

Prep Time: 15 minutes
Cook Time: 10 minutes
Yields: 1-2 servings
Summer camping trips and BBQ ribs go together like peanut butter and jelly, right? We may have saved the best for last here in the main dishes.
This simple recipe only requires your attention for 20 minutes, and then you get to be the hero of the summer BBQ. Thanks to The Domestic Man for sharing this recipe.

Prep Time: 20 minutes
Cook Time: 90 minutes
Yields: 2-3 servings
Side Dish Recipes
This simple recipe has only four ingredients. And the prep time is only five minutes. This side dish pairs well with any main dish and should always be on your camping menu.
It's so easy to have these four ingredients on hand. Olive oil, garlic, and salt can be used for so many recipes, be sure to stock them in your RV pantry. And then when you do your pre-trip grocery run, be sure to toss in a few fresh potatoes.

Prep Time: 5 minutes
Cook Time: 30 minutes
Yields: 4 servings (but take note, this recipe offers adjustable serving size if you're cooking for more people).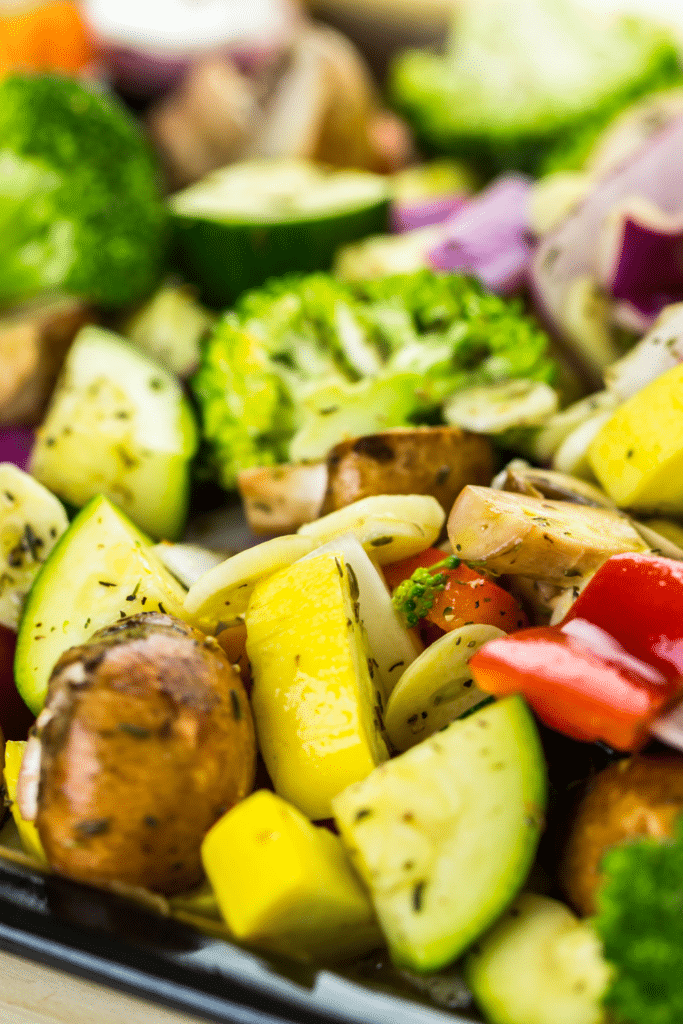 Choose your own adventure with a mix of firm and soft vegetables for this perfect convection oven dish. This is a great side dish toward the end of your camping trip because you can use whichever vegetables you have left to cook.
You'll roast the veggies on a small sheet pan, which is ideal for convection cooking.

Prep Time: 20 minutes
Cook Time: 45-50 minutes
Yields: 8 servings
This recipe made the list because of its incredibly short prep time with delicious results. Cornbread is another crowd-pleaser, and pairs well with the Braised Country-Style BBQ Ribs.
It's also another one-dish bake, which we love because it saves on dishes. As a bonus, The Seasoned Mom shares, you can bake this dish up to 2 days in advance and just reheat at the campsite.

Prep Time: 5 minutes
Cook Time: 45 minutes
Yields: 8 servings
The folks over at Toaster Oven Love have lots of great recipes that can be applied to RV convection oven cooking, and this is one of our favorites.
This stuffed delicata squash recipe can be served as a main course or a side dish. And there are plenty of substitutions available if you're RV pantry is running low.
Use delicata or acorn squash, and any grain you have available (quinoa, brown rice, farro, etc).

Prep Time: 10 minutes
Cook Time: 20 minutes
Yields: 2 servings
Dessert Recipes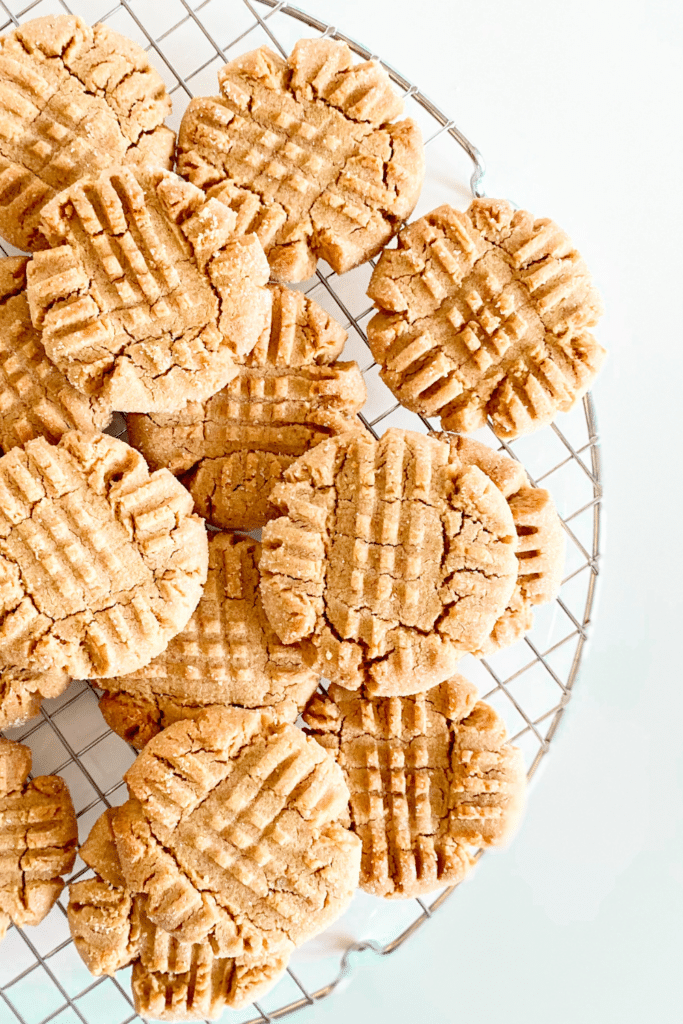 Another favorite from Toaster Oven Love, these irresistible peanut butter cookies with dark chocolate peanut butter cups are sure to keep everyone around camp happy.
You'll want to make sure you have mini dark chocolate peanut butter cups on your pre-trip grocery list. You can find them at Whole Foods, or easily place an order from Amazon. The brand is Justin's.
Or if you're more of a Trader Joe's fan, they have their own brand of peanut butter cups. If all else fails, you can use Reese's.

Prep Time: 10 minutes
Cook Time: 11 minutes
Chill Time: 30 minutes (this step is important, don't skip it!)
Yields: 8 servings
Thanks to @Ted_Wildman for sharing his Grandma's homemade chocolate cake recipe. He found this hand-written recipe, dated 1923, and updated it while still holding to its origins.
This classic cake is made with staple pantry ingredients, so it doesn't require extra grocery shopping before you leave for your camping trip.

Prep Time: 20 minutes
Cook Time: 25 minutes
Yields: 12 servings
The Microwave Connection is "the #1 source for microwave-convection cooking" and we turned to them for a layered bar that's ideal for summer. You can even pop these in the freezer for a cool treat on a hot summer day.
The Microwave Connection recommends pairing these bars with iced tea or coffee. Don't forget to let these cool completely before cutting.

Prep Time: 10 minutes
Cook Time: 18-20 minutes
Yields: 20 bars
More RV Convection Oven Recipes
But don't stop there! Once you're cookin' with your convection oven, keep it going.
If you're interested in more convection-friendly recipes, we recommend the following cookbooks:
Which RV Convection Oven Recipe Will You Try First?
We hope these recipes have inspired you to try out your RV convection oven. Remember to reduce your total cook times, use dishes with low sides, and have some fun.
Now you're equipped with some easy, delicious recipes you can make quickly in your RV for your next camping trip. Cheers to many more delicious camping trips ahead!
Are You Looking for More RV-Friendly Recipes?
Here are a few more recipes for you to whip up on your RV trip: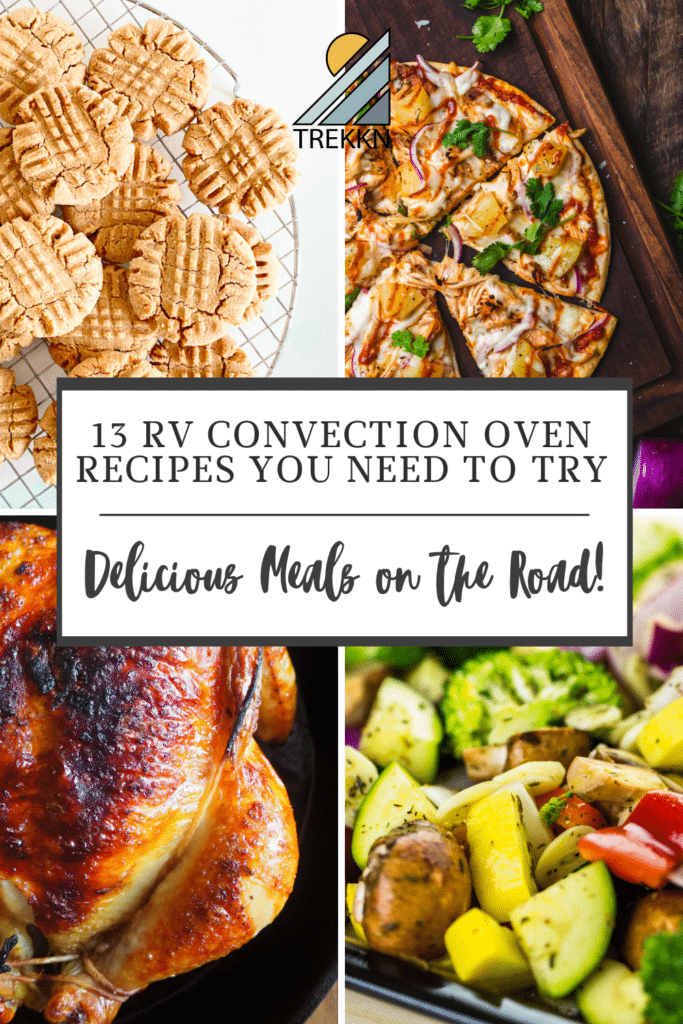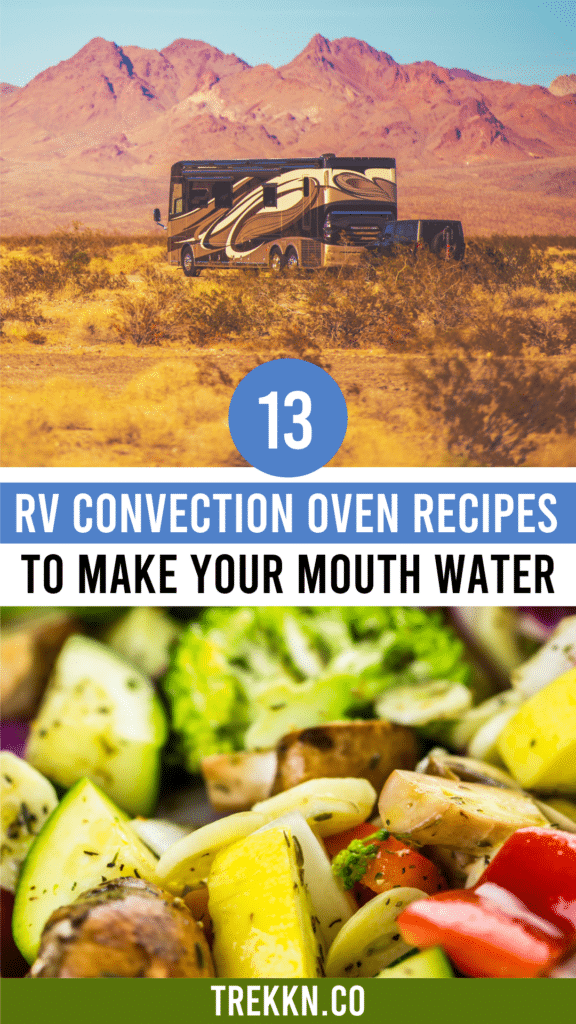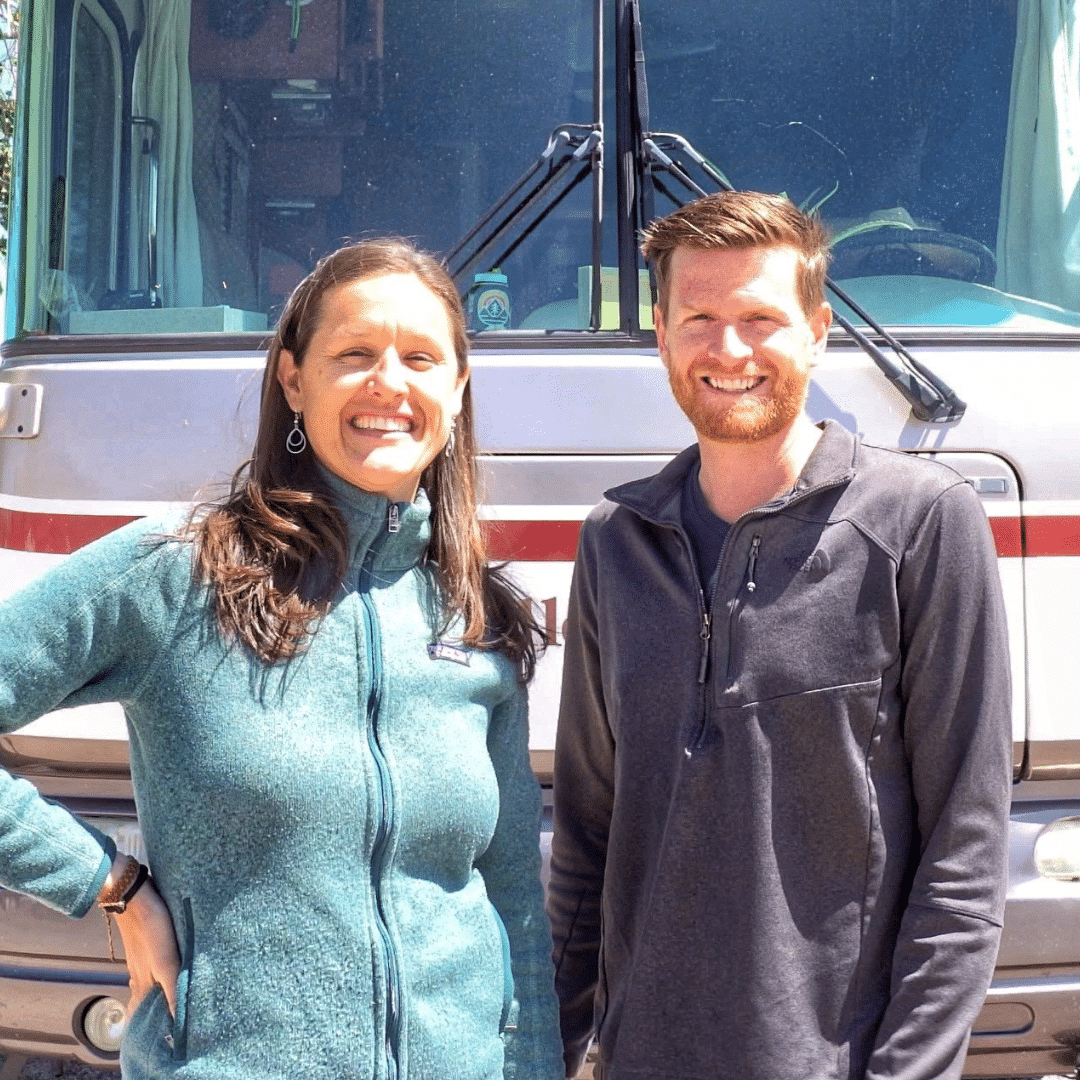 Kristen Bates lives & works from her RV, primarily boondocking off-grid. She owns and operates a women-led travel company, Legit Trips. Kristen loves to explore new places and inspire others to do the same. If she's not typing away on her laptop, she's off on an adventure- hiking, biking, or SUP boarding. You can follow her RV adventures @PerpetualMoves and learn more about her travel company at LegitTrips.com.