Whether you stay in the park or a campground near it, these 10 Yellowstone RV rentals can help make this an epic trip to remember. RV camping near this popular National Park is the perfect way to experience the gorgeous surroundings.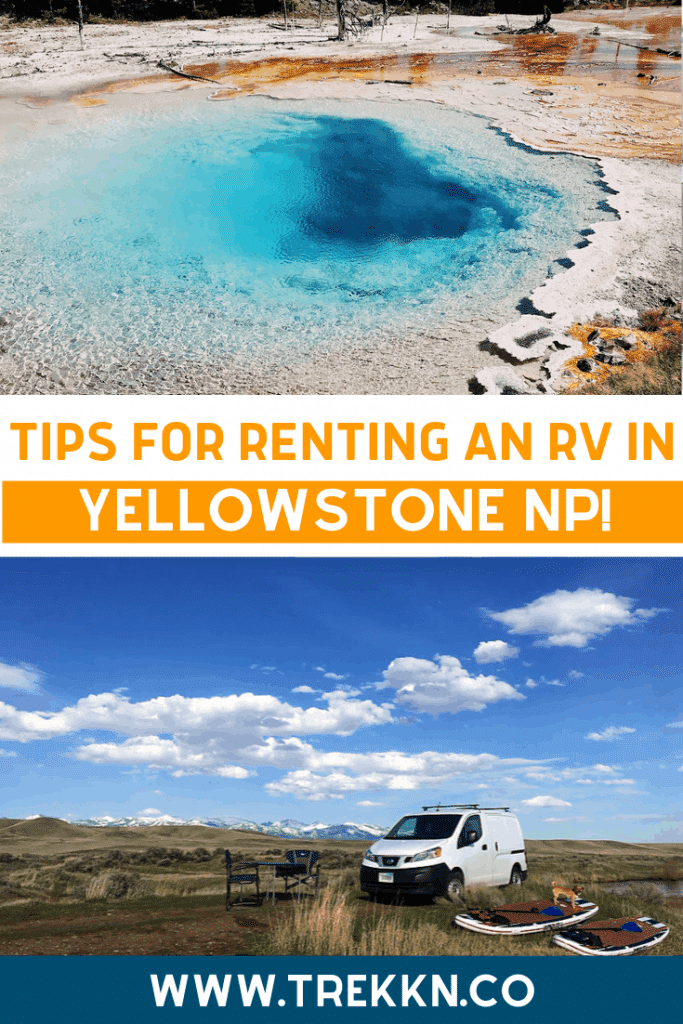 We've visited Yellowstone National Park twice in our RV. The first time in the summer and the second time in the fall. While both were amazing, our trip there in the fall is the most memorable. Why? Mainly because of the state park we stayed at, which I'll tell you about in a minute, but also because the weather was perfect and the fall leaves were beautiful.
Let's first dive into some of the Yellowstone RV rentals on Outdoorsy, our RV rental company of choice and then we'll get into some rental details and nearby RV parks.
We've rented from Outdoorsy before, have personally met the Outdoorsy team in their Austin, TX office and overall really like the company.
Here are a few general RV rental articles we think you'll find helpful:
Top 10 Yellowstone RV Rentals
*Use Coupon Code TREKKN to Save $40 Off Your RV Rental*
Click Here for $40 Off Your Outdoorsy RV Rental
We'll highlight a nice variety of RVs for you, from campervans and motorhomes to travel trailers and truck campers.
Campervan RV Rentals Near Yellowstone National Park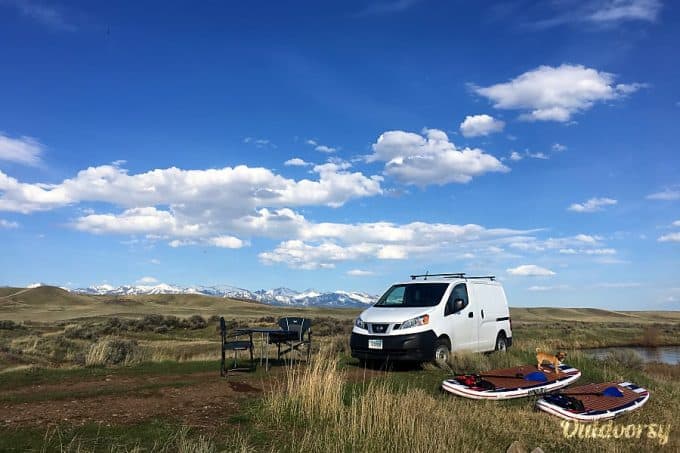 About this camper van rental:
Sleeps 2
This campervan is available for pickup near Bozeman, Montana, which is about an hour and a half drive from Yellowstone. We highly recommend a visit to Bozeman! It's a great little town with a cool downtown area.
Plenty of storage available for all the accessories they provide
Features a large 5" memory foam bed for 2
Take a peek inside: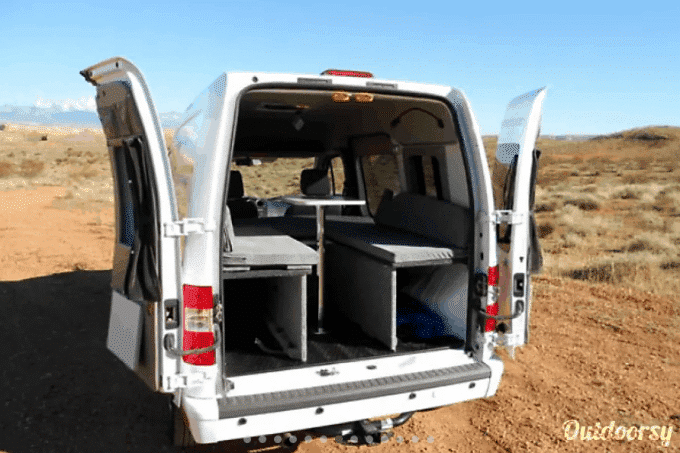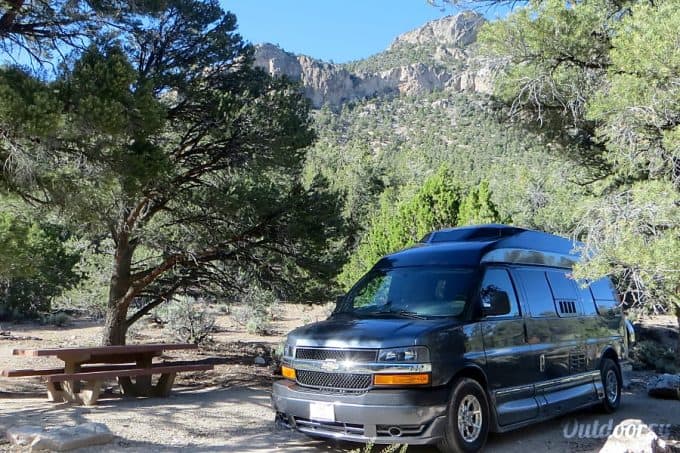 About this Class B:
Sleeps 2
Available for pickup or drop off in Bozeman
Rent this beauty to safely navigate the mountain roads without the hassle of driving a large and cumbersome RV
Comes with extra coach batteries, 2500 watt inverter, and underhood generator
Take a peek inside: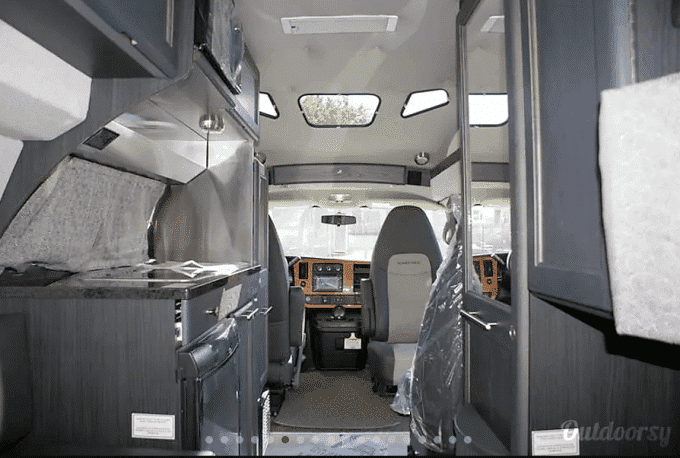 Truck Camper Rentals Near Yellowstone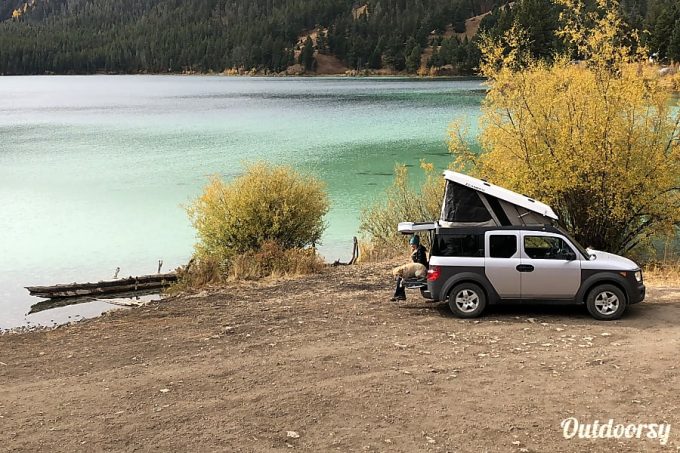 About this Rental:
Sleeps 2
Available for pick up in Bozeman, Montana
They will customize this rental for your trip! Mountain Biking? They'll include a bike rack at no extra charge. Fly Fishing? They'll leave info for some great shops and the latest fishing report.
They also include basic camping equipment
Take a peek inside the rooftop tent: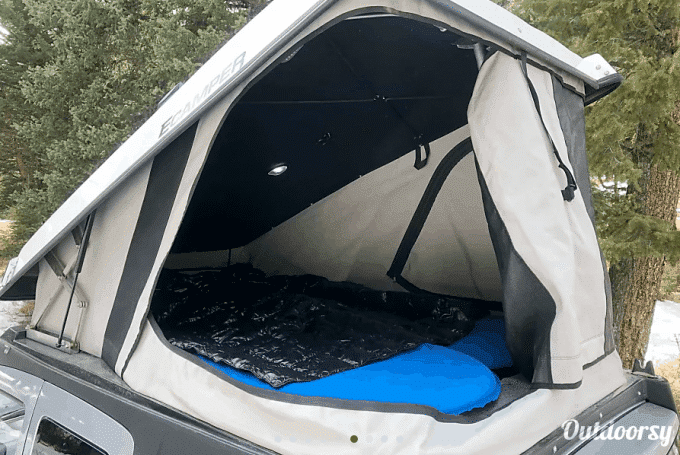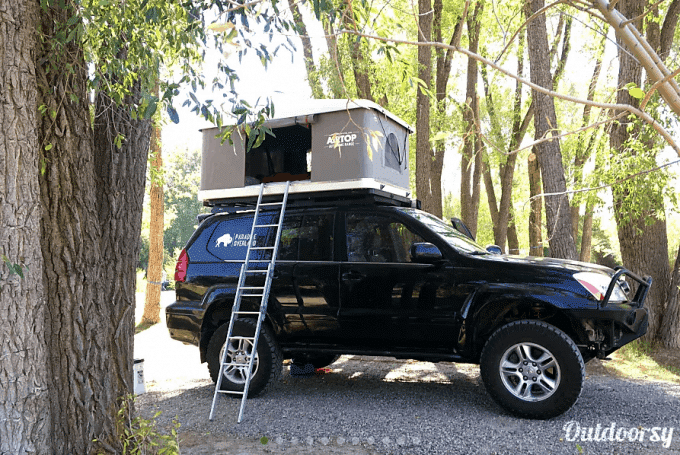 About this rental:
Sleeps 4
Available for pick up in Bozeman, Montana
Comes with a 2017 AutoHome roof top tent and awning
For groups of 3 or 4, add on two extra people at checkout which includes bedding, a tent, camp furniture, towels and dishes.
Take a look at this setup: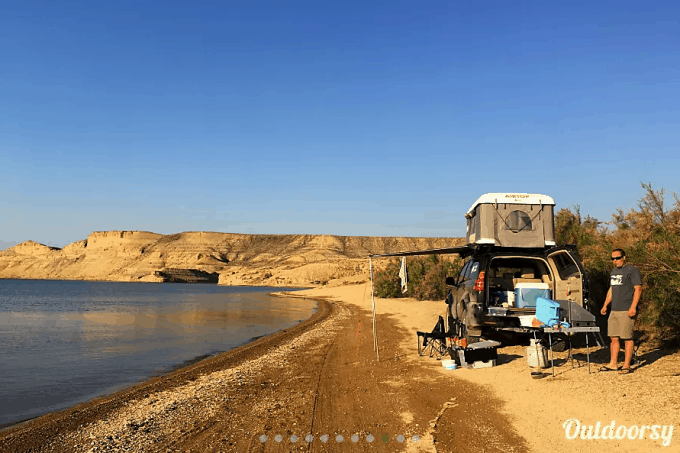 Click Here to See More Pictures
Travel Trailer Rentals Near Yellowstone National Park
If you're thinking about renting one of these, be sure to read Todd's in-depth article on travel trailer rental. He goes into detail about having it delivered to your campsite, why you should consider renting this type of RV and more.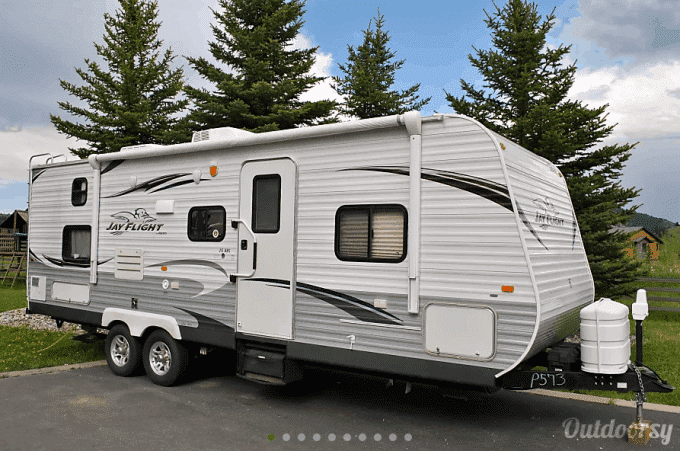 About this travel trailer rental:
Sleeps 7
25′ travel trailer with bunkhouse floorplan
Loaded with great features such as satellite, awning, generator and more
Free delivery within a 50 mile radius, negotiable thereafter
Take a peek inside the spacious living area!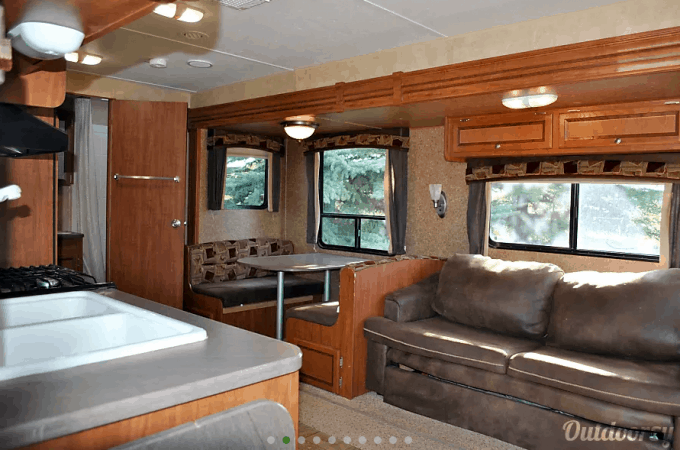 Click Here to See More Pictures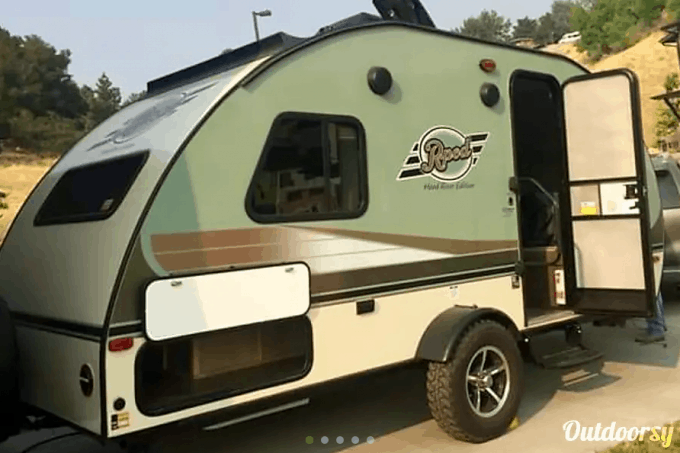 About this Yellowstone travel trailer rental:
Sleeps 4
The R-pod is the lowest tow weight in its class and is easily towed by most mid-sized SUVs
Easy set-up for those not familiar with RVing
This RV is pet-friendly
Here's the floorplan of this model: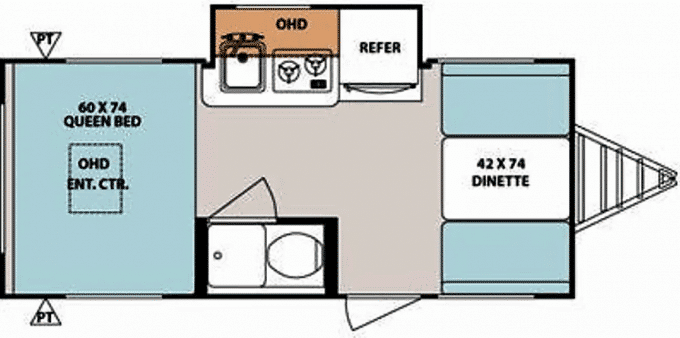 Click Here to See More Pictures
Motorhome Rentals Near Yellowstone National Park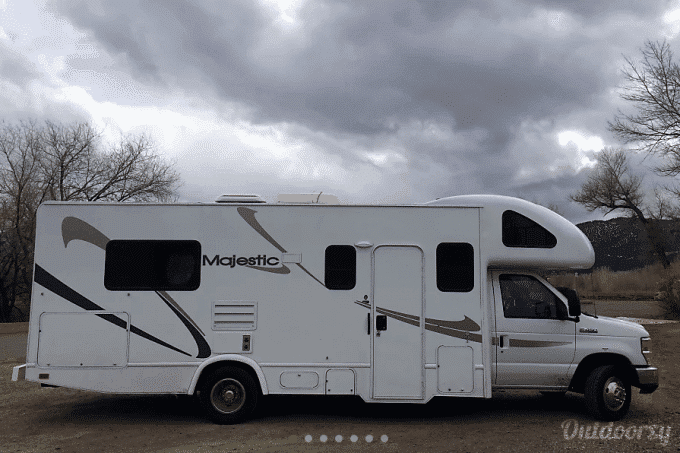 About this Yellowstone RV rental:
Sleeps 5
Comes stocked with necessities such as including kitchen wares, towels, bedding, and other carefully chosen amenities
Bozeman Airport pick-up/drop-off ($75 each way)
Take a peek inside: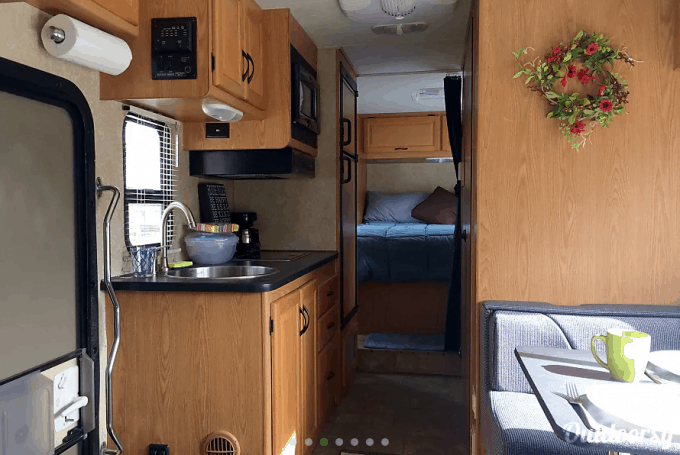 Click Here to See More Pictures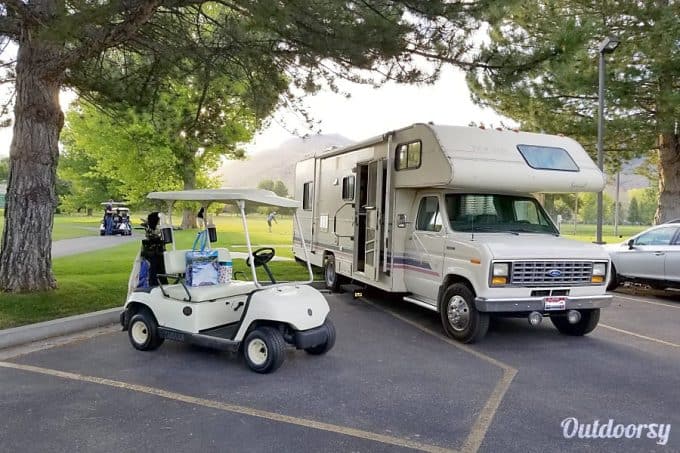 About this RV rental:
Sleeps 6
Available for pick up in Idaho Falls which is about 2 hours from Yellowstone National Park and Grand Teton National Park
Drive your car and park it at their place while you RV or they'll also pick you up at the airport
This RV is older, but they've updated the inside recently with new flooring, new ceramic toilet and a shower refresh too
Take a peek inside: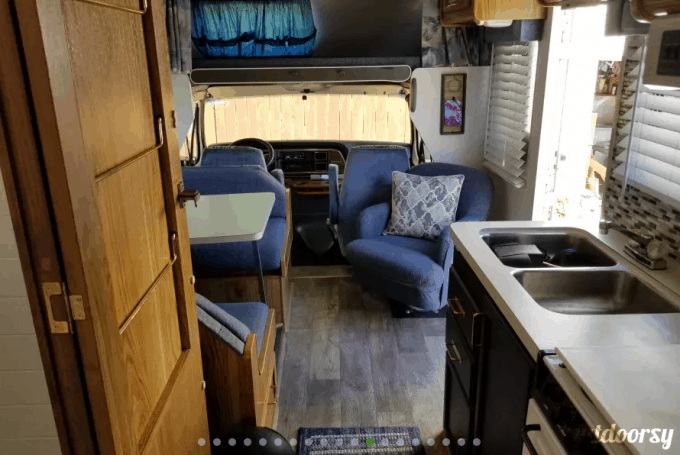 Click Here to See More Pictures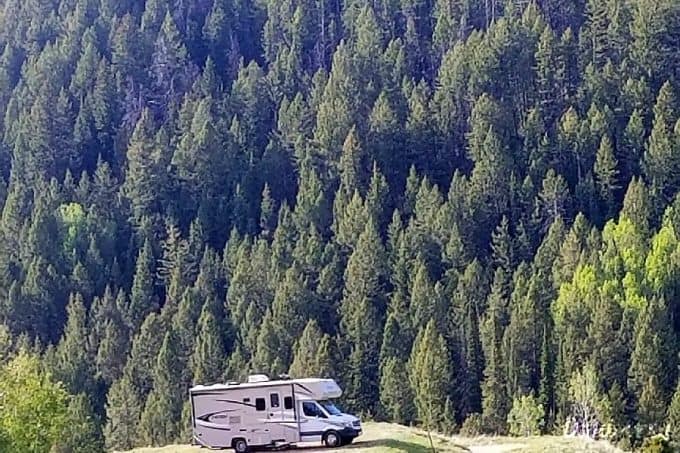 About this RV rental:
Sleeps 6
Slide-out runs almost the entire length of the RV, so it is roomy as can be
Comes with a full kitchen and bathroom, two TVs, indoor & outdoor shower, tons of storage inside and outside
The owners provide just about everything you need for an awesome RV trip; they have a long list of the items they provide
Take a peek at the floorplan: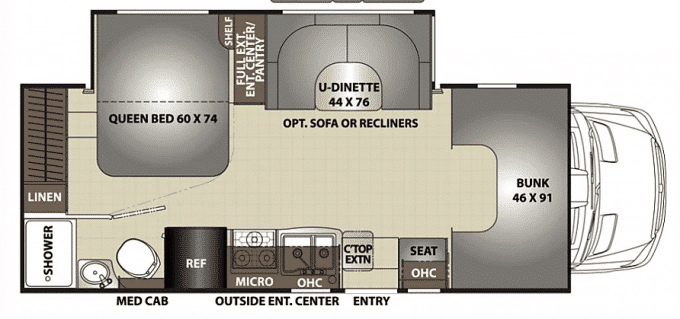 Click Here to See Pictures of the Inside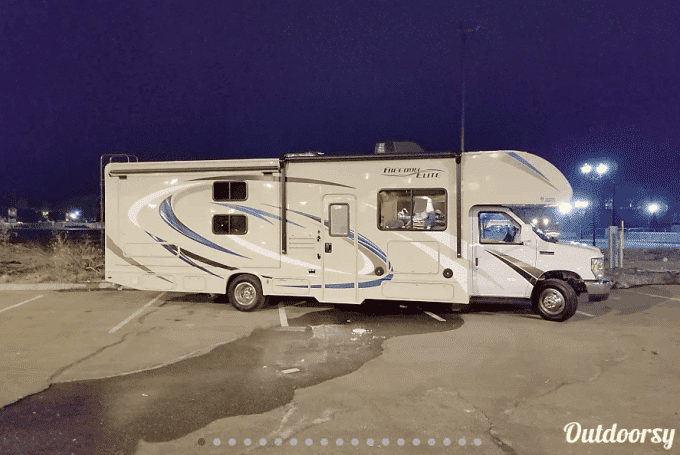 About this motorhome rental:
Sleeps 8
Features overhead bed, couch bed, dinette bed, 2 bunks and the queen bed in the back
Comes with everything you need to have a great vacation- sheets, sleeping bags, blankets, towels, dishes, utensils, hot dog sticks, body wash, shampoo, conditioner, pots and pans, etc.
Take a peek at the floorplan:

Click Here to See Pictures of the Inside
Which Yellowstone RV Rental Is Best For You?
Now that you've scrolled through some of the different RV rentals available near Yellowstone National Park, it's time to decide which one is best for you. Here are some pros and cons of a few of the rental types to help you decide.
Campervan/Truck Camper Rental
Pros:
Small, easy to drive and easy to park and navigate through the National Parks
Low maintenance and simple
Good starter rental if you've never RV'd or camped before but want to get a taste of it
Easy to park and be off the grid
Fly in, pick it up and drive away easily!
Cons:
Not a lot of space
Not a lot of amenities compared to larger units
No kitchen on some rentals
Doesn't have a bathroom
Travel Trailer Rental
Pros:
Some people will deliver/set-up to your campsite, as well as come and pick it up; super convenient
Some units sleep a lot of people
Most have quite a bit of room
You have access to a kitchen and a lot of amenities like your own bathroom
Nice size beds
A great way to experience RV camping if you're not comfortable driving a motorhome
Cons:
If they don't deliver, you have to tow it yourself
If you're flying in from somewhere, you'll have to rent a car to drive around the National Park
If you've never RV'd before, you'll need to spend some time figuring out how everything works (but, it's a great way to learn the ropes!)
Motorhome Rental
Pros:
If you're comfortable driving something this size, it's super convenient to pick up and go
Usually lots of room
Features lots of amenities like a nice kitchen, bathroom and bedroom
It's a very fun way to vacation!
Cons:
If you've never driven one before, the learning curve could potentially make for a stressful vacation
If you don't have a separate car, you'll have to drive the RV everywhere (that means every time you want to go somewhere you have to take down your campsite)
Yellowstone has RV parking, but you'll have to find it and hope there's space
You need to study the roads to your campground and in the park to know which routes you might want to avoid in an RV
I hope these pros and cons help you make the best decision on your RV rental!
Yellowstone RV Parks and Campgrounds
There are quite a few campgrounds inside Yellowstone National Park. Here are five campgrounds that require a reservation:
Bridge Bay
Canyon
Fishing Bridge RV
Grant
Madison
For detailed information, including RV lengths allowed, check out YellowstonePark.com's post here.
Where We Stayed – Henry's Lake State Park
On our second visit to Yellowstone National Park in September, we stayed at Henry's Lake State Park. It's about 15 miles outside the National Park and the beauty is pretty unreal.
Here are a few of our photos from the park at sunset.
The campsites are very nice and the campground was so quiet. The bathroom facilities were kept incredibly clean.
The sites are paved and have a picnic table. Only a handful of them have sewer and when we were there, it was first come first serve for the sewer spots. But just be sure to call to make a reservation and ask about the sites available.
After the Labor Day weekend, all of the campsites are first-come, first-serve.
3917 E. 5100 N.
Island Park, ID 83429
(208) 558-7532 Summer
(208) 558-7368 Winter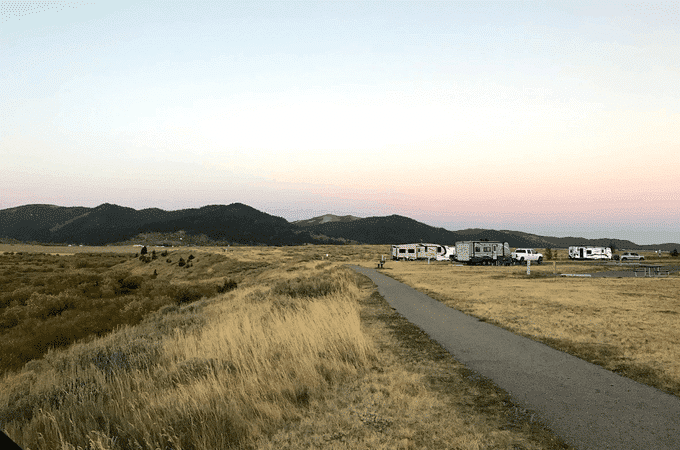 The campground overlooks the beautiful lake and mountains, which often have moose running around. We lucked out and saw two of them while we were there. They were too far away for my iPhone to get good shots, but it was amazing just to sit back and try to spot them.
There are walking trails all over the campground, which we used every evening for a nice walk.
So, if you're looking to stay just outside of Yellowstone and want a serene, beautiful campground, we highly recommend this one.
Are You Ready to Rent an RV for a Yellowstone Visit?
Click Here to Find Your Perfect RV Rental
*Use Coupon Code TREKKN at Check Out for $40 Off Your Outdoorsy RV Rental!*
PIN THIS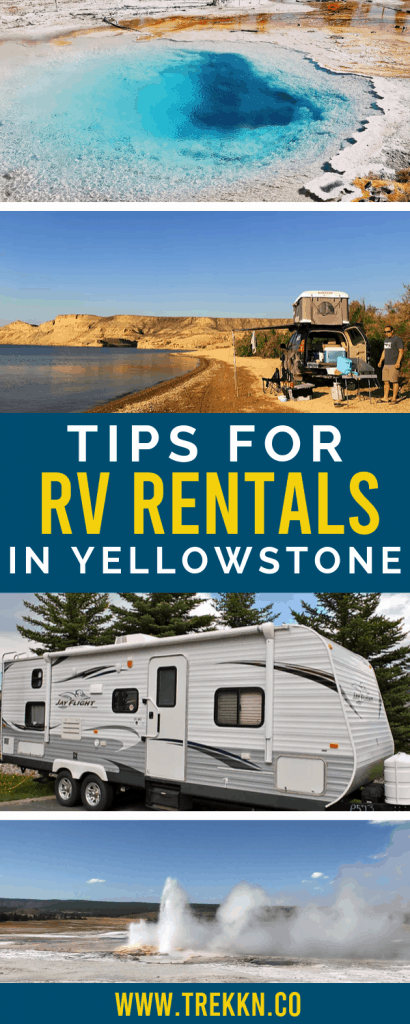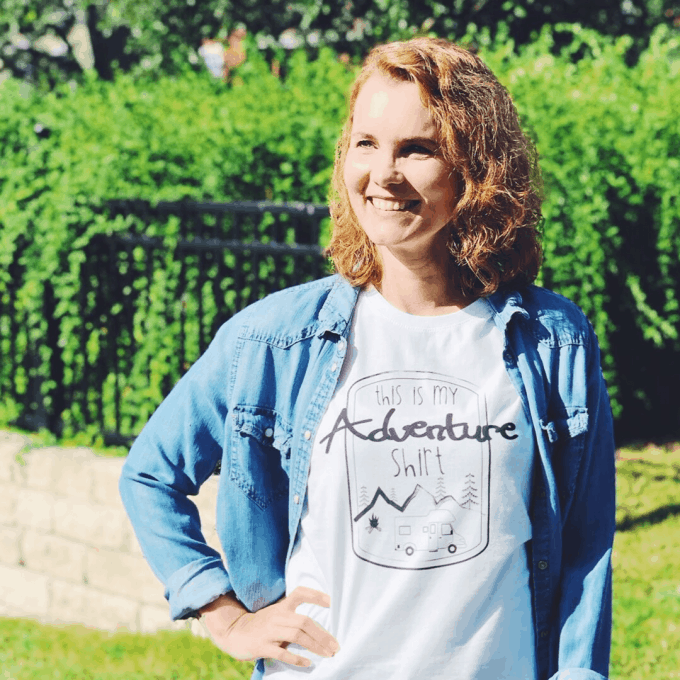 Julie Bonner is one-half of the TREKKN team. She specializes in helping you whip up delicious meals in your tiny RV kitchen, as well as RV organization tips and helping fellow RVers make their RV feel like home. Her favorite RVing spot is in Banff National Park in Canada where yes, the water really is that blue and the people really are that nice.
Last Updated on