Outdoorsy Review: 5 Things to Know Before Your RV Rental

We aren't exactly newbies to RVing. But renting an RV…now that is a much different animal. We want to provide you with our Outdoorsy review after renting an RV through their platform for the first time in July.
Update 3/3/2022: We're now back in our hometown in the Austin area and ended up purchasing a campervan very similar to the one we rented in Hawaii.
Read all about our purchase here and here. This proves that renting an RV before buying can be very helpful!
Update 4/21/2021: We moved to the Big Island of Hawaii for some sun, ocean and fun! Read all about it here.
So when we knew we would be making a trip three hours north to visit our daughter at college in July, we decided it would be the perfect opportunity to get a little taste of the RV life once again.
And Outdoorsy was one of the RV rental companies we had heard about the most and decided to choose for this little road trip.
We haven't rented through RV Share or Cruise America yet, but at some point, we'd like to so we can compare. We've been so happy with Outdoorsy's RV rental marketplace choices.
Why did we choose Outdoorsy? Well, a few reasons really! Their team is located in our backyard of Austin, Texas so we had the chance to meet them personally. We trust them and we like them, a win-win. We've used their platform, have interacted with their customer service and believe they are the best RV rental company on the planet. We've been so pleased with what Outdoorsy offers.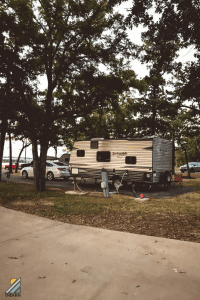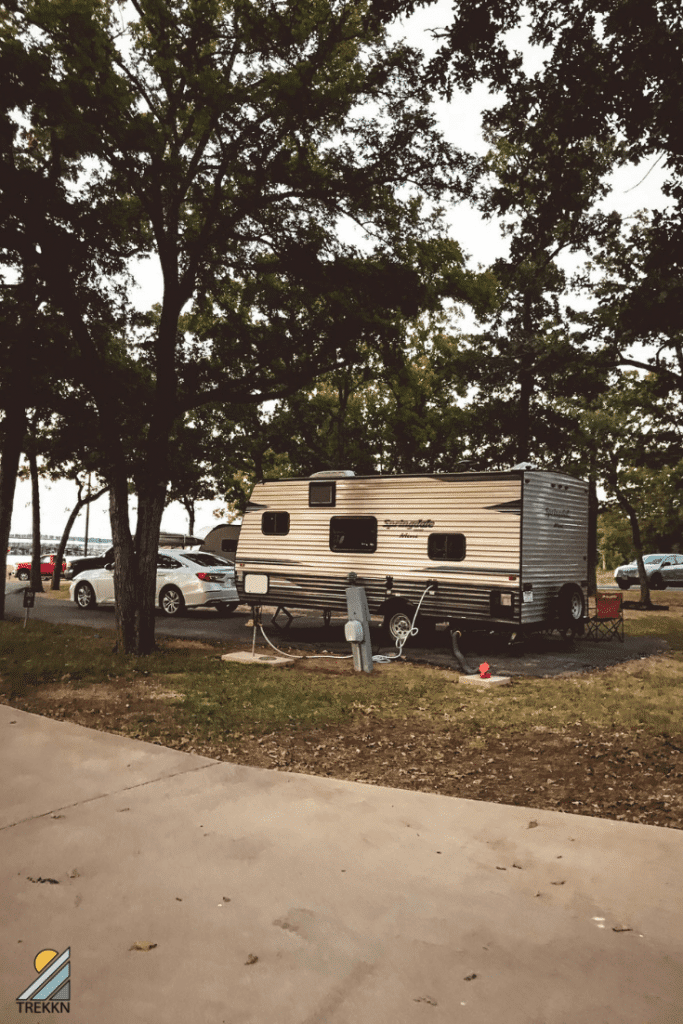 Outdoorsy Review: 5 Things to Know Before Your RV Rental
I want you to know that I think it is the coolest thing in the world that just about anyone can get a taste of the RV life these days. With peer-to-peer RV rental platforms like Outdoorsy available, you can literally rent and experience just about any type of RV imaginable. Even if you don't want to drive or tow the RV, the living experience is still available to you.
Before you jump into your first RV rental experience, I want to share five things with you about our experience that should give you the best experience possible. From additional charges to those little important details we can sometimes miss.
Side note: We've rented an RV with Outdoorsy several times, which you can read about below. Our latest rental was in 2021 in Hawaii and it was amazing! They were all a different (but good) rental process for you to read about.
1 – The Details Make the Difference
Sure, this might apply to many areas of life, in general. But it is definitely true, and something you want to keep in mind, as you are beginning your search for an RV rental.
This is the part you need to be most aware of: this is a peer-to-peer rental experience. This means that each RV you look at is going to have its own nuances regarding what is provided with the rental and what is not provided.
Each RV owner decides on the details like what they provide as far as amenities, cancellation policy, if you can get a full refund, etc. etc and it's your job to pay attention to those details and make sure you are getting what you need and expect for your rental experience.
Will the RV owner provide dishes and utensils in the kitchen? Will they provide toilet paper? What about sheets and pillows and towels and dental floss? (Okay, you should always bring your own dental floss…but you get the point.)
You owe it to yourself to take an extra few minutes to read through the RV rental listing multiple times to be sure you are clear on what is provided. It will likely save you plenty of potential frustration and hassle later on.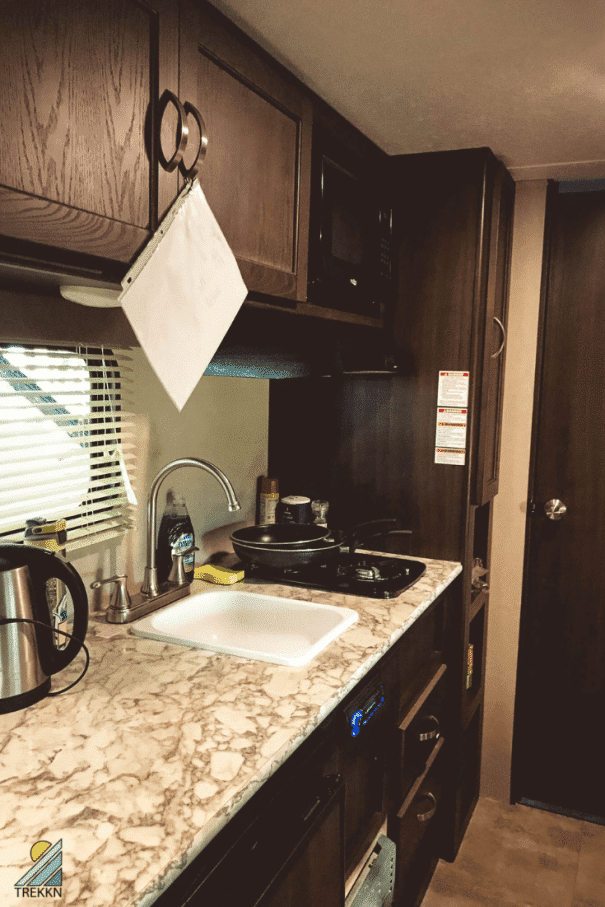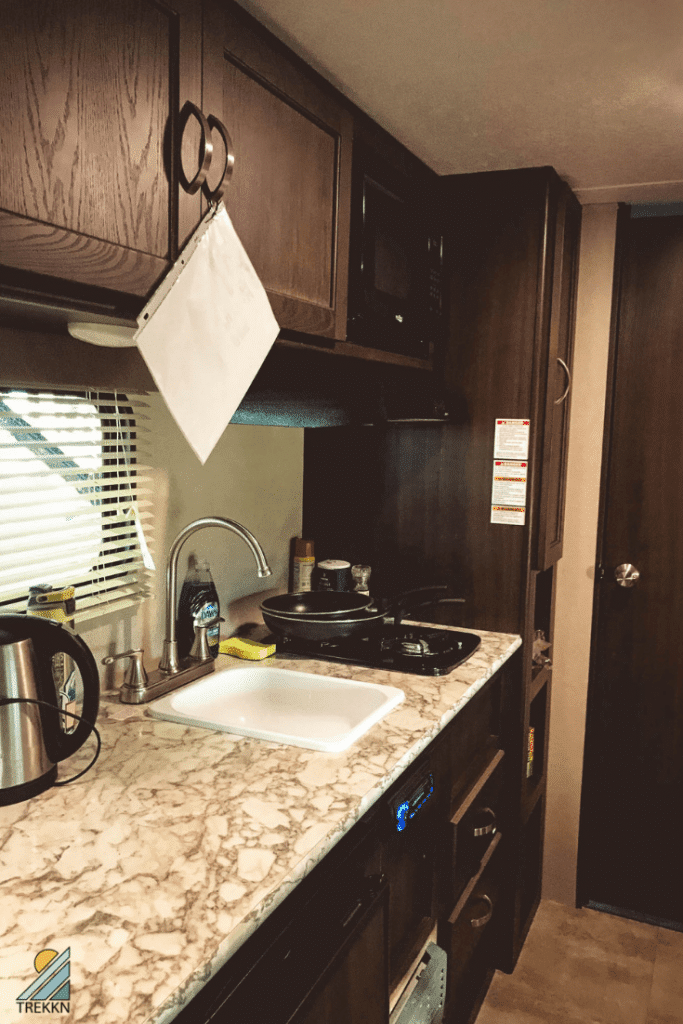 Learn From Our Mistakes
In our situation, we made some assumptions about what would be provided with the small travel trailer that we rented. And we were wrong. It didn't create a major crisis for us, but it was a small additional expense we had to take care of by running to a nearby store to make a purchase.
We could have potentially avoided the situation by communicating more effectively with the owner up front and asking the right questions. And now we have learned our lesson. Hopefully you have as well, since that's kind of the point of this whole post.
And speaking of communication…
2 – Use the Outdoorsy Platform and App for all Communication
We should always try to assume the best of other people, in whatever situation we find ourselves in. That's a lesson I am still learning (and trying to remember) well into mid-life. But that doesn't mean you should take unnecessary risks and open yourself up to problems and frustrations if they can be avoided.
Case in point: When you are renting from an RV owner, I hope you can make a friend at the same time and fully enjoy the experience of connecting for this transaction.
But the smartest thing you can do is to keep all communication with the RV owner within the Outdoorsy platform instead of getting a personal email or phone number from them and communicating directly.
When you download the app on your phone, it allows you to actually communicate through texting while still storing all of the communication on the Outdoorsy platform. This keeps everything very convenient and also very safe in the event that something goes a little out of whack with your rental.
Trust me on this: Communicate within the platform to protect yourself and increase the likelihood of a positive RV rental experience. It will make it much more likely that you can write your own positive Outdoorsy review after the fact.
3 – If You Don't Want to Drive or Tow the RV, No Problem!
Here is one of the biggest surprises for us as we began to explore the RV rental space:
You can pay a little extra and actually have the RV delivered to the location of your choice (RV park, campground, etc.)! Whether that's travel trailers, fifth wheels, Class A or Class C…quite a few RV owners will deliver.
In fact, it was this little nugget that actually allowed us to go through with our RV rental at all. You see, we don't own that beefy RAM 2500 truck any longer. No, we traded it in on a Honda Accord shortly after we moved back to bricks and sticks (stationary life).
Now, I love my Honda (it's my fourth in the past 13 years), but it will not be towing any type of RV on my watch.
Nope, instead, we paid an additional charge for the owner to drop off the travel trailer at the RV campground where we chose to stay. And he got it all set up and hooked up for us! Obviously, he came back to pick it up after we left. Easy peasy, folks.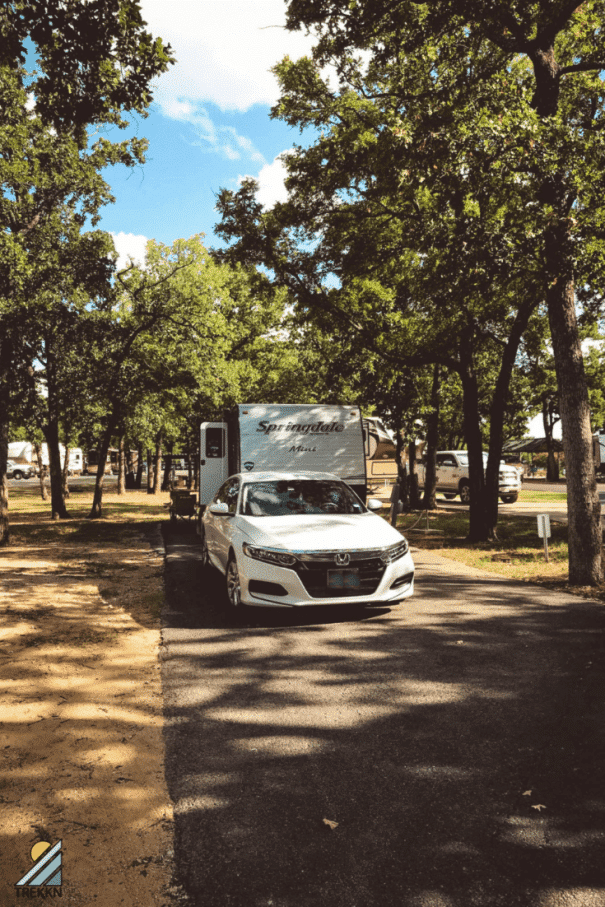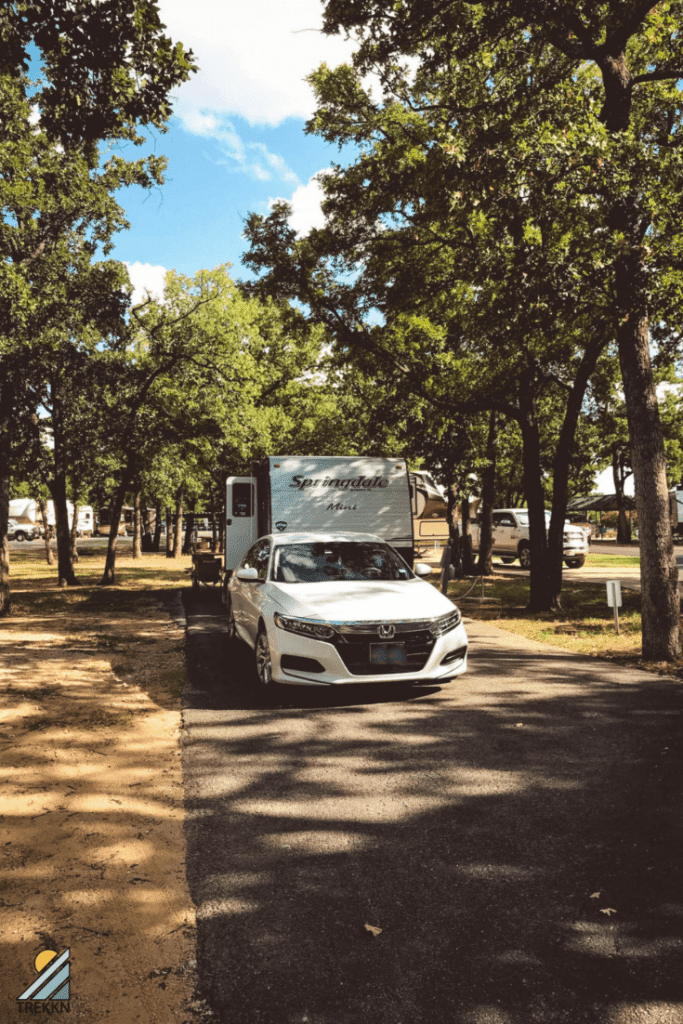 But How Much Does This Cost?
You should expect a charge of $1.50-$2.00 per mile round trip for this additional service, though owners are free to set their own rates. (I have seen a few charging muuuuuch more.)
How much did this cost us? An additional $64 (32 miles of towing for the RV owner). Considering the rental could not have happened at all without this additional service, I feel like it was a very reasonable charge. I would do it again for sure.
So don't count yourself out of the RV rental game just yet if you have felt intimidated by those large rigs. Just go to the Outdoorsy site and use the Search Filters panel on the left side of the search results page to adjust the "Delivery Range" filter to your desired distance.
Come on, it doesn't get much easier than that! So let the RV adventures begin.
Here's another Outdoorsy RV rental article we wrote that might interest you: How Much Does It Really Cost to Rent an RV?
4 – Peace of Mind is Available, At a Price
Alright, so I know that normally when the insurance details come up your eyes just glaze over. Yeah, I can see it happening already just because I said the word insurance. Snap out of it!
Just as I was discussing within the RV owner communication section, the details matter here as well. You should fully understand what your coverage options are with Outdoorsy and choose wisely.
For RV owners who've been approved for insurance, things are pretty simple on the insurance policy front when renting through Outdoorsy:
Protection of $1 million for liability
Protection of $500K for comprehensive and collision coverage
That one is pretty straightforward. Same coverage for all RV owners which will take care of any RV up to $500K in value (I don't want to rent that one, but maybe you do!).
Insurance Coverage Options for Potential Renters
For RV renters, things are a bit more…nuanced. You will have three insurance coverage options available to you at the time of booking:
Risk Taker

Insurance Protection: State Minimum
Property Damage Protection: Up to $15K
Motorized Deductible: $2,500 per loss; Trailer Deductible: $2,000 per loss

Essential

Insurance Protection: State Minimum
Assistance: 24×7 Roadside Assistance
Property Damage Protection: Up to $150K
Motorized Deductible: $2,000 per loss; Trailer Deductible: $1,500 per loss

Peace of Mind

Support: Concierge Services
Protection: Windshield Coverage
Assistance: 24×7 Roadside Assistance
Insurance Protection: $1M Liability Coverage
Property Damage Protection: Up to $500K
Interior Damage Protection: Hassle Free Claims
Motorized Deductible: $1,500 per loss; Trailer Deductible $1,000 per loss
Which option is right for you? In my view, that depends on the answers to these important questions:
Will you actually be driving/towing the RV? If so, what is your comfort and confidence level?
Who will be in the RV with you?
What is your risk tolerance level?
What do your cash reserves look like?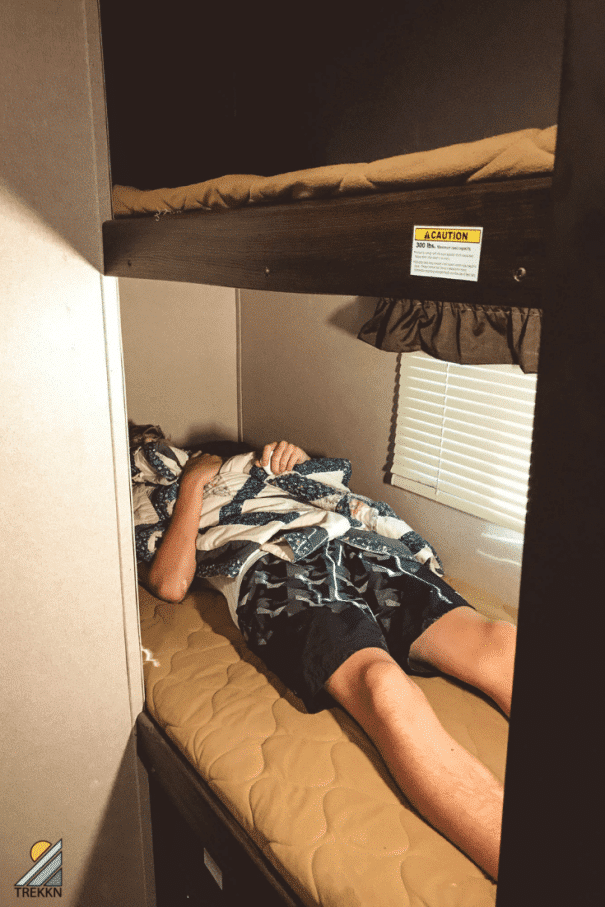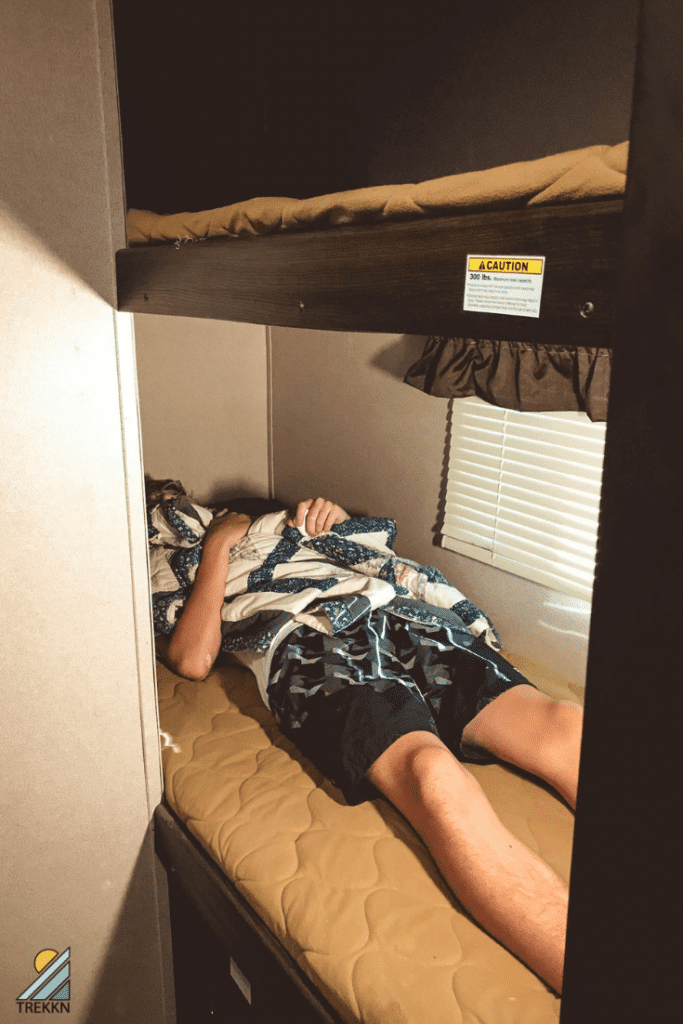 Walking You Through Our Insurance Coverage Decision
Let's take our situation for example so I can walk you through this.
Since we had the travel trailer delivered, I was not moving the vehicle at all. This was a lower risk situation. In addition, the value of the travel trailer was around the $15K max for the "Risk Taker" option.
It was just my wife and (responsible) teenage son along for the weekend. I felt confident we could all exercise caution and take care of the interior of the RV, avoiding potential damage and related expenses. (Interior damage of any kind is not covered until you reach that "Peace of Mind" option.)
I have developed a fairly high risk tolerance level, thanks in large part to our decision to leave it all behind and RV the continent. Risk Taker was looking pretty appealing at this point.
In the event that an interior component was damaged during our stay, it would not rock my world to pay for the (reasonable) repair. More than likely, the $250 security deposit that was charged two days prior to our arrival would cover any possible damage.
The answers to these questions led me straight to the least expensive option: The Risk Taker. This coverage added $17.95 per day to our rental costs; I am fairly certain the Peace of Mind choice would have been more than double that amount, but I do not know for sure. Actual coverage prices are determined by several factors, which include trip length, vehicle type and vehicle age.
Whatever choice you make for your situation, Liberty Mutual will provide the coverage for your RV rental experience.
5 – The Security Deposit Can Sneak Up On You
After I completed the booking process and provided the payment details, I still had one other detail I needed to take care of.
During the checkout process, they notified me that a $250 security deposit would be charged two days prior to my trip. I didn't really want that $250 coming out of the same account that I had used to pay for the rental, so I contacted Outdoorsy to discuss it.
The representative I spoke with was able to quickly take my additional credit card information and save it in the system. She set it as my default payment method for upcoming charges. So the $250 deposit would not come out of my checking account but would be charged to my credit card instead.
For me, this was just one less thing I needed to think about. I don't normally keep a ton of money in my checking account, so using the credit card would just make sure I avoided any potential issues with that money coming out of my account. Little things like that can definitely sneak up on you. For me, that was an easy way to avoid a problem.
So if you are paying the rental fees with a checking account, an extra three minutes on the phone to change over to your credit card for the security deposit is well worth it. That's some free "peace of mind" coverage I'll take any day of the week.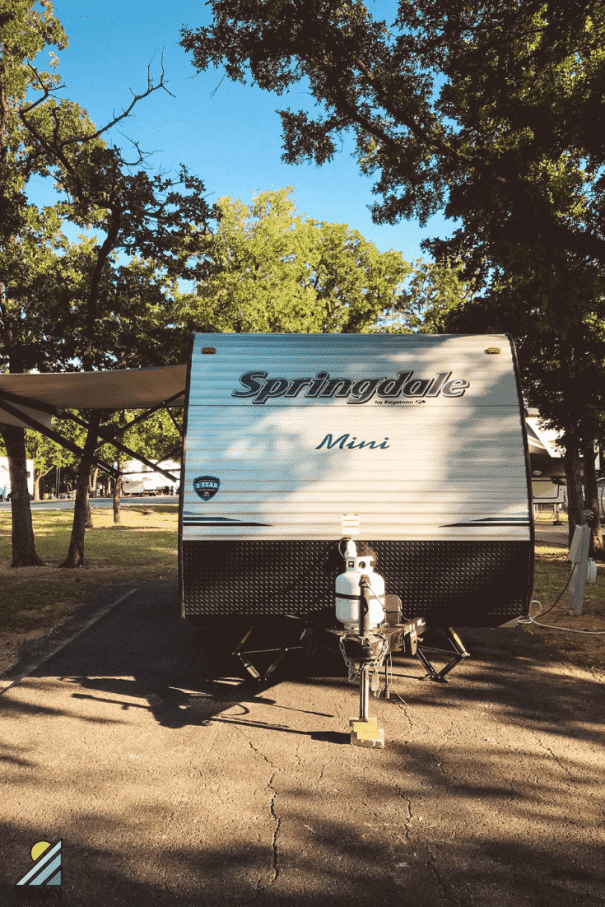 It's Time to Rent an RV and Create Your Own Outdoorsy Review
Seriously, it's time to try out this RV rental thing. You know you've been wondering about this, thinking about this, for too long. It's time to experience this!
And no, I'm not saying that you have to write a 2,000 word post reviewing your experience. That's just for weirdos like me.
But I do believe that you will want to let other folks know about your positive experience after you rent an RV through Outdoorsy. Your review might just look like some fantastic images posted on social media showing how you and the family escaped for a few days and truly lived the RV life that you've been talking about for so long.
Listen, if you have been considering an RV purchase, Outdoorsy really is a fantastic way to try something out before you make a purchase decision. Especially if you are considering the full-time RV lifestyle, but have never RVd before (just like us in 2017), this is a fantastic option to get a taste of it before going "all in".
You will not regret it!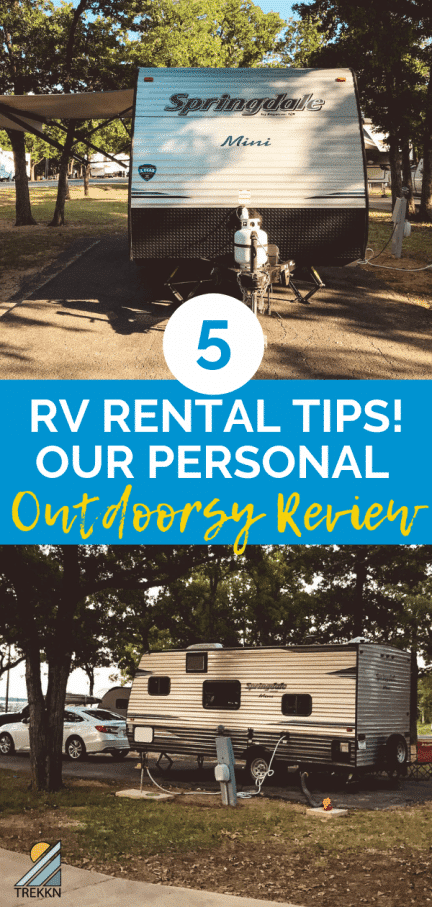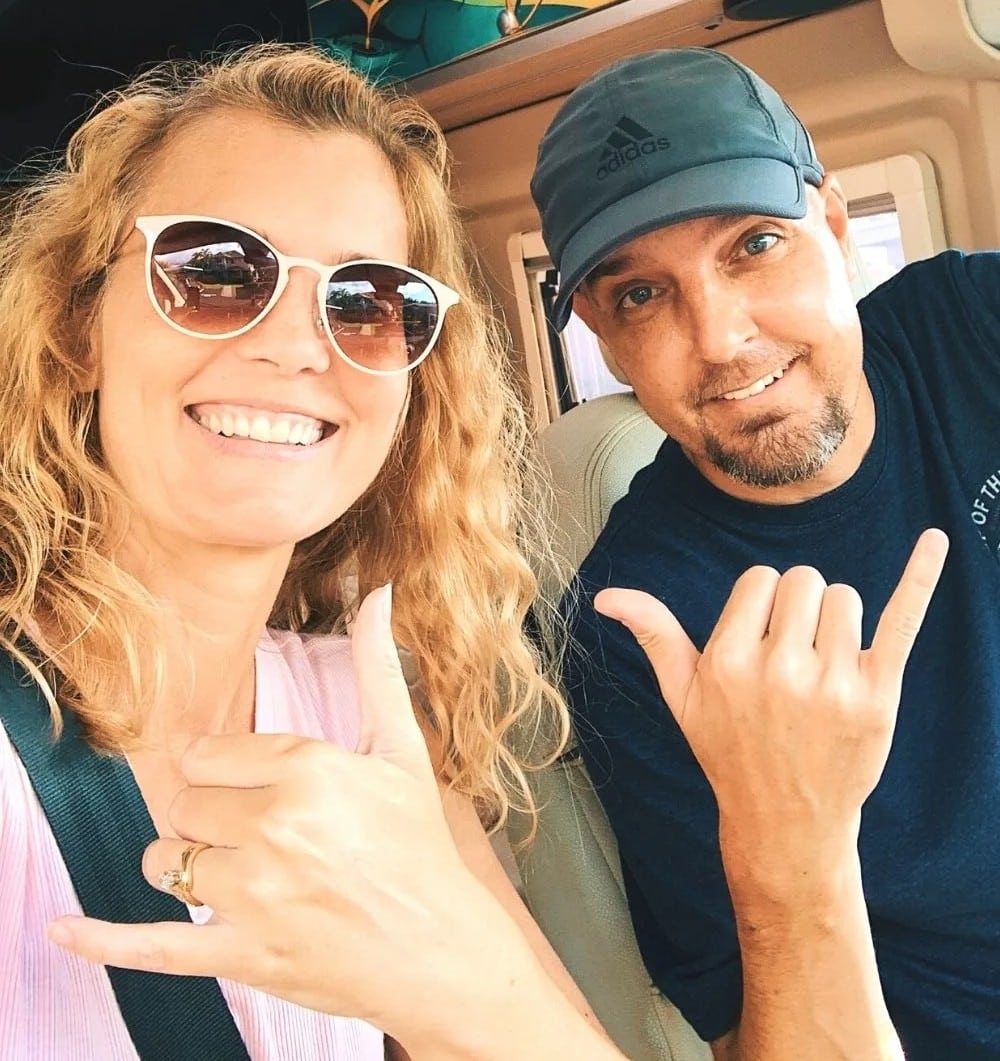 Todd loves a competitive game of table tennis, a breathtaking hike, and exploring new places. He lived and traveled in an RV with his family as they traveled throughout much of the US and parts of Canada. Todd has extensive knowledge about RV travel, safety, and accessories and has shared many of his stories here on TREKKN. When he's not busy launching and building small businesses, you may find him staring at pictures of Glacier National Park (probably his favorite spot on earth).