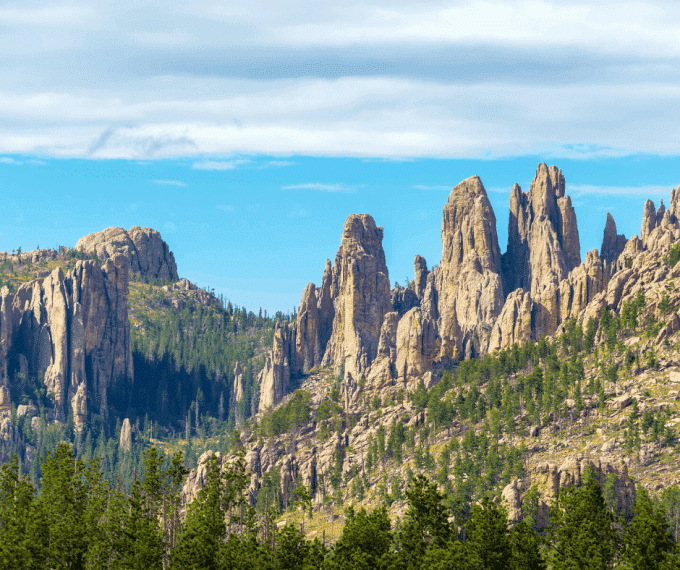 Are you interested in taking an RV trip through the Black Hills of South Dakota? Read on for ideas of what to do, what to see and where to go camping.
When we first moved to South Dakota, I wasn't sure what was out there. Growing up in the South, I had never experienced any of the Midwest before in my entire 24 years of life. We've always been a sunshine lovin' family, so we didn't have a problem with our ways until we made our way out to visit South Dakota.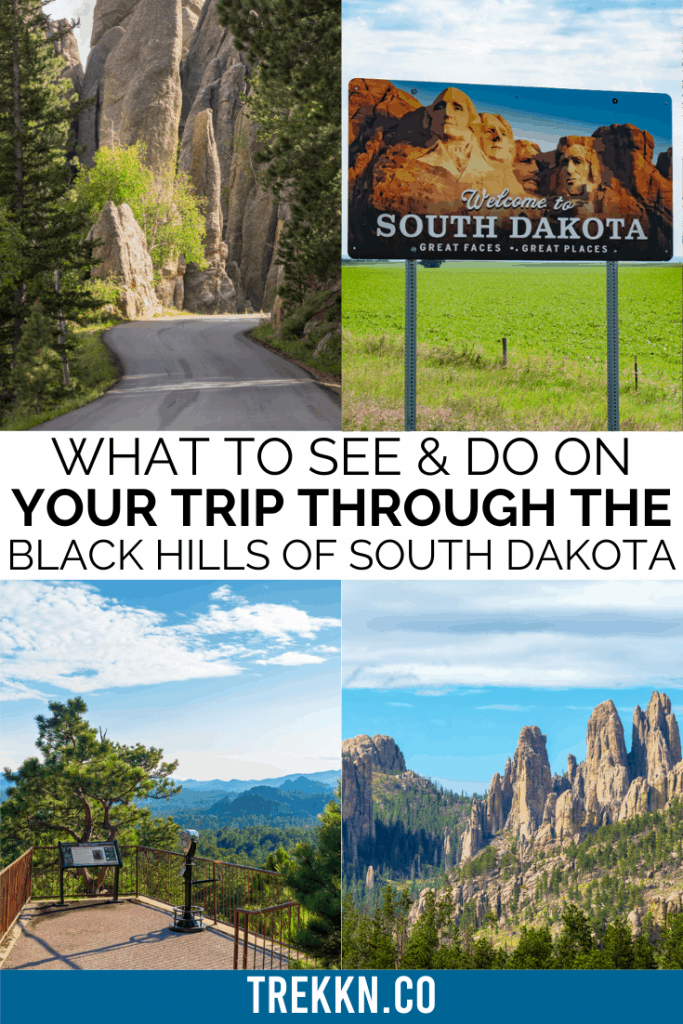 Tips for Taking an RV Trip Through the Black Hills of South Dakota
Traveling with a trailer or RV through the Black Hills area can be difficult, but it's well worth it to see the sights. If you know where you're going and have the opportunity to plan ahead, your trip through the Hills will be one to remember!
To help you plan your trip through the Black Hills, I'm giving you all the tips and tricks to know exactly what to do and where to go.
Where Exactly is the Black Hills?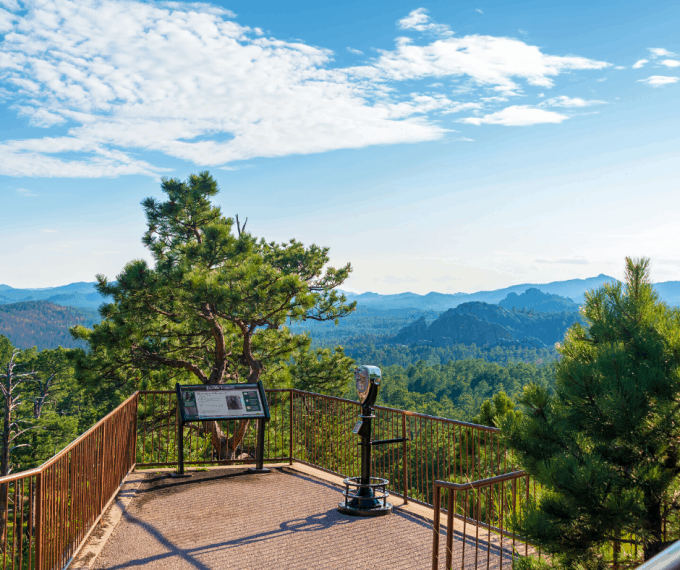 I think we've all heard of the Black Hills at one point or another in our lives (or at least Black Hills gold), but I know I had no idea where they were until I was planning to move halfway across the country to South Dakota. So here's the first step of planning!
The Black Hills is a widely dispersed area of forest near Rapid City, South Dakota, which also includes several other areas such as Deadwood (a historic now-casino town), Lead, Spearfish, and a handful of other little towns on the west side of the state.
Throughout these areas, you'll find tons of hiking and biking trails, historic landmarks and monuments (like Mount Rushmore and Crazy Horse), as well as South Dakota's second-largest city, Rapid City.
When to Visit
As with all places in the Midwest, the weather can change at the drop of a hat. This is especially true in winter, so you should do your best to plan your trip any time other than November through late March to April. You'll save yourself a lot of grief and stress, trust me.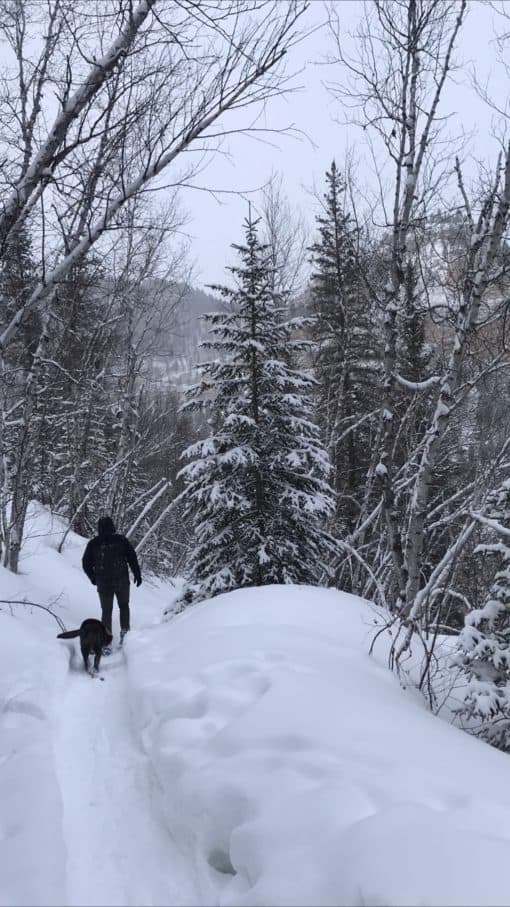 The best time to visit the Black Hills with an RV or trailer is early Summer to early Fall. Early Summer is a great time to visit as the weather is heating up and you'll find that the only thing that will rain on your parade is rain, not snow, sleet, or mud. You'll get to experience the Hills at their finest with bright green trees, tall prairie grasses, wild bison, and all of that jazz.
Early Fall is also a good time to make the trip as the tree-covered mountains are beginning to shed their colorful leaves before winter. You'll also enjoy the added benefit of lighter crowds than you would expect during Summer.
How to Plan Your Trip to the Black Hills
So you know where to go and can pinpoint the general area on your map, but how should you go about planning your trip?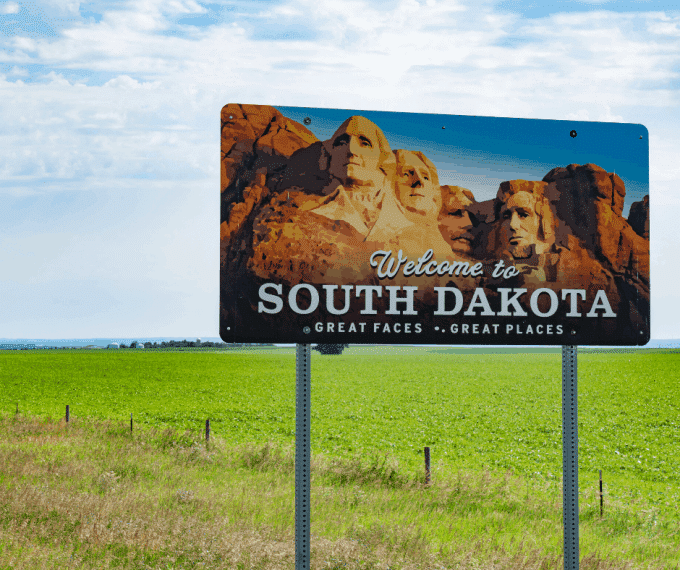 For many, South Dakota is a "one and done" state. You visit once, see all the things, and leave to never return again. I don't necessarily agree with that sentiment, but I also know that there is a lot to see and do in the U.S. so finding the best things to stop and see in each state can be difficult.
To help you navigate the bucket list items and some places off the beaten path, I'm including some of the most popular places as well as some of our favorite stops in the Black Hills that many people don't normally take the time to see.
For starters, here's a handful of the places most people go when traveling through the area:
Mount Rushmore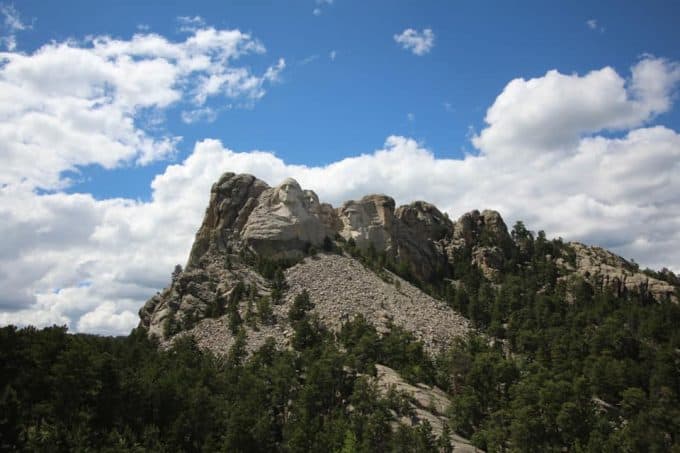 I know, I know, Mount Rushmore is on practically every U.S. trip list. It's one of those bucket list items that you have to see to check it off the list, and it's one I couldn't leave off of this one. We went in July for the first time and although it was pretty insane to see in person, the experience itself was overwhelming for many reasons.
There's a parking garage for tourists, but I wouldn't recommend bringing a trailer or RV to visit this particular National Monument as you will ask yourself (several times) why you chose to do so with so many people and so little parking.
If you really want to see Mount Rushmore I suggest dropping your trailer or reserving a seat on a tour bus. You'll be happy you did if it's your first time to visit. A quick jaunt from the parking garage or tour bus dropoff, you'll find a walkway that takes you straight back to the famous Mount Rushmore view. It's truly an amazing view and pretty shocking to think about once you know the history behind how it came to be.
At Mount Rushmore, there's also an ice cream shop, gift store for souvenirs, restrooms, and a little historical area located at the front of the monument. But really there's not much to the actual monument other than the rock faces, state flags, and outdoor theater area.
I still think seeing Mount Rushmore at least one time is worth it, but I doubt that we'll be going back any time soon unless it's to take a family member or friend to visit for their first time. If you want a more dramatic view of Mount Rushmore, visit later in the evening to see it lit up!
Crazy Horse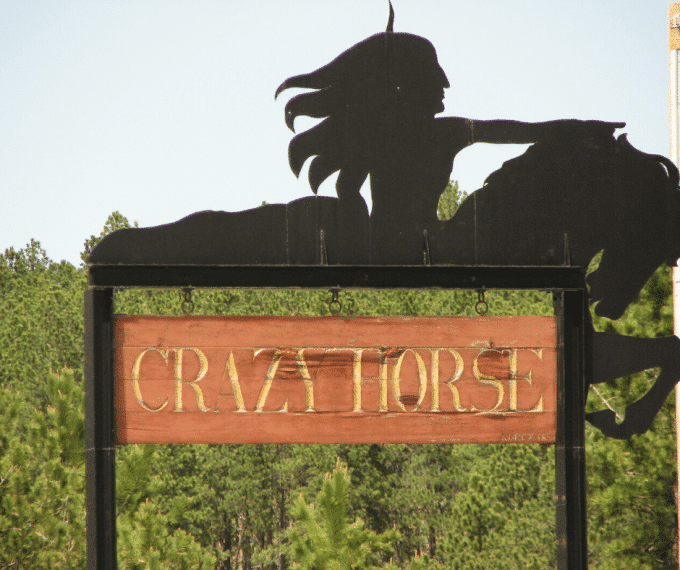 The mostly constructed Crazy Horse memorial is another landmark that most people make an effort to see when they're in the Black Hills. I personally haven't been to the sculpture, but it does have plenty of RV and trailer parking (much more than Mount Rushmore offers!).
Crazy Horse is a nice stop for those who travel with pets, as they welcome pets within the Guest Areas and some of the areas near the Crazy Horse memorial, too. We'll be checking this out on our next trip out to the Hills to check it off our list!
Deadwood
Though not nearly as exciting as the Deadwood HBO Series, the city of Deadwood that the show is based on exists in the Hills! This historic little town is a stone's throw away from Spearfish and it offers a different kind of experience all its own. This little town is known for its history (and its casinos) today as it brings in tourists from all around to see the sites of the Wild West in a more modern way.
Sturgis
For all the motorcycle-loving travelers out there, the city of Sturgis is a serious party once a year in August during the town's motorcycle rally. There isn't much else to do besides settle in with your bike, grab an adult beverage, eat good food, and hang with other motorcycle lovers. But it's always a good time and that's what counts, right?
Our Favorite Places to Visit
We've seen and done most of the "must-see" places in the Hills, but we've never been ones to stay the course. We love going off the beaten track to find experiences that allow us to wander as a family without all the hustle and bustle of tourists. So here are a few of our favorite places we've experienced during the slow travel season.
Custer State Park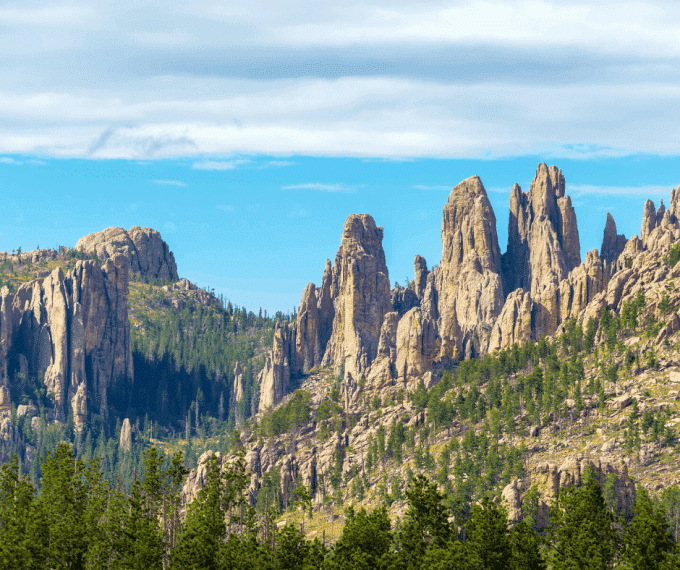 Custer State Park is a cannot miss stop if you come to visit the Black Hills. There's so much to do in Custer State Park that there's no way you'll be able to see and do it all, but we have a few things you must see before making your way out of the area.
Wildlife Scenic Byway
The Custer State Park Wildlife Scenic Byway is probably one of the most popular roads in the park, but it leads to some grand rewards. Midway through this trail, most people encounter wild burros that wander from one side of the road to the other to meet and greet with the park's visitors.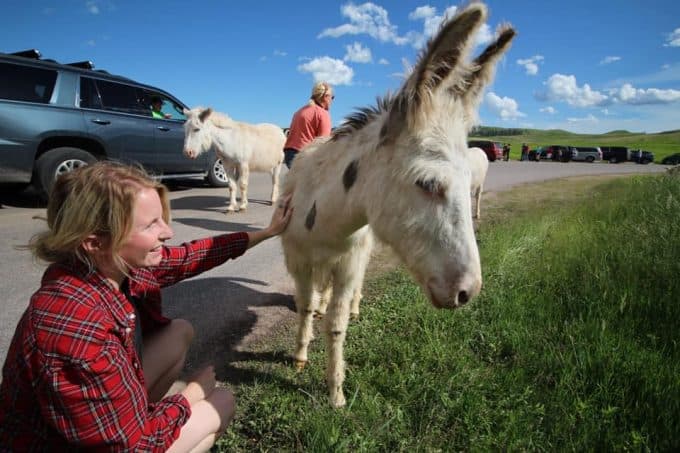 For us, we wanted the burros to come to us only when they were comfortable so we found our way to one side without them and slowly watched as they came over to say hello. We pet these burros to our hearts' content before hopping in the car and being on our merry way, but it's important to note that you should never feed wildlife! There are signs posted throughout the park reminding you, so please keep your snacks to yourself and always have your eyes peeled for bison and burros!
Camp in Custer State Park
Most campsites within Custer State Park have electric hookups and room for RVs to settle in for the night. Down in the park, you'll find that it takes a while to get anywhere so if you come to visit you should plan to stay for a few nights. There are beautiful places to camp throughout the entire park, and we haven't stayed at all of them, so be sure to take a look at each campground before booking the first reservation.
Needles Highway
If you didn't get to fully experience Needles Highway heading into Custer State Park, you should take the time to drive the full-length of it. The Needles alongside the road make for stellar photos and you'll be hard-pressed to find rock formations like it anywhere else in the state.
Travel Note: Needles Highway is beautiful from start to finish, but it does have some limitations for bigger RVs and trailers. You should look at a road map before making the drive towards Custer State Park to make sure your rig won't get stuck between carved out roads and switchback style turns. You can thank me later!
Spearfish Canyon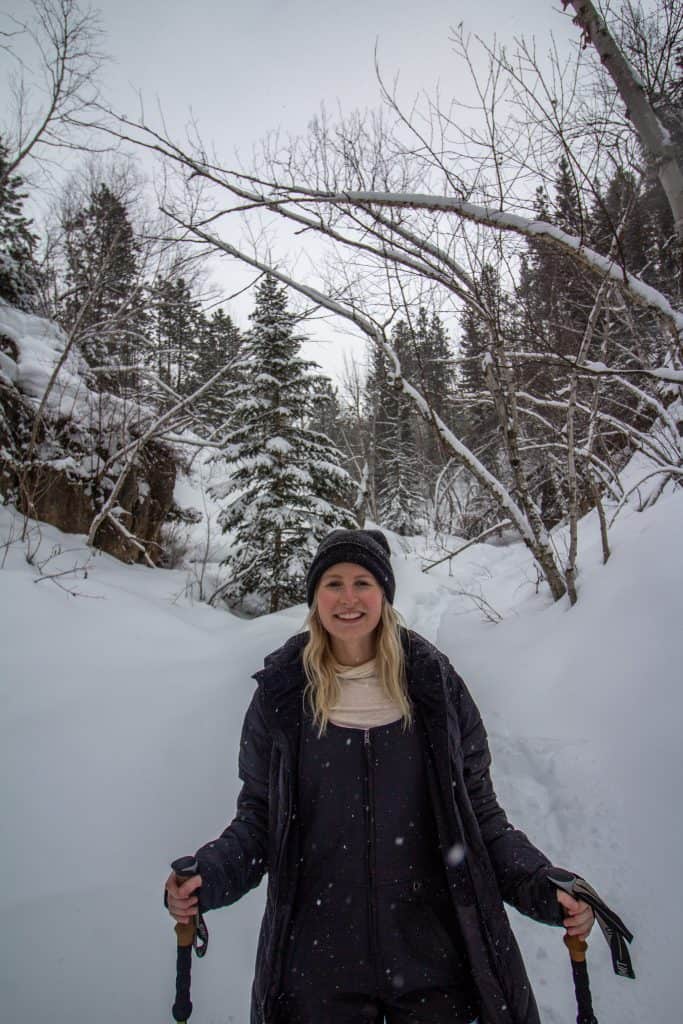 Another place to stop and take in the Black Hills views is Spearfish Canyon. A lot like the Black Hills National Forest you see near Custer State Park, this area offers forested mountains and deep valley adventures.
Spearfish Canyon is another stretch of highway that is relatively easy to travel compared to Needles Highway. It leads from the town of Spearfish all the way down through the canyon where you'll find Spearfish Lodge, snowmobile and hiking trails, waterfalls, and river views.
Whether you're driving down the highway to take in the views behind the wheel or hopping on a trail alongside the road, you won't be disappointed in what you see in the slightest. This area is usually less trafficked than Needles Highway or Custer State Park which is why we often choose to visit this side of the Hills when we need a getaway.
Spearfish Canyon is also just a little drive away from the town of Spearfish which is an up and coming area with unique restaurants, coffee shops, and boutiques which are fun to explore at the end of a long day or weekend in the woods.
Pactola Lake
Last, but not least is Pactola Lake. Pactola Campground and Lake is a great place to settle in for a few days or more if you can fit it into your itinerary. Boating, kayaking, watersports, and fishing are just a few of the things you can do here to keep you busy on hot summer days. Some even choose to scuba dive here as it's the clearest water in the state!
For us, Pactola is a great escape from the hustle and bustle of highway roads. Wildlife is abundant here, too, which makes it a great place for birders and photographers to vacation. We love this place because it offers a whole lot for a little camping fee of $26 a night and the dog can join us, too (for an extra $2 a night)!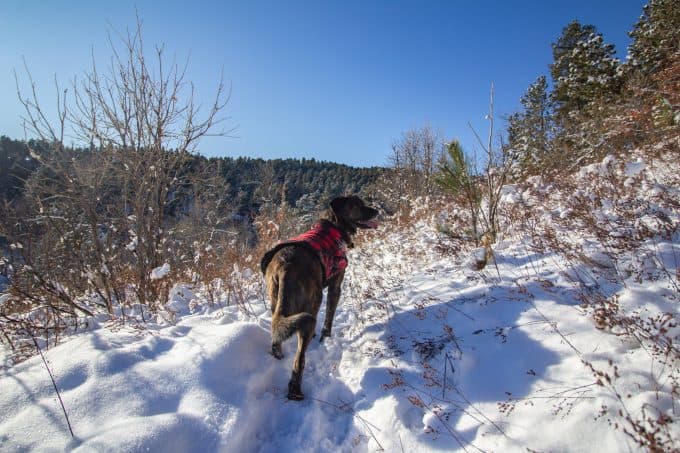 There's Always More to Explore in the Hills
No matter how many days you take to explore the Black Hills, you'll find that you can't cover it all in one trip. There are endless hiking trails, biking routes, historic monuments, scenic roadways, and bison to see every time you make a trip through the area.
In the last 8 months since moving to South Dakota full-time, we've only seen a handful of the things the Hills has to offer, but we're excited for the opportunity to check more off our list as the seasons change again soon.
If you're looking for more incredible RV destinations in the U.S. and Canada, check out a few of these posts on TREKKN:
PIN THIS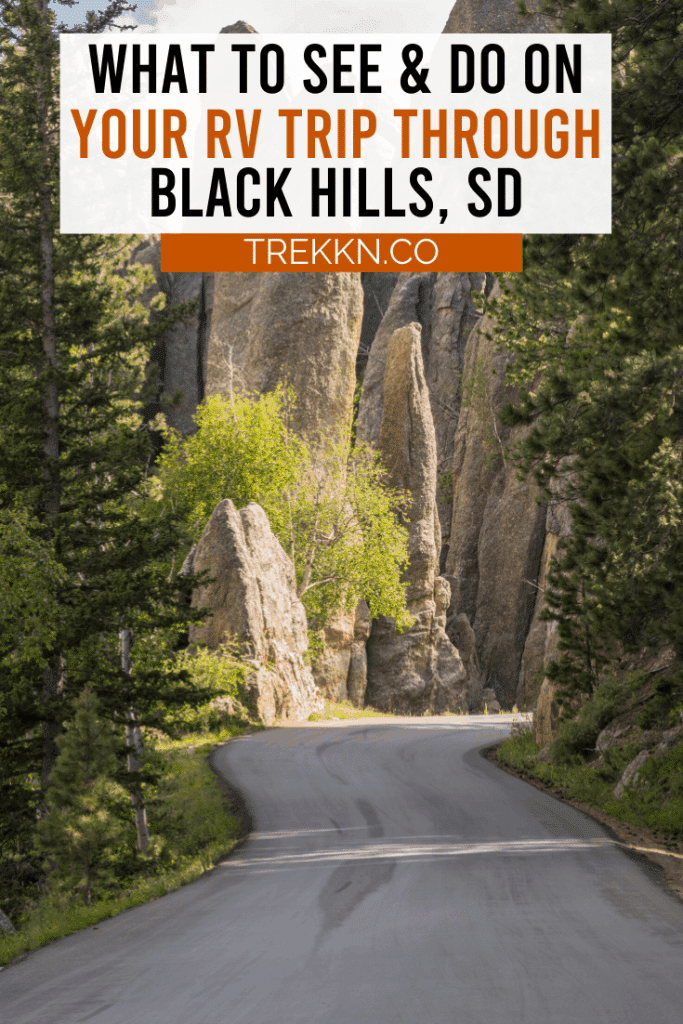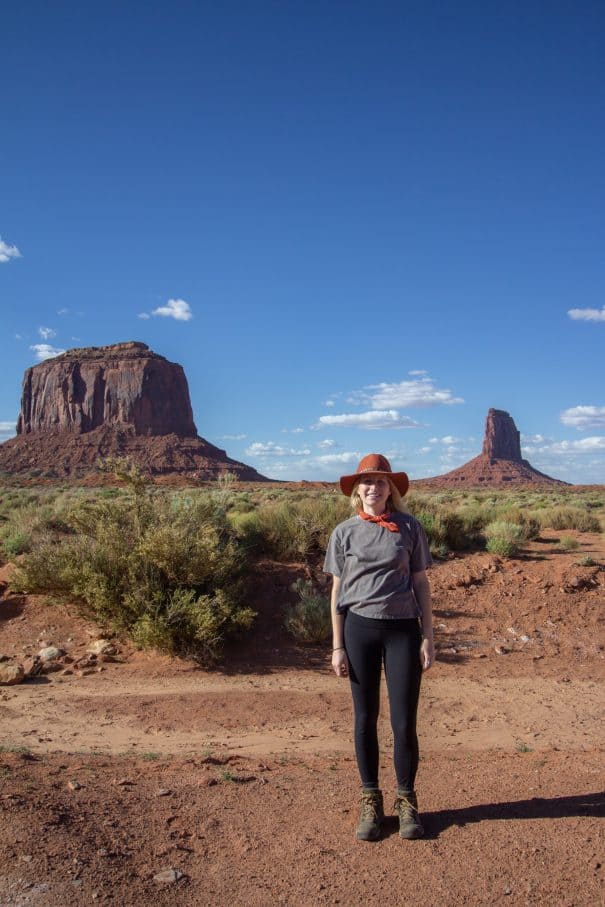 Erin Maxson is rooted in South Dakota, but wanders every chance she gets to see the beauty that nature holds. From hiking to climbing, there's not an adventure she'll turn down.
After renovating her 1976 Airstream Argosy, Erin knows the ins and outs of living life on the road and trailer maintenance.
Whether she's on the road with her dog and partner or at home curled up with a good book, Erin is always planning her next adventure because life is meant to be lived outdoors.