9 Tips for How to Use an RV Oven and Not Burn Your Food

If you're new to RVing and you want to whip up some amazing meals in your RV kitchen, it's good to know a few basics on how to use an RV oven. It's incredibly easy to burn food in your RV oven, as well as bake items that don't get done in the middle. Just ask me how, I know.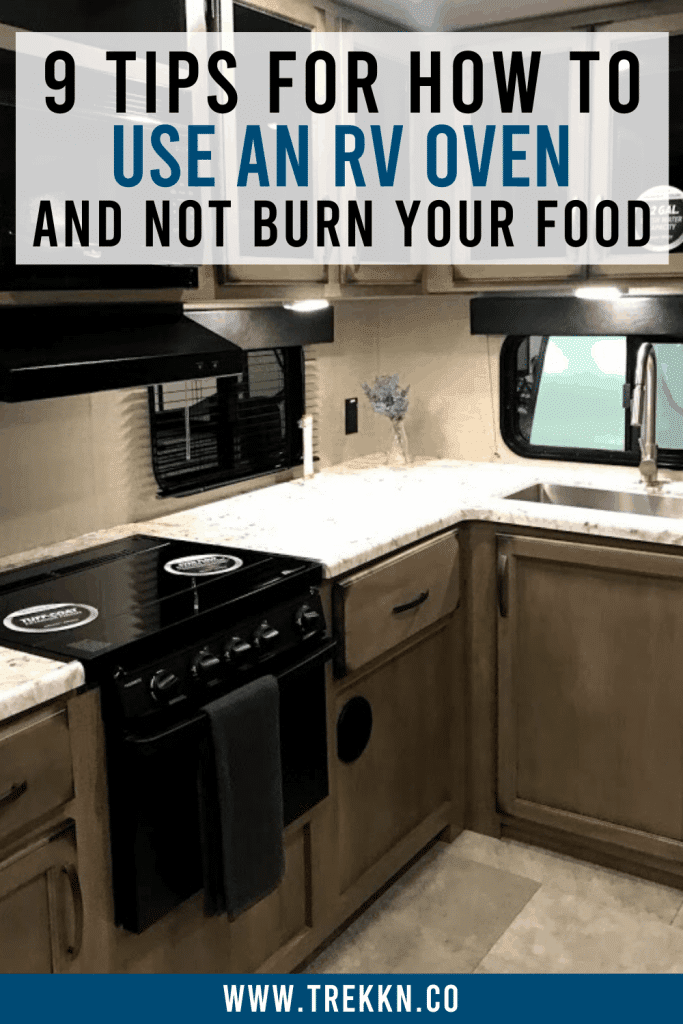 The Best RV Oven Baking Tip I Was Given
The best tip I was given when it came to using my RV oven, was to place a baking stone on the bottom rack to disperse the heat. This one simple tip helped me bake up some delicious muffins, bread, casseroles and more. To make sure this tip was legit, I did a little experiment and baked a pan of muffins without the stone. What happened? The tops burnt and the inside didn't get done.
Let's expand on this tip a bit more, plus share a few more that will have you baking with confidence in your RV in no time.
How to Use an RV Oven
When we first started RVing, I scoured Facebook groups, RV blogs and YouTube channels looking for every RV oven tip under the sun. You see, I love to bake and I didn't want moving into an RV to travel full-time to stop me from doing so.
I also had very little experience cooking with gas. We've moved a ton, but I can only think of two places we lived that had gas. All the others were electric.
Through my research, I found so many differing opinions and tips. Some ended up being very helpful, but some people said you're better off using a microwave oven than your RV oven.
You Learn Best Through Trial and Error
Through some trial and error, I learned what tricks worked for me, as well as what I could cook and what I shouldn't cook in the RV oven.
For example…muffins turn out great. I have a cinnamon bread recipe I love to make, but instead of baking it in a loaf pan which takes about an hour (and uses tons of propane), I made it into muffins which took only minutes.
What about roast chicken? I did that in the Instant Pot instead. Again, it takes over an hour and I didn't want to use up a ton of propane.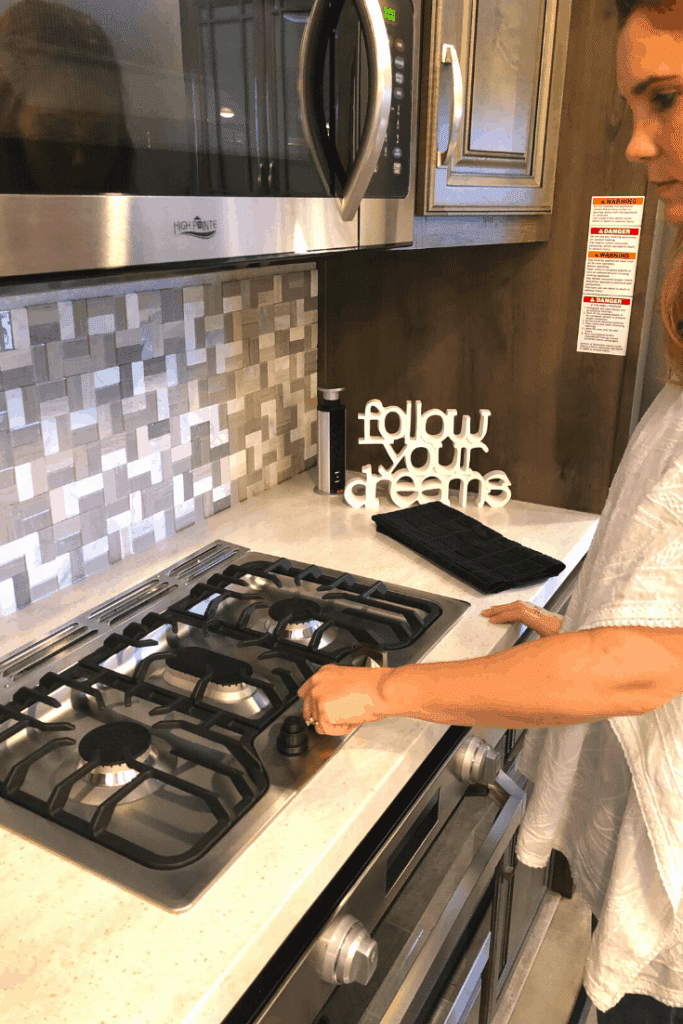 Side note: For tips on using an Instant Pot in your RV, check out this post I wrote featuring all the tips I could think of.
Although I hope (and think) the following tips will help, a lot of cooking in your RV oven is through trial and error. Just know you might have some disasters and that's OK. It's a good idea to have a backup plan in case dinner has to be thrown in the trash. Hey, it happens.
9 Tips for Using Your RV Oven
Without further ado…here are 9 of the best RV oven tips.
1. Preheat Your Oven
When I first read this tip, I didn't think anything of it. I mean, don't you always have to preheat an oven?
But when we started traveling in our RV and I wanted to use the oven, my first thought was the fact that I was wasting propane. Propane is gold when you're RVing! So I didn't preheat the oven and guess what? Yep, it was a disaster. I was making cornbread muffins and they didn't get done in the middle, but the bottoms were black.
Although it feels like a waste of propane, take the few extra minutes and preheat your oven. Why? Because it's important to have your oven at the right temperature so the food cooks more efficiently and so the oven is at the right temperature to cook the center of the food before the outside is overcooked.
Pro tip: When you're first starting out, use a timer to see how long it take your RV oven to preheat to certain temps and then jot it down. That way, as you get more experienced, you'll know how long a dish will take from start to finish.
How do you know if your RV oven is heated to the right temperature since they don't have a little timer letting you know? That answer is my next tip.
2. Use an Oven Thermometer
There is absolutely no way for you to know if your oven is actually at the right temperature without using an oven thermometer. RV oven temps on the dial are not to be trusted! Trust me. 😉
I brought one I already had with me, similar to this one I found on Amazon, and it worked like a charm. It didn't take long to see that what temp the dial said was not the actual temp of the oven.
After you've used it a few times, you'll figure out where to set the dial for the temp you need.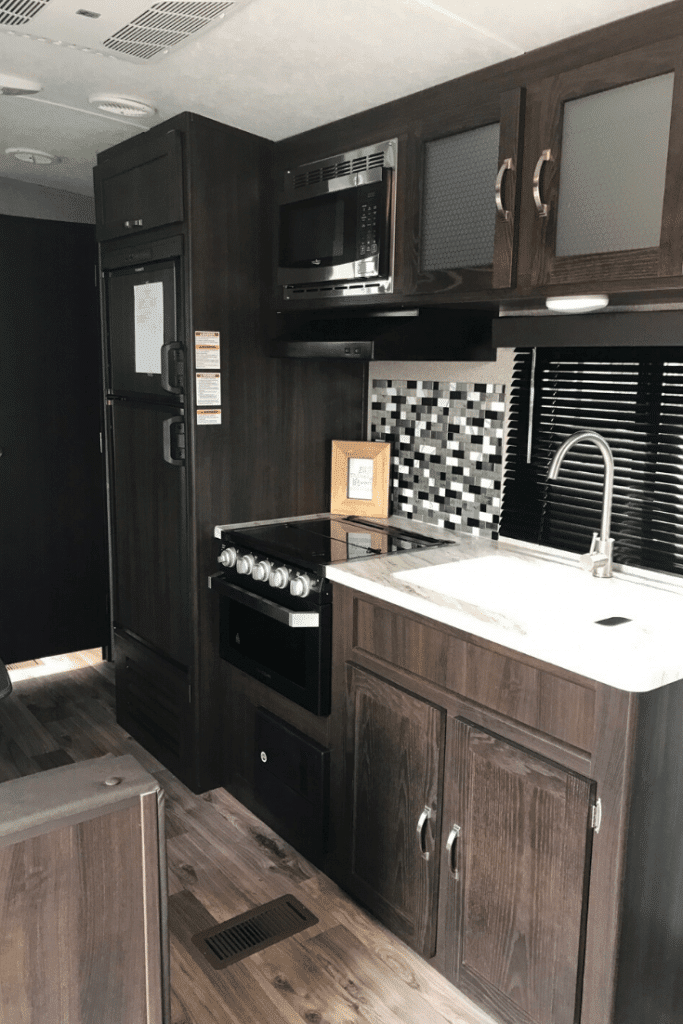 3. Use a Baking Stone
As I mentioned above, this was the best tip I received and it was from an RV Facebook group.
If you're an RV beginner or are about to move into an RV for full-time travel, I highly recommend joining a Facebook group or two. Just use the search function and most likely you'll find an answer to your question.
I learned this oven tip from the Full-Time Families RV Facebook group and it ended up being an invaluable tip.
I had several stones I already used and loved, but thankfully I checked to see which ones fit before bringing it with me. Come to find out, my large pizza stone wouldn't fit in the tiny RV oven, but my small one, similar to this one, did.
You could also try a small rectangle-shaped one.
Just make sure you either know the measurements of your oven, or you try out the one you do have first to see if it fits.
If you'd like an exhaustive list of every kitchen essential I brought with me on our full-time RV travels, check out this post I wrote all about RV kitchen accessories.
4. Use the Right Size Bakeware
Have I mentioned RV ovens are small? It's true.
My favorite casserole dish, paella pan, and pizza stone didn't fit in my RV oven, so I didn't bring them with me.
If you can park your RV at your house, I'd recommend rounding up the bakeware you want to bring with you and seeing if they fit. Why bring a heavy dish with you that ends up being useless?
5. Raise the Wire Rack Higher
Unless you like the bottoms of your food blackened, you'll probably want to raise the rack in your oven to the middle. When I first started baking in the RV, I had it on the lowest point and although I had the pizza stone in there, the bottoms still burnt.
Through trial and error (are you seeing a pattern here) I learned that the middle section was just right.
6. Rotate Your Dish Half Way Through Cooking Time
If there's one thing I learned about the oven in my travel trailer, it's that no matter what I did or how many tips I followed, it did not distribute the temperature evenly. For some reason, I could not fix, the left side of the oven was hotter.
But one little tip helped me navigate around that problem and that was to rotate my food halfway through cooking.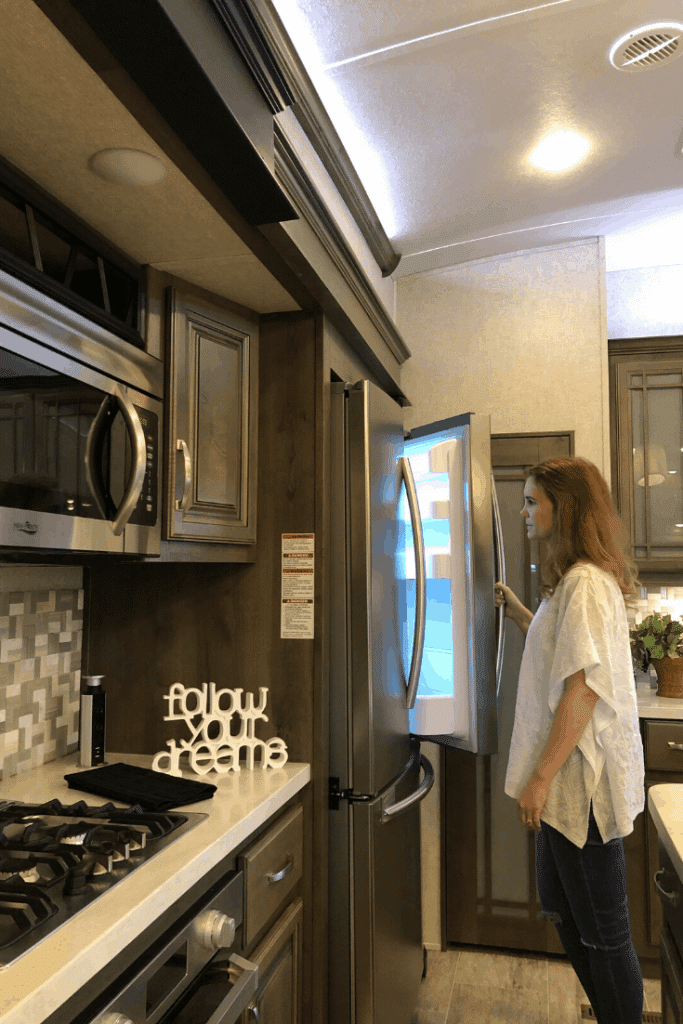 7. Make Sure Your RV Is Level
This tip makes me laugh because only would 'make sure your house is level for baking' apply to RVers.
I remember very well the first time I baked something when our travel trailer was just a bit off. I made muffins and they were slightly sloped to the right…just like our travel trailer was. They tasted fine, but man did they look funny.
8. Know That Cooking Times Will Be Different
You'll quickly find out that your RV oven will either cook slower or faster than the oven in your stationary home. Most likely, cooking times will not be the same.
I kept a notes section on my phone with cooking times for each dish I made quite a bit. Taking that one little step helped alleviate any stress and problems when baking.
9. Make Sure You Have Propane
I know, duh, right? But hear me out.
When you're RVing, especially full-time, there are a lot of things to keep up with.
And when you're first starting out, you're not used to keeping an eye on things like your propane levels. Our travel trailer didn't show propane levels on a panel anywhere, unfortunately.
So sometimes, you might run out of propane in the middle of the night when you're camping somewhere cold. Or you might want to take a hot shower and guess what? No propane. Or you're wanting to bake something in your nice little RV oven and…no propane.
It happens. So always make sure you have propane.
RV Oven-Friendly Recipes
As of now, I don't have very many recipes using the RV oven, but here's a couple you might want to try: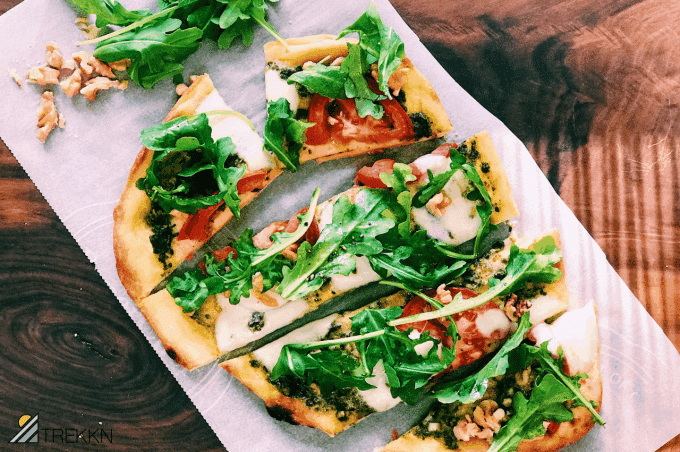 How to Light an RV Oven in a Travel Trailer
If you have no clue how to light your RV oven, no worries, I didn't either.
Here's a handy video that shows you how to light it and it just so happens to look exactly like the one in our travel trailer.
Are You Ready to Use Your RV Oven?
I hope these 9 tips help give you the confidence to start using your RV oven. When we first started RVing I felt like there were a hundred things to learn and I would never get the hang of it all. But we did and I know you will too.
Have fun whipping up some yummy meals in your home on wheels!
PIN THIS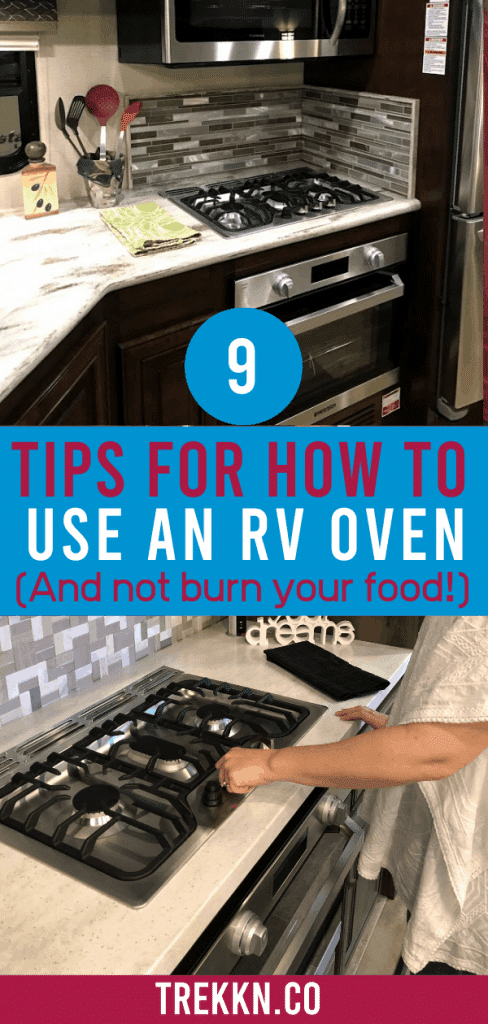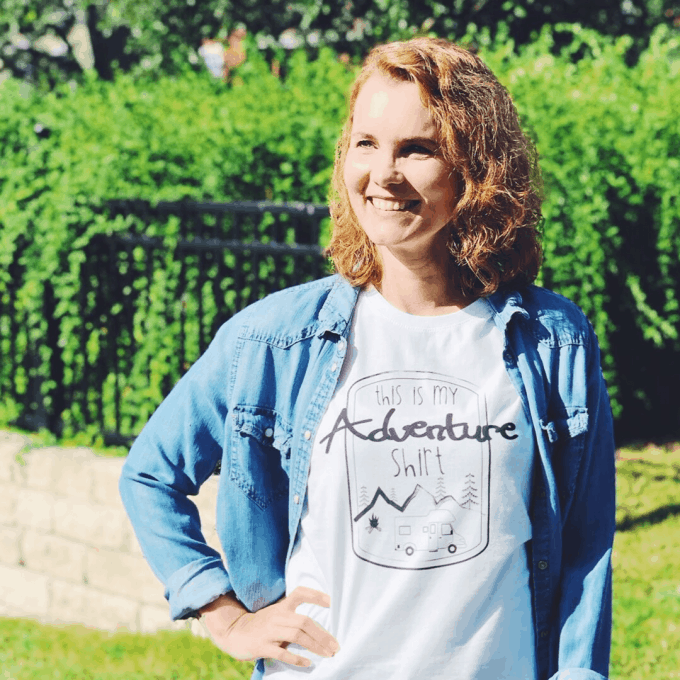 Julie specializes in helping you whip up delicious meals in your tiny RV kitchen, as well as RV organization tips and helping fellow RVers make their RV feel like home. Her favorite RVing spot is in Banff National Park in Canada where yes, the water really is that blue and the people really are that nice.