The Logistics of Full-Time RVing With a Child in College

After we've been asked a question more than three times, I've decided to start answering it here on TREKKN. One of those questions we've been asked quite a bit is how it works to full-time RV while you have a child in college. Let me tell you, it can be tricky but it's doable.
After all, we did it for a year and a half while our oldest daughter was attending college in Texas.
As we were bouncing the idea to full-time RV off of each other, one of the biggest questions Todd and I had was what about our daughter. She was a freshman in college and was only about 3 hours away. So coming home for holidays or long weekends wasn't a big deal. Me going to see her just because I felt like it, wasn't a big deal. She still had her old room to come home to, as well as familiar surroundings. Life was predictable and comfortable.
But full-time RVing would throw all of the things she was familiar with and those creature comforts of home, out the door.
And we knew this. And she knew this. But I don't think any of us realized some of the impacts it would have and how it would make our daughter feel at times.
Let's Start with the Hard Parts
As with any big changes, there are hard parts and I think it's best to start there if you're thinking about living this life while you have a child in college.
It can be expensive
We knew this would be the case, so we were prepared for it. Kind of.
RVing all over the country required us flying our daughter to wherever we were for her breaks. That meant Florida for spring break, Colorado for Christmas and North Carolina for summer. It also meant one of us flying out with her to get her moved back into the dorms in Texas.
So, for the beginning of her sophomore year, she and I flew out of Portland, Oregon. A one-way ticket for her. A round-trip ticket for me.
For the beginning of her junior year, she and I flew out of Portland, Maine. A one-way ticket for her. A round-trip ticket for me.
We've decided Portlands are our thing. 🙂
Airport selfies: Portland, OR and Portland, ME
Obviously, you could work this out to where you didn't have to fly your child all over the country. For example, we flew her out to Colorado for Christmas, but because college kids have such a long winter break, she just made the drive to Texas with us and we dropped her off.
Another expense was getting her moved out of her dorm. Since we didn't have a house to store her belongings, we rented a storage unit in the same town as her college. It was nice and convenient, but it was an added expense. We also hired movers to help her move out of the dorm for her sophomore year since we weren't in the area. That might seem a little extreme, but she didn't have a car and getting all of her stuff moved over to a storage unit on her own would have been tricky.
You'll miss important things
It hurt a little to miss family day at her University. We made it her freshman year, but it didn't even cross our minds for her sophomore year. Even though she said it was fine, I felt like I could hear a little sadness in her voice. We're the parents that are always there, or at least we have always tried to be. So this hurt.
Because her Thanksgiving break is so short, she decided to spend it with a friend who lived only about half an hour from her college. But we didn't just spend Thanksgiving away from her. Her 20th birthday also happened to fall then as well. I know she's an adult and sometimes it's a lot more fun to spend your birthday with a friend, but here she was, turning 20, miles and miles away from us. Ouch.
They might feel left out
This was the hardest part of this whole crazy thing for our daughter and one we wrestled with a lot. Here we were, with her two brothers no doubt, doing and seeing some incredible things while she's busy taking tests and writing papers. And I know that was hard for her. Very hard.
A picture we sent her so she would know we loved and missed her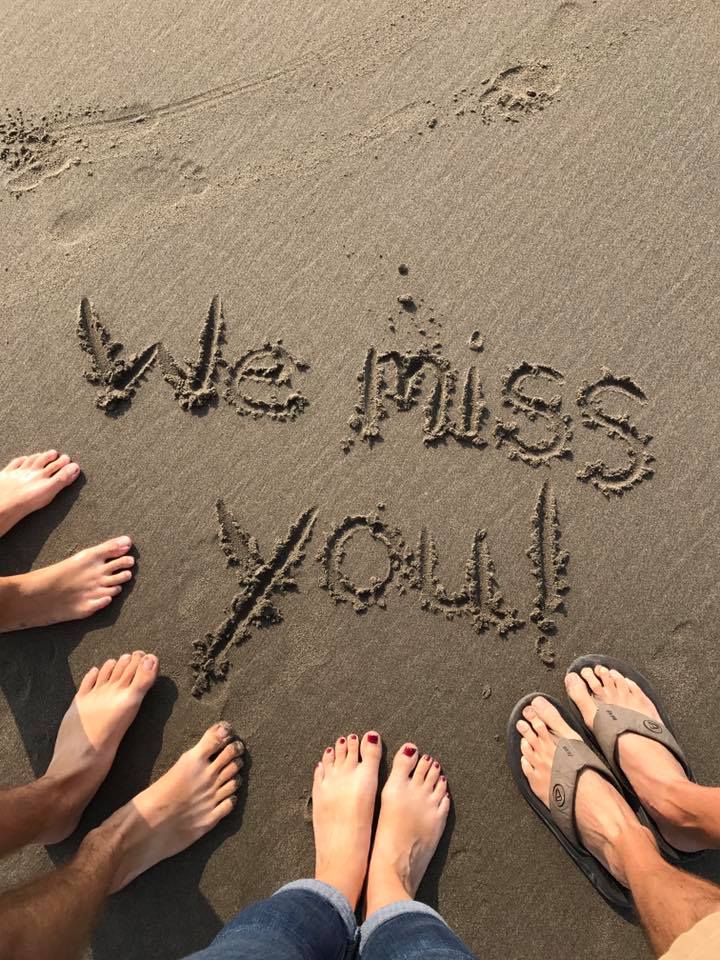 Was she living the life she wanted and happy in college? Without a doubt, yes. She had found a great group of friends and knew she was where she was supposed to be, but that doesn't mean it didn't sting a little for us to be so far away, doing what we were doing.
And I'll be the first one to admit I'm not a great communicator. One of my biggest regrets of our time on the road was not doing things to make her feel a little more included. Even something as simple as sending her a postcard would have let her know we were thinking about her. Sure, we talked and texted, but I still feel like I could have done more.
I know there are probably hard things our daughter dealt with while we were full-time RVing that I don't even know about. Maybe I should have her write a post from her point of view…
I also know that many of these things are the same things kids and parents deal with when their child decides to attend college across the country. There are definitely similarities.
Okay, Now for the Fun Parts
I don't want to be a Debbie downer and for you to think that full-time RVing while your kid is in college is a terrible idea. Can it be hard? Yes. Can it be tricky logistically? Definitely. But it can also give you and your kiddo some incredible opportunities.
They can have epic breaks from school
When we set out on our full-time RVing adventure, we knew our daughter wanted to spend part of her summer in Canada. So did we and our boys. So we booked it from Texas to Canada as fast as we could.
So, on her first summer break for full-time RVing, she got to:
Go back to Colorado and see friends
Visit four U.S. National Parks: Rocky Mountain, Yellowstone, the Tetons, and Glacier
Visit Alberta, Canada where we experienced the beauty of Banff and Yoho National Parks
Make new friends in Vancouver, Canada and have some of the best ice cream of our lives, as well as her first Boozy Frosé (a frozen Rosé drink)
Visit with family in Washington and went to the top of the Space Needle in Seattle
Get matching tattoos with her mom (that's me!) in Portland, Oregon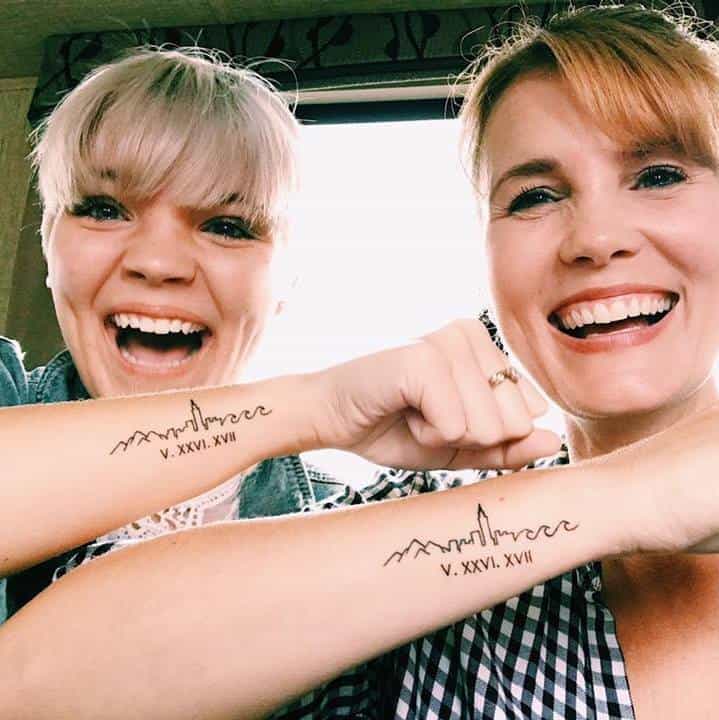 For her second summer with us, she got to:
Go sailing in Maryland and attend a family wedding
Visit Washington D.C. for the second time
See Shenandoah National Park
Visit PEI and Nova Scotia in Canada with friends
Snapping photos in Shenandoah National Park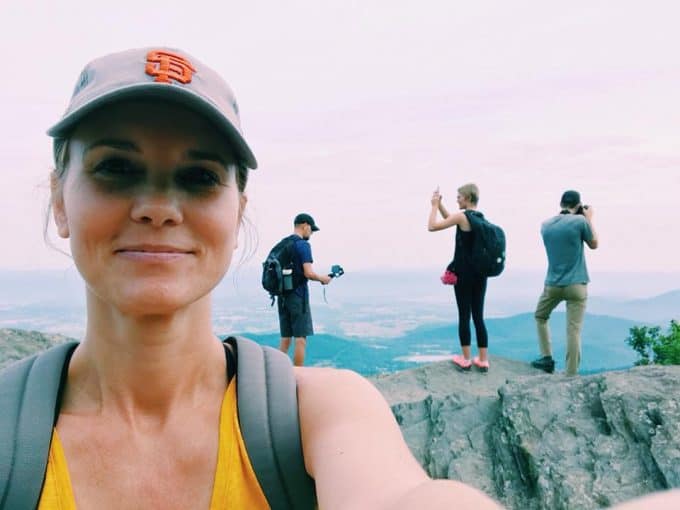 Oh, and spring break was spent in Orlando at Universal Studios. 🙂
Needless to say, if we would have decided not to go through the hard things this lifestyle threw at us, we would have never been able to give her these experiences during her breaks. I truly hope that when she looks back on this time in her life, these are the memories she's left with.
Things to Think About Logistically
Before I leave you, I wanted to give you a list of things you might need to think about if you're wanting to full-time RV while your child is in college. These are all of those logistical things you'll have to talk through and think about:
Where will you spend their breaks – summer, winter, and spring? Will you fly them out somewhere or try to be near enough to just pick them up and go?
Will they spend the entire summer with you?
How will you handle small breaks like Thanksgiving?
How will you handle birthdays?
Where will you store their stuff during summer breaks?
How will you get them moved out of their apartment or dorm?
How will you make sure you stay connected to them?
Will you send postcards or care packages from wherever you are?
Who will be the emergency contact that's close by?
If they own a car, how will you handle repairs?
I hope detailing our experience full-time RVing with a child in college has helped give you a plan and think through some of the issues that can arise.
PIN THIS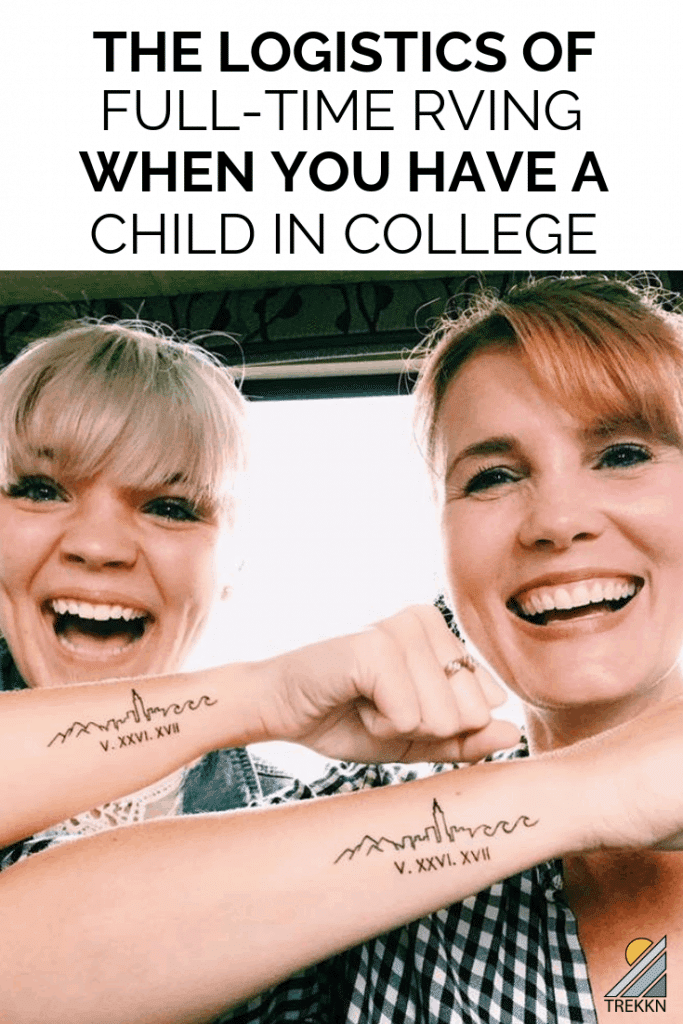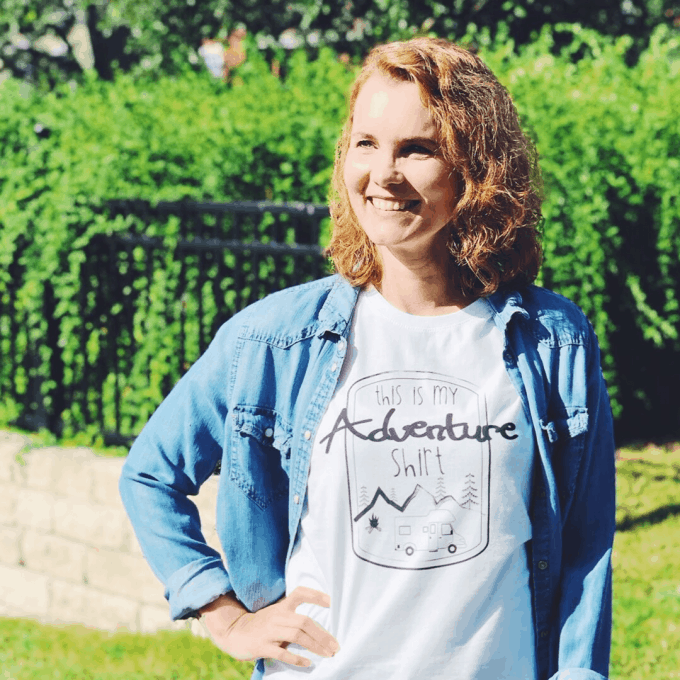 Julie specializes in helping you whip up delicious meals in your tiny RV kitchen, as well as RV organization tips and helping fellow RVers make their RV feel like home. Her favorite RVing spot is in Banff National Park in Canada where yes, the water really is that blue and the people really are that nice.