Top 7 Ultra Lightweight Travel Trailers Under 2000 Pounds

There's just something about a tiny trailer. Yeah, you know exactly what I mean.
Something about looking at these ultra lightweight travel trailers under 2000 pounds just seems to kick up your wanderlust, making it almost impossible to sit still and play nice in your cubicle.
I feel your pain, I get it, I know the struggle. And I want to help. The best way I can help you is to point out some really solid options in this space so you can move forward with your research, planning and hopefully buying. I mean, why else would you be interested in these things?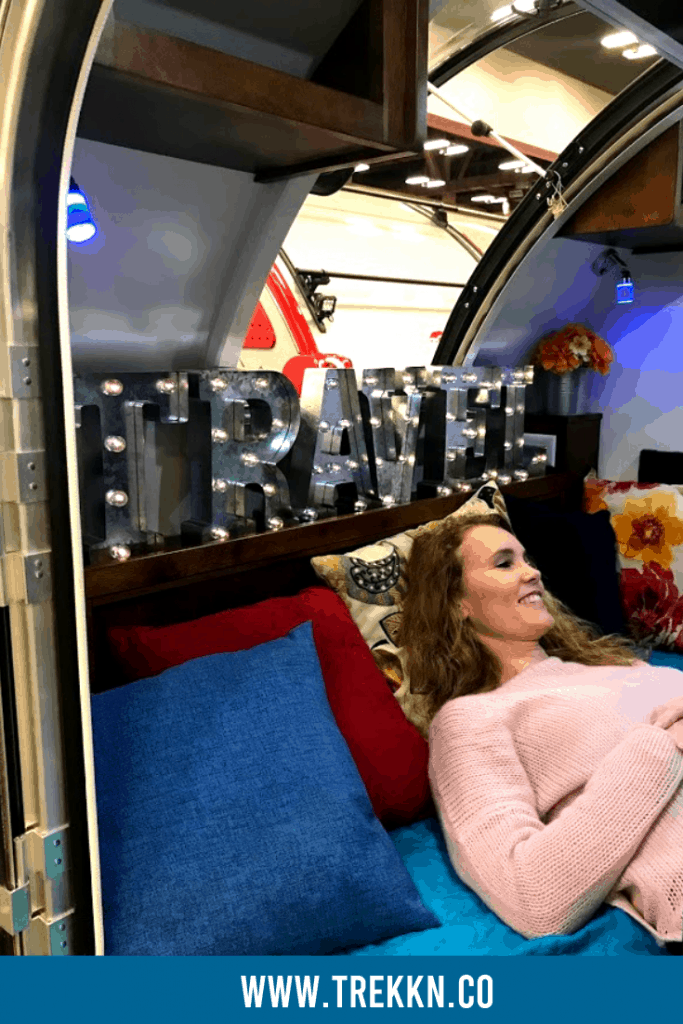 And believe me, I also know from experience how important it is to find the right travel trailer at the right weight. When we were shopping for our full-time RV back in 2017, I was scouring all travel trailers under 5000 lbs. For me, that was the limit I set for a "home on wheels" for my family of five. I knew the right option had to be out there. So I understand that weight is a huge factor in your decision.
Let's dive in and take a closer look at some great small travel trailer options for your situation. Oh, and be sure to take a look at our other post about small campers with bathrooms if that toilet is ultra-important to your escape strategy.
7 Ultra Lightweight Travel Trailers Under 2000 Pounds
I want you to know that I do plan on just giving you the best options possible. I don't think you really want to see pop up campers, even though there are many pop up campers under 2000 pounds. Because the reality is that a pop-up camper is NOT a travel trailer.
Nope, I will respect your time and show you only tiny trailers and teardrop trailers under 2000 pounds. Sound fair? Good, then away we go…
Tiny Travel Trailers Under 2000 Pounds
If you've been looking in this section of the travel trailer market for very long, there is little doubt that you have at least come across the Scamp brand. Well known in this space for their innovative designs and unforgettable quality, Scamp actually has two different lengths of travel trailers that we will take a look at here.
Scamp 13-foot and 16-foot Travel Trailers
Yes, that is correct. This well-known manufacturer actually makes both a 13 AND 16 foot model that stays under 2000 pounds empty weight. I couldn't quite believe it when I looked at it first, so I double-checked to make sure I wasn't missing something.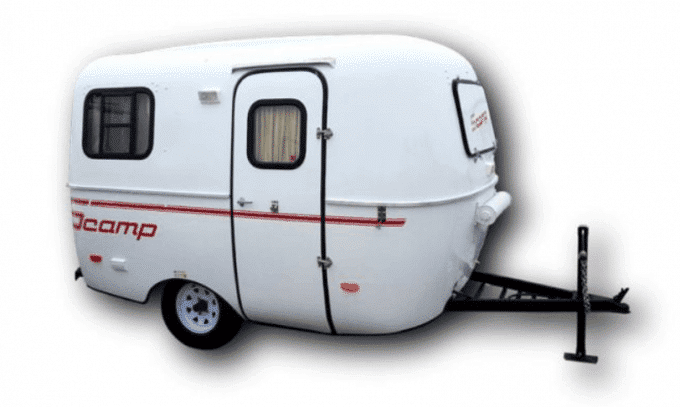 Here are some of the specs on this tiny little 13-foot wonder:
Overall Height: 7′ 6″
Interior Height: 6′ 3″
Interior Width: 6′ 6″
Two layout options: With our without bathroom
Approx. Empty Weight: 1200-1500 pounds
Hitch Weight: 100 pounds
NOTE: They also offer a Deluxe edition of the 13-foot travel trailer that you can scope out right here.
Oh, so you think you're more interested in the 16-foot travel trailer instead? Not a problem! Because she also stays under 2000 pounds, as I mentioned. And she also comes with 5 different layout options you'll have to check out.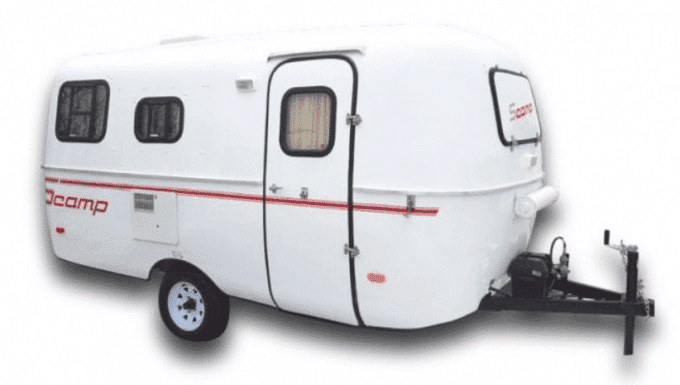 Of course, you need to see some specs on this 16-foot option as well so you know what you're getting into:
Overall Height: 7′ 10″
Interior Height: 6′ 3″
Interior Width: 6′ 6″
Five Layout Options
Approx. Empty Weight: 1750-2000 pounds
Hitch Weight: 165 pounds
NOTE: They also offer a Deluxe edition of the 16-foot travel trailer, with Oak and Birch hardwood cabinets and a 10-foot awning. But it goes slightly over our 2000 pound limit (2200-2600 pounds) so I won't be highlighting it here.
With a Scamp Trailer, I can just about guarantee you will catch the eye of many onlookers eager to see just how cool this tiny space is. So be prepared for some paparazzi!
Casita 16-Foot Travel Trailers
When you look at a Casita Travel Trailer, you will immediately know that you are in for something good. And you will also probably think, "Is this thing a cousin of the Scamp trailer?" Yes, the similarities are undeniable in their overall shape, style and construction. But they are not manufactured by the same folks.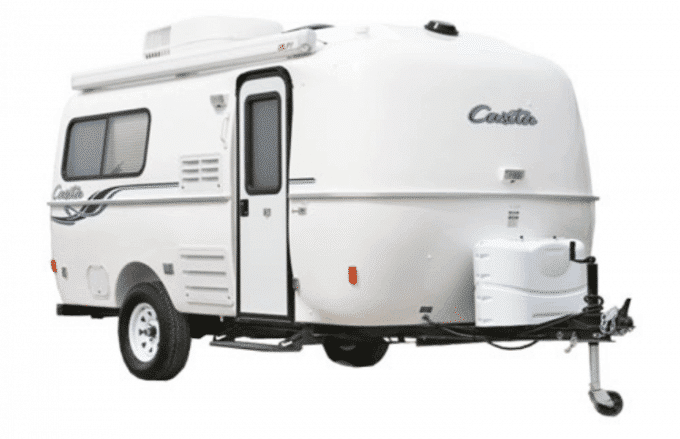 Casita makes three different 16-foot travel trailer models that meet our 2000 pound limit if you stay with their "Standard" editions: Spirit, Freedom and Liberty. The "Deluxe" editions all cross over that weight limit by just a couple hundred pounds, but they may still be worth taking a look at if you have a little bit of wiggle room with your towing capacity.
(Please, triple check and be 100% sure about your vehicle's towing capacity before making a travel trailer purchase of any kind. I've heard too many horror stories of folks who made purchase decisions based on bad information and regretted it for a loooong time to come. Don't do that. And realize that you have to factor in the weight of the cargo that you will load the travel trailer up with before heading out on your adventure. Critical stuff to remember, my friend.)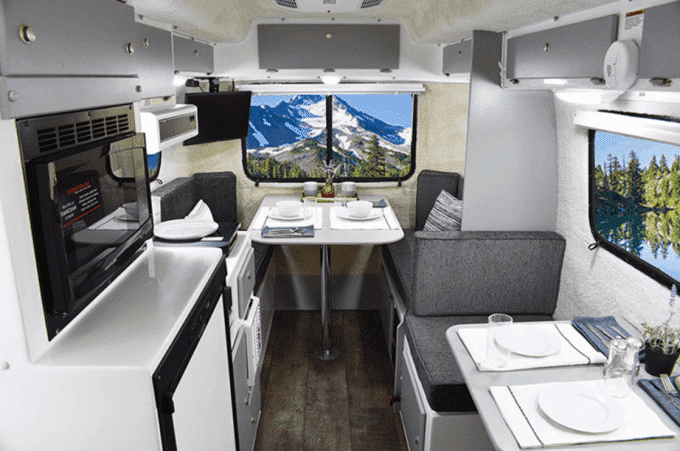 I have to tell you that the interior of the Casita trailers really impresses me. Overall, I feel like they have a cleaner and more modern look than the Scamp trailers. In addition, they are highly functional and use their tiny space incredibly well. Ultimately, it's really about what your needs and preferences are, so seriously consider both of these tiny trailer contenders.
And of course, we can't move on without covering the specs. I will use the 16-foot Spirit specs although the other two models mentioned above are very similar:
Overall Height: 7′ 8″
Interior Height: 5′ 10″
Interior Width: 6′ 8″
Approx. Empty Weight: 1,970 pounds
Hitch Weight: 215 pounds
If you happen to be on the taller side of the spectrum, you should pay special attention to the interior height difference between the Casitas and the Scamps. Surprisingly, you lose 5 inches of interior height with the Casita. (You do gain 2 inches of interior width, just to be fair.) So if you're tall, your head might thank you for moving back to the Scamp options above.
With the Casita, you also add quite a bit to your hitch weight. So again, be sure and do your homework on all aspects of towing capacity before you make a purchase decision.
__________________________________________________________
What About 'Trying Before You Buy' with Travel Trailer Rentals?
Pardon the interruption, but I think at this point you should be aware of our plan when it comes to finding the next RV that will be perfect for our needs. It might be exactly the idea you're looking for.
You see, we have decided to try renting our way to our next RV purchase, which you can read all about by clicking here.
The worst thing any of us can imagine is making the wrong choice when it comes time to purchase an RV. That is especially true if you plan to live in it full-time! (Our most likely path.) So we are trying several different RVs on for size, from small camper vans to spacious travel trailers to adventurous driveables.
So far, we have used Outdoorsy as our rental platform of choice. And we have been very pleased. Here are a couple of ultralight travel trailers (see images below) in our area that rent for $75-$100 per night. A weekend in one of these will be money well-spent and will give you a much better idea of whether this is a realistic RV option for your particular situation. Not to mention it will be a blast to just get away!
So, maybe it's time for you to try before you buy. At least consider it as one reasonable option on your path to your next small travel trailer purchase!
__________________________________________________________
Roulotte Prolite Travel Trailers
Listen, I've got to tell you that this next tiny travel trailer I am going to share with you has really got me excited…like, I'm ready to go track one down right now kind of excited. Honestly, this is the first time that I've come across this travel trailer, and I am thoroughly impressed with absolutely everything I am seeing from the Prolite Travel Trailers so far.
Before we get too deep into this brand, I want to be sure you know that this is a Canadian company, based in Quebec. Can you get a new Prolite in the U.S.? Yes, but only in Michigan, Oregon and New Hampshire (click here for their full list of dealers).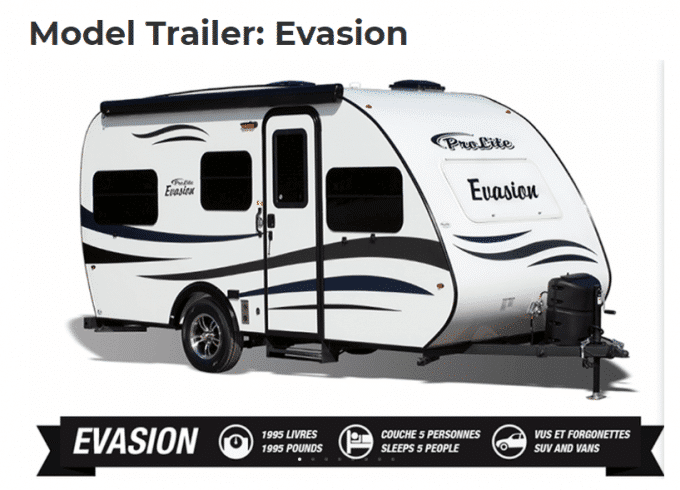 The Evasion model that you see above is actually the largest of the models that stay under our 2000 pound limit. But believe it or not, Roulotte has a total of 15 different travel trailer models ranging in weight from 590 pounds to 3700 pounds. AND 11 out of those 15 models stay under 2000 pounds! You've got plenty to choose from here.
Honestly, their interiors are a little bit darker than I would prefer. But for overall functionality and quality I think they have nailed it.
As a side note, if you are interested in buying one of these beauties used instead of new, you can get on Roulotte's mailing list to be notified of used models for sale. Used or new, I don't think you can go wrong with a ton of quality packed in a tiny package that you find with Prolite travel trailers.
Forest River Flagstaff E-Pro Series Travel Trailers
And now, back to the U.S. for our next featured guest. If you have been operating (or looking) in the RV world for any length of time, there is little doubt you have come across Forest River products. They have a huge stable of RV options for you to consider (now or in the future)…but obviously only a select few options that stay under that 2000 pound limit. And the Flagstaff E-Pro Series has a couple of those options that we need to consider.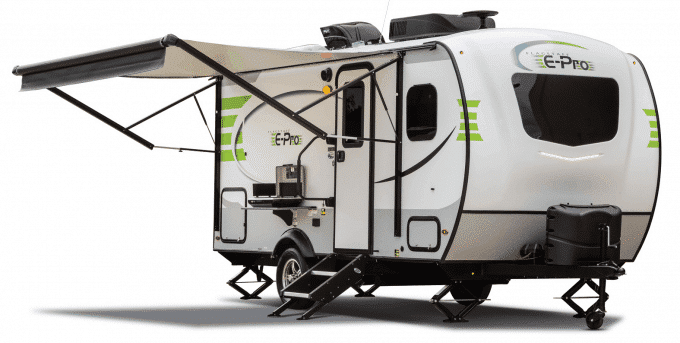 *Note: The model pictured above is most likely NOT under 2000 pounds. It was impossible to tell what model this actually is, and I couldn't locate any exterior pictures that appeared to be the 12 foot models I will be highlighting. So…don't get too excited about that picture just yet.*
Out of the 11 models included in the E-Pro model series, only two of them meet our need to stay under 2000 pounds: The E12RK and the E12SRK. And below is a quick comparison of the basic specifications for each of these models: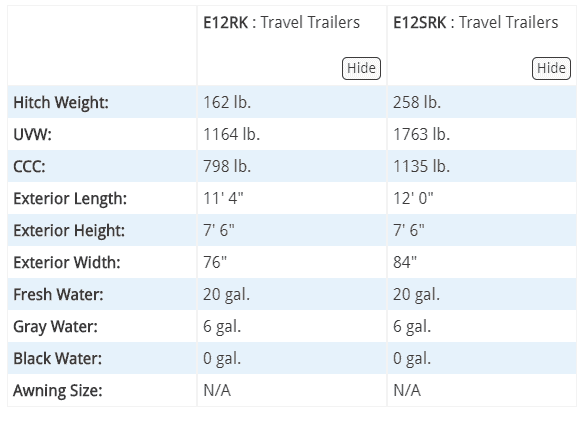 *Note: UVW = Unloaded Vehicle Weight and CCC = Cargo Carrying Capacity*
Now, unfortunately I was not able to find an exterior picture of the E12RK or the E12SRK. But I do have an interior picture of the E12RK to get an idea of its look and feel: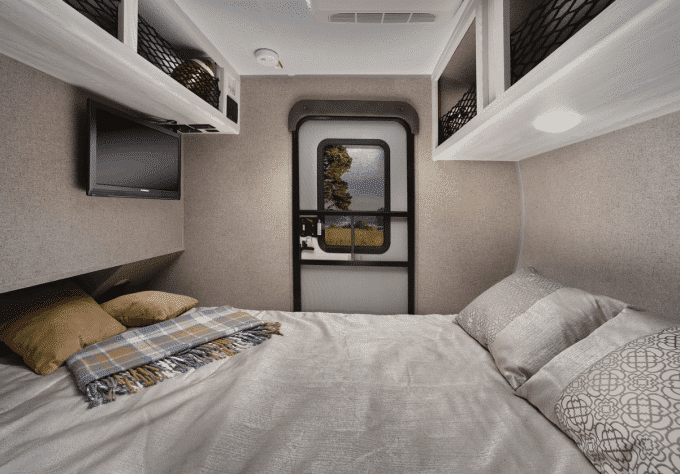 With the limited details available on the site for these two Ultra Lightweight Travel Trailers Under 2000 Pounds, it's hard to really compare them fairly to the other travel trailer brands we have covered already. Based on the interior image above, these lightweight options do not appear to have a living or kitchen area. I can't say for sure that this is the case, but I think it's safe to assume unless you can confirm otherwise.
Teardrop Trailers Under 2000 Pounds
I'll admit to you right here that I definitely have a weakness for these teardrop trailers. I'm not sure what it is exactly, but they just pull me in and get my "wander juices" flowing. Let's take a look at a couple of strong teardrop trailer options available to you that stay under that 2000 pounds mark. (Both of these teardrops I actually covered in my small campers with bathrooms post as well…so yes, these two have bathrooms!)
Little Guy Mini Max Teardrop Camper
Be careful here: You can't let the name of this unique teardrop camper fool you into thinking it can't do the job. Nope, you should focus more on the "max" part of that name than the "mini", because this one packs quite a punch indeed.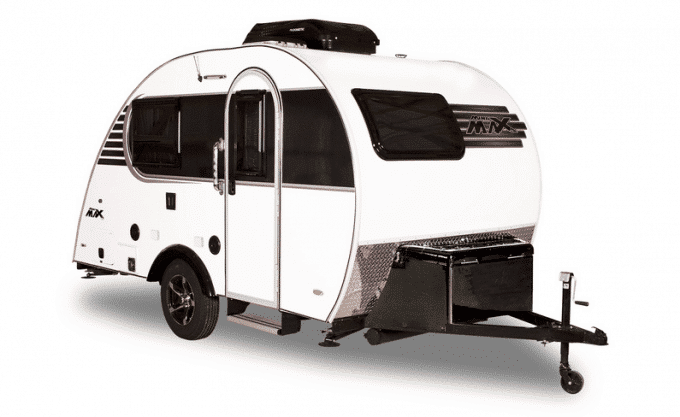 The Little Guy Mini Max by Little Guy Trailers is a serious contender in your quest for a rig that offers far more than its weight might tell you. For starters, take a look at this list of features and specs:
Towable with small or mid-sized SUVs (some well-equipped crossovers)
15″ premium tires
4 insulated dual pane windows
100% maple hardwood cabinetry
13,500 BTU air conditioner
Extrerior Height: 8′ 6″
Interior Height: 6′ 0″
Empty Weight: 1993 pounds
Hitch Weight: 280 pounds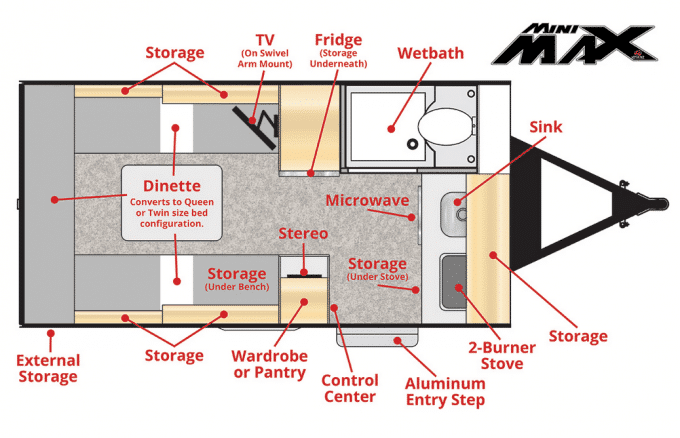 As you can see, this little guy is no slacker! He has come to play, and if he doesn't have your attention…then you're not paying attention. (All due respect to you.)
Make sure the Mini Max by Little Guy Trailers stays on your radar, my friend. This ultra lightweight travel trailer might just be the answer to your prayers.
ALTO TEARDROP CAMPER BY SAFARI CONDO (RETRACTABLE ROOF)
Yes, I know I said that I would not be including any pop-up campers in this list of ultra lightweight travel trailers under 2000 pounds. It's true, I did. BUT, in my humble opinion, the Alto Teardrop Camper does not fall under the "pop-up camper" label. No, it's simply retractable!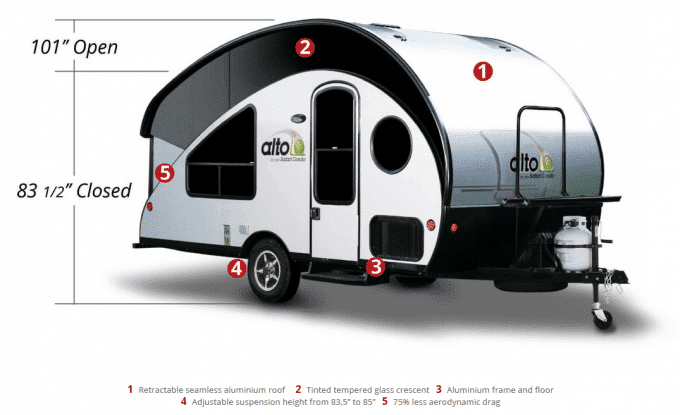 Before we get too deep into this tiny trailer option, I want to warn you that if you are prone to "sticker shock" you should really brace yourself here. Starting prices on the Alto are around $38,000.
I tend to lean toward the "sticker shock" side of things, so this was a bit hard for me to swallow. But I will say that they truly bring a LOT to the table for that price tag and make this tiny space work remarkably well for your outdoor adventures.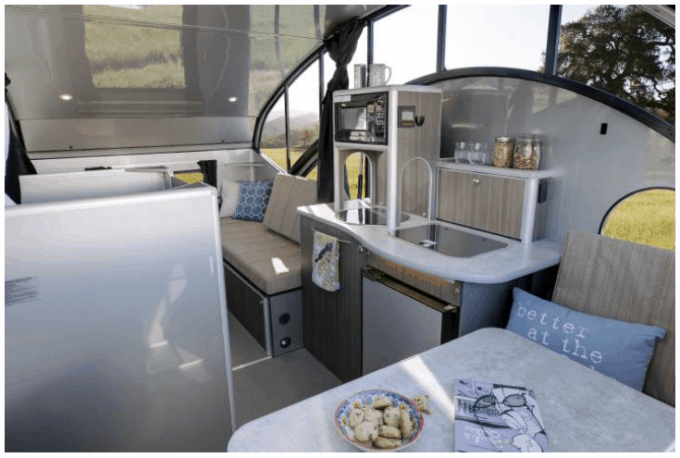 Sleeps up to 3
72″ x 76″ King size bed
Fixed flush toilet
Interior shower with curtain
(Optional) 13-foot removable awning
Interior Height: 6′ 10″
Empty Weight: 1,867 pounds
Hitch Weight: Unknown
Even if this isn't the perfect travel trailer option for you, I am almost certain that you will still get quite a bit of enjoyment from looking at the details of this remarkable rig. It truly is like nothing you have ever seen before!
And by the way, they do have a couple of models with fixed roofs as well. One of them is also under 2000 pounds, so be sure to take a complete look at their site to get all of the details.
*Note: This is a Canadian manufacturer with dealerships located only in Canada (Quebec, Ontario, British Columbia).*
Which of These Ultra Lightweight Travel Trailers Under 2000 Pounds Gets Your Vote?
I know, I know. It's probably pretty tough to vote for a single option out of this list. The manufacturers have managed to make this tiny adventure capsules into truly livable spaces that give you absolutely no excuse to not escape for the weekend and feed your wanderlust.
Let us know in the comments which of these tiny travel trailers gets you most excited about an escape to the outdoors! And thanks for sharing some time with us.
PIN THIS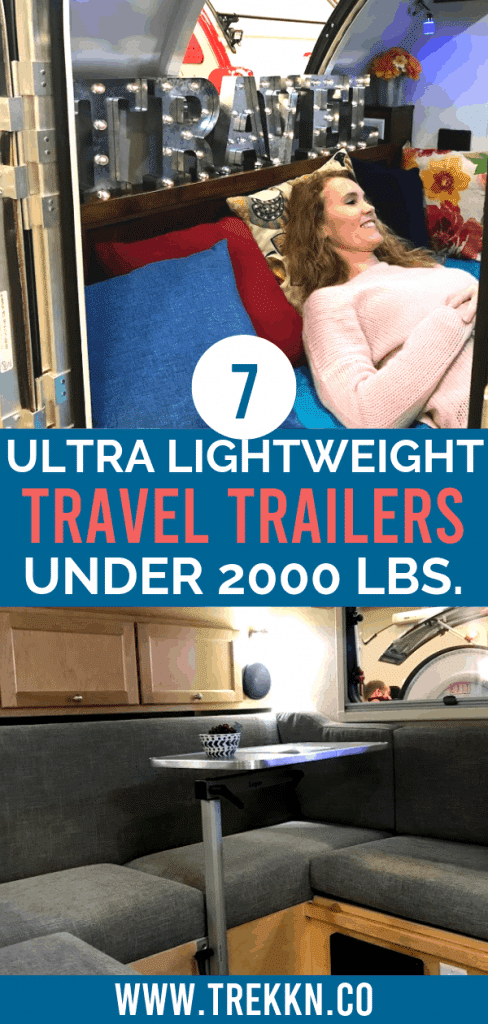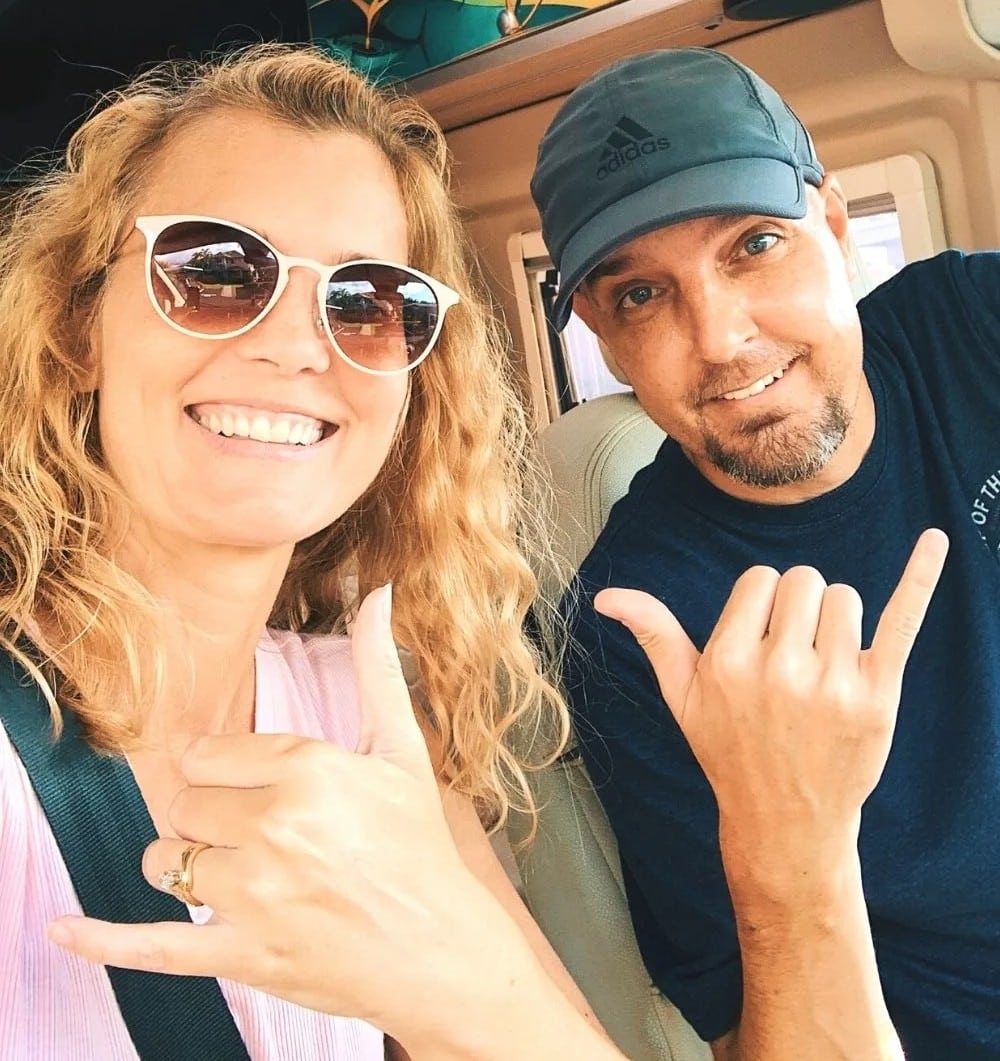 Todd loves a competitive game of table tennis, a breathtaking hike, and exploring new places. He lived and traveled in an RV with his family as they traveled throughout much of the US and parts of Canada. Todd has extensive knowledge about RV travel, safety, and accessories and has shared many of his stories here on TREKKN. When he's not busy launching and building small businesses, you may find him staring at pictures of Glacier National Park (probably his favorite spot on earth).