25+ Gifts for RV Owners: 2023 Edition

Do you have friends and family who love to travel and own an RV? Are you on the hunt for the best Gifts for RV Owners? We've rounded up over 25 items that we love and personally use while RVing.
Finding a great gift idea for each person on your list can be a grueling chore.
I always look for inspired gift ideas when it's time to shop for Christmas gifts, a birthday gift, or just because gifts, so I thought it would be nice if I offered you some inspired ideas of my own this year.
These recommendations for owners of an RV are based on real-life experiences. After spending more than a year and a half traveling the country and living in an RV, we know what gifts an RV owner will be happy to receive. So let's get to the guide!
Most of these items we'd consider practical gift ideas for RV owners because we use them ourselves over and over again. Some we used every day.
Some are just downright fun gifts and are a great way for your family member or friends who are RV lovers to express how much RVing means to them.
Others might be considered luxury RV gifts as you may have friends and family who have been on the road a long time and already have everything.
We hope you enjoy browsing through our list of the best RV gifts for new RV owners, full-time RVers, and seasoned pros!
Best Gifts for RV Owners: They Will Actually Use These!
We've broken down this list of RV gift ideas by category. From books and interior RV decor, to great membership plans and gift cards.
RV Gifts that Express a Love of RVing
Do you know someone who just exudes an RV lifestyle? Someone who enjoys expressing their love of RVing all day every day? Then these fun yet practical items are the perfect gifts.
Well, if someone loves to RV, they may also have a love for wine. And these particular wine glasses come in very handy while traveling in an RV.
If you're looking for gift ideas for RV owners and wine lovers, this is it.
There are all kinds of options out there, including stainless steel wine glasses, so think about this as a possible companion gift to a Harvest Hosts membership, which is described below.
Best Books to Give RV Owners
Help the RVer in your life with ideas of where to go and what to see in this amazing book by National Geographic.
It's a beautifully illustrated book by travel experts who share the obvious spots like US National Parks, but also some unexpected and off-the-beaten-path locations.
This book includes all 50 states with detailed travel information, as well as Canadian provinces and territories.
3. Kindle Paperwhite – When you lack space for real books
Are you shopping for an RVer who loves to read? Imagine for a second how enjoyable it is to settle into a zero gravity chair by the river and read a book while dinner simmers on the campfire.
That's a beautiful vision and it's part of the joy of an outdoor lifestyle. However, one key thing to keep in mind is RVers have limited space in their rig. There is essentially no room for the number of books we would all love to bring with us on the road.
As a great alternative, RVers love having a Kindle. It's the ultimate space saver. It also enables the traveler to purchase new books at any time. No need to try parking the big rig in a bookstore parking lot or wait by the mailbox for the next delivery. This is a gift that keeps on giving.
RV Gifts for The Kitchen
RVing and space-saving gadgets go hand in hand and these nesting bowls are the perfect RV companion.
For motorhome owners, camper van enthusiasts, and other types of campers, limited space is an issue. So anything that takes up little space is the perfect present.
The set includes 9 pieces: 4.8 quart (10.5-Inch) large mixing bowl, 3.2 quart (9-inch) colander, 1.75 quart (7.5-Inch) steel sieve strainer, 0.5 quart (6-inch) small mixing bowl with measurements, 1 cup, 1/2 cup, 1/3 cup, 1/4 cup measuring cups and 1 tablespoon.
There is one kitchen appliance that RVers will absolutely tell you has made more sense than just about anything else in the RV kitchen. The undeniable answer is the Instant Pot!
For a small space like an RV, this handy gizmo is top-notch at creating some fantastic meals to fill your belly. So I said my wife is a fan…but from a consumer standpoint, I am just as much a fan as she is!
We have enjoyed some incredible meals, that my wife claims are super easy to prepare, thanks to this appliance in shining armor.
And I can assure you the Instant Pot will continue to be used on a regular basis even if or when RV traveling comes to an end. It is a highly versatile and useful tool in the kitchen. Cooks love a good time saver and this is one item that makes mealtime a breeze.
So if your RV-owning loved ones are into cooking their own meals in the RV, you can't go wrong with the Instant Pot.
They have various size multi-cooker pots to fit every need so take a look and choose the one that seems right for the RV owners on your list.
You may also want to combine the gift with an Instant Pot recipe book to help get them started in the kitchen.
6. Espresso Machine – A great cup of coffee + RVing go hand in hand
We have seen some amazing espresso setups in RVs. There is nothing quite like waking up in the morning and stepping out of the RV with a hot cup of coffee. It somehow tastes better in the fresh open air, in the mountains or by the stream.
When it comes to gifting a coffee machine, keep in mind that RVs and campervans come in many different sizes. Kitchens inside a vehicle are unsurprisingly quick snug with minimal counter space. We recommend knowing in advance what size espresso machine your friends might need.
This Nespresso Essenza Mini by De'longhi is small and would be perfect if they lack counter space. It comes in different colors (black, red or green). And, depending on your budget, you could bundle the gift with a variety pack of Starbucks capsules.
This fancy espresso machine by Gevi makes 2 espressos at a time and has a built in milk frother. The dimensions are bigger at about 9″ x 14.5″ x 14″. The nice thing about this machine is the ability to make a variety of coffee drinks, including a cappuccino, latte or flat white.
The espresso powder filter accessory is included so you don't need to buy specific pods. However, you could also purchase the capsule portafilter accessory to accommodate espresso capsules. It's always nice to have option while on the road!
And this Breville Barista is a best seller and if you want to give an eye popping gift to someone with a lot of counter space in their RV, this might just be the one. Because, wow!
We wrote an article about the best RV coffee makers and rounded up five different machines/gadgets. The best RV coffee maker for you depends on how you like your coffee and how much space you have.
We also have an article all about coffee gift ideas for RVers.
Hopefully, these ideas will help you choose the perfect coffee gift for the RVer in your life.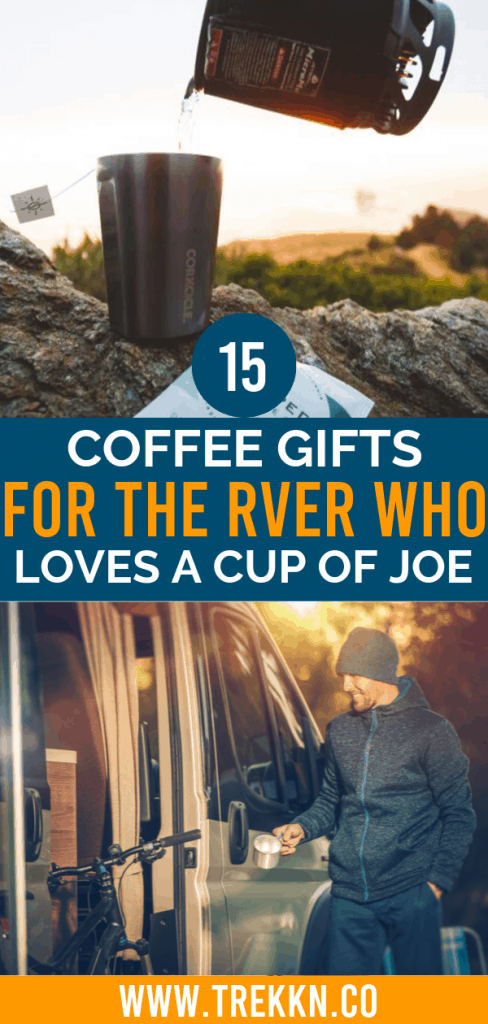 7. Portable Gas Grill – Telescoping Stand is Super Important!
Grilling while RVing is a must right? A portable gas grill makes a fantastic gift for an RVer, but it's important to get one with a telescoping stand.
Why? Because quite a few RV parks have signs that ask you not to put your grills on their picnic tables. When we started RVing, we had a tabletop grill, and let me tell you, grilling while having to squat down to the ground was not fun.
That's why we highly recommend one that can either go on the tabletop or the ground. This portable gas grill by Cuisinart is the perfect solution.
8. RV Dish Towels for Kitchen
We were gifted an RV dish towel for the kitchen early on in our RVing adventure and it ended up being the perfect gift.
Not only is it practical, but it also makes a really nice decor item.
Here are a few that caught our eye:
Handy RV Gifts for Dad or Mom
Every RVer has to learn to be a little handy and fix things when they go broken. Because whether you go RVing only on the weekends or you're full-time, you know things break.
RVing is also messy! So we've added a cleaning tool or two to help you keep things neat and tidy. Or at least semi-neat and tidy.
Every RVer should have a great toolset on the road with them. Trust us when we say it'll come in handy!
This toolset is also lightweight, coming in at around 5.8 pounds, which is important when deciding what to bring with you on your RV trip. The lighter the camper, the better!
RVs get very dirty, very easily, and having a small vacuum on hand is incredibly useful. And when they're not using it for the RV, they can use it for their car. Win-win.
Best Gifts for Decorating an RV
One of our most popular articles is about how to make your RV feel like home. When we first bought our RV, Julie couldn't wait to get in there and make it feel cozier. She's all about that RV hygge.
Here are a few gift ideas to add some personality and coziness to your home on wheels, both inside and outside.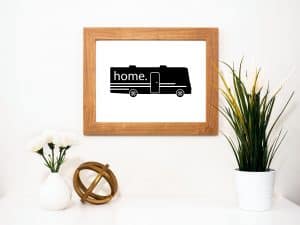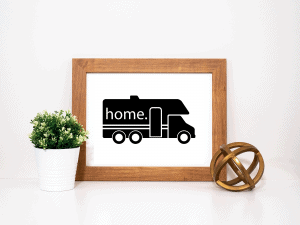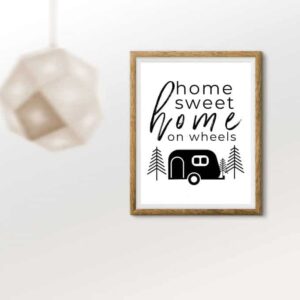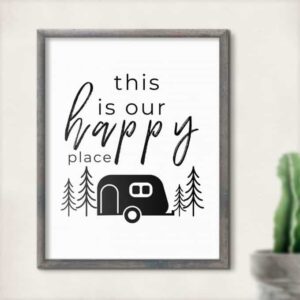 Take a peek at the TREKKN Designs shop where you can purchase printable RV decor.
This is one of our favorite ways to decorate our travel trailer because it's lightweight enough to frame and hang on the wall with 3M command strips and you can swap it out when you're wanting a new picture.
To give this as a gift to someone, simply either print at home or send it to your local office supply store. (We like to print ours at Office Max on card stock.)
After you've printed it, purchase a frame, frame it, wrap it and you have a fantastic gift that you put some thought into.
You'll find printables for:
Class As
Class Cs
Travel Trailers
Fifth Wheels
Small Campers
National Parks
General Travel Printables
Check out the TREKKN Designs shop here for a wide variety of RV related printables.
12. Double Polar Fleece Blankets
This gift idea was sent in by a TREKKN reader and we couldn't agree more!
Cozy blankets are a necessity for fall and winter camping. You can even buy one for their furry camping companions like this one.
13. Regular Camping Blanket
For use outdoors, a lighter-weight camping blanket would make a really nice gift.
Rumpl blankets are lightweight, washable, and quite cozy. They are perfect for curling up next to the campfire.
They have tons of different designs to choose from.
One of our sons had his Pendleton blanket with him during our full-time travels. He used it in his bunk bed and never needed anything heavier.
Fast forward five years and he still has this blanket. It's been quite handy for his life in Alaska!
14. Happy Camper Decor – Help Them Decorate Their Space with Style
We rounded up a list of some of the coolest happy camper decor & gifts around. From mugs and art to t-shirts and throw pillows, there's a little something for everyone.
Here are two of our favorites:
One of the easiest ways to decorate your space is with artwork you just print, frame, and hang with Command Strips. Or with signs like the one above.
If you're giving printable artwork as a gift for RVers, go ahead and print it out and frame it for them.
You could give your RVing friend a Happy Campers bundle which includes a framed picture, a mug, and a cozy blanket like this one.
A fun way to track all the states you've visited is with this handy State Sticker Map specifically designed for RVs.
We purchased one for ourselves and it was a great conversation starter with other RVers. We put it on our slide-out along with our other sticker collection.
Sticker maps are great gifts for travel trailer owners, 5th wheel owners, motorhomes…any type of recreational vehicle.
We've seen RVers attach these to their slides, by their door, and on the back of their rig so people can see where they've been as they're driving to their next destination.
Several months into our extended RV road trip, some good friends of ours in California gave us a propane fire pit as a gift to use in our travels.
After sitting around their similar fire pit on the deck of their beautiful home, we decided we needed to buy one. And then, we didn't have to! (Thanks again guys!)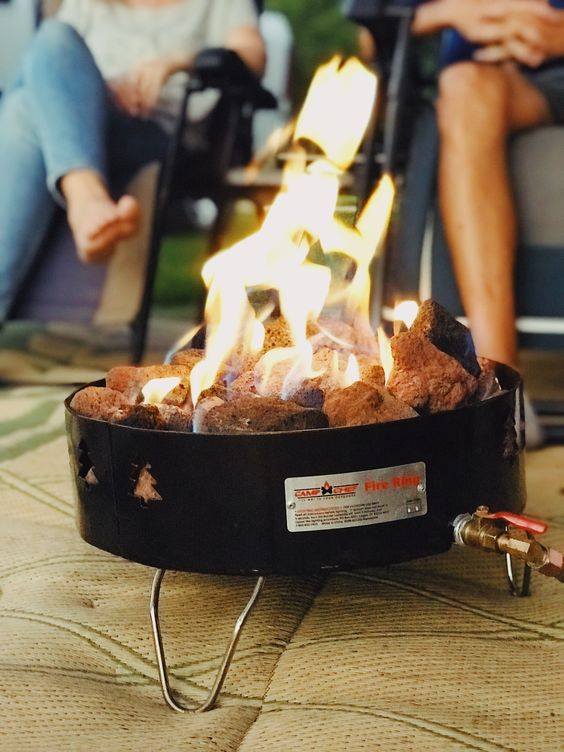 Up to that point, we had encountered many locations that did not allow wood-burning fires at all.
There were some that had complete fire bans and did not even allow propane fire pits, but many of them did allow them.
So we knew we were missing out on some "flame time"! And I love a good fire.
Because of their gift, we have had far more opportunities to sit outside under the stars and enjoy a warm fire. And we think of them every time it comes out, there's no doubt about that.
If you want a memorable and very enjoyable gift that will remind them over and over again how much you care, a fire pit is the way to go.
17. String Lights
There are both practical and fun reasons why camper owners love string lights and rope lights.
The practical reasons? They help you see at night, they help keep little rodents like mice away and they provide a little extra security if you keep them on overnight.
Knowing you're sleeping in a safe space can really make a difference in your RVing experience.
The fun reasons? They look great and add an extra fun element to RVing.
I love to drive through an RV park at night and during the holiday season to see how different RVers have hung their string lights and decorated their camping spot.
Here are a few different ones to consider:
Right after we sold our house and moved into the RV, I threw my back out. Not fun at all. So what I needed was a chair that took all the pressure off my lower back.
That's when the Zero Gravity Chair became a lifesaver. We purchased this Timber Ridge Zero Gravity Recliner, which was pricey but it was well worth the investment.
Not only did it help me recover from the back injury, but I use that chair every single day. It was perfect for some serious relaxing outside by the campfire.
I even brought it in the travel trailer a couple of times for movie night.
This Sunjoy version (pictured below) may be a step down in "quality", but still super comfortable.
The Clever Camper Foot Rest Cushion relieves discomfort felt from the foot rest bar on zero gravity chairs.
We look forward to enjoying the fresh air and resting our legs after a long day of driving. However, the metal bar on zero gravity chairs are uncomfortable on the back of our legs. It's an issue that takes all the joy out of the chance to relax.
The Clever Camper cushion easily slips onto the bar, allowing you to elevate your legs and take a rest.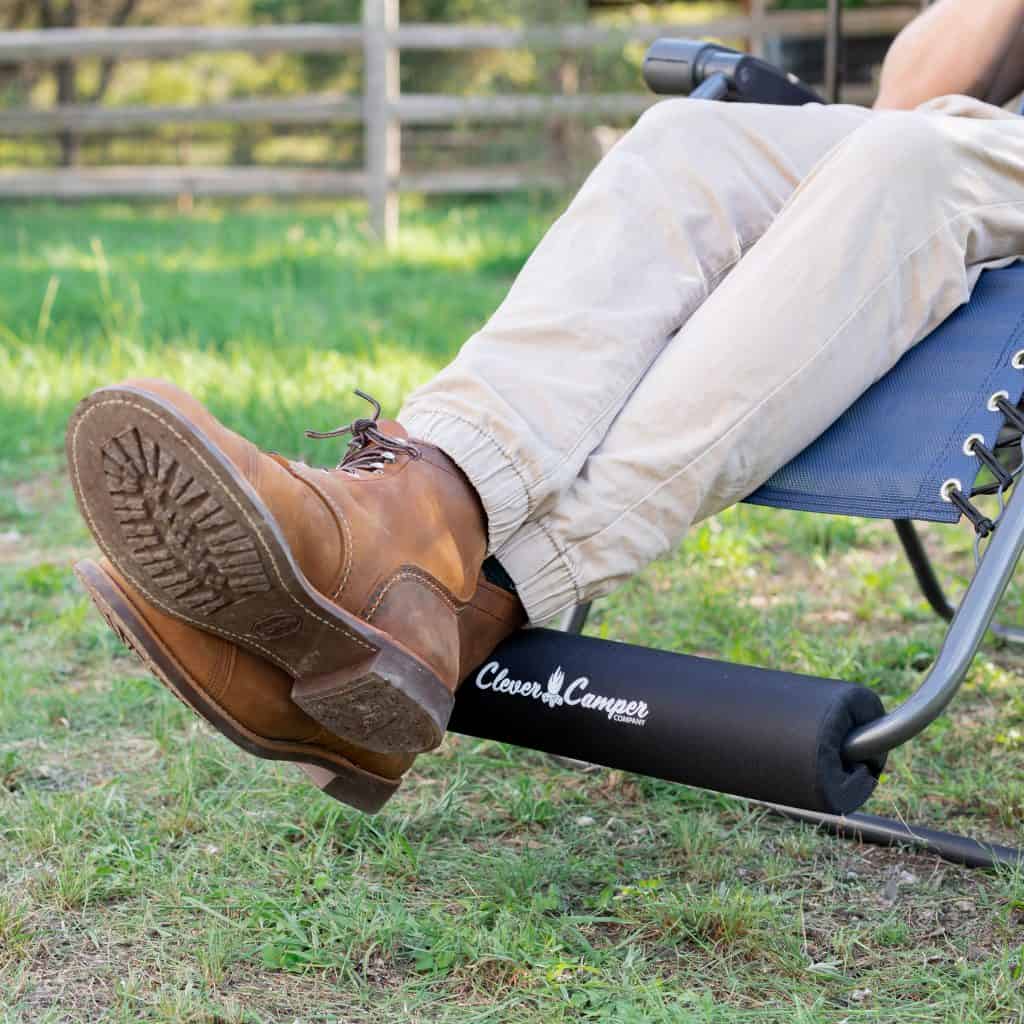 RV Club Memberships & Gift Cards
Did you know you can gift someone a membership to what we consider a must-have membership for every RVer? You can also gift them a membership where they can explore all the National Parks they want.
Keep reading to learn about these ideas that make the perfect gift for RVers.
Here's the truth: At the start of any RV adventure, the vast majority of essential RV accessories are available on Amazon.
When you've got the perks of a Prime membership, it saves an enormous amount of time so why not?!
But…there are about 80,000 listings for RV accessories on Amazon! That can be overwhelming, to say the least.
An Amazon gift card is a great idea for RV travelers because as get on the road, they will inevitable need to fix something, store something, exterminate something, or read something. Having a gift card allows them to choose the perfect something at the perfect time.
It makes the perfect gift for travel trailer owners and 5th Wheelers alike (and you won't need to figure out what they already have or how much counter space is available for an espresso machine.)
There are an endless list of items that RVers need, including a wireless backup camera, a portable power station, or solar panels (a priority item for many RV travelers).
With your Let them decide and they'll remember your gift every time they have off-grid power for hot water or can safely back up to the pump at the gas station.
21. Annual Pass to U.S. National Parks – Unlimited Experiences in Stunning Locations
If there is one thing that has been very consistent throughout our travels, it is the use of our America the Beautiful National Park Pass.
I can't even tell you how many visits we have made to the parks overall (we've visited 15 different parks), but I can tell you without a doubt that this pass has saved us many hundreds of dollars.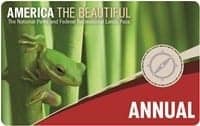 With this annual membership, the RV owner in your life, and four persons in their vehicle, can explore the national parks until their hearts are content for just $79.99!
Now, you would think that the best (and cheapest) place to buy this pass online is through the National Parks official website. But you would be wrong.
Buying the pass through REI actually saves you $10 that you would normally be charged by the government website for the online (or mail) purchase.
If you want to throw an extra $10 in to support the parks, then, by all means, purchase through the NPS website.
I can't put into words how much our national parks experiences have added to our travels. Without those experiences, our continental adventure would have been nothing close to what it has been.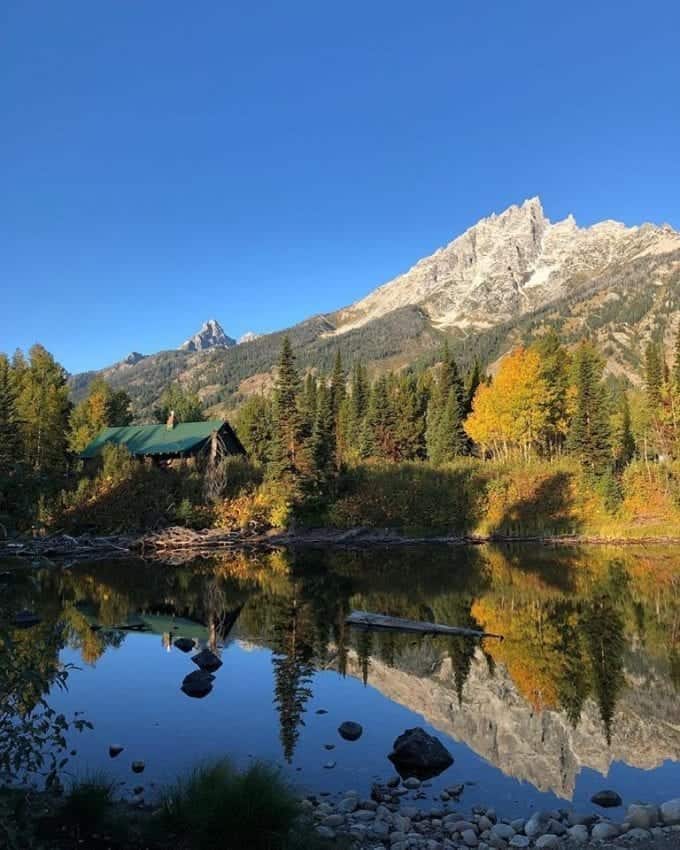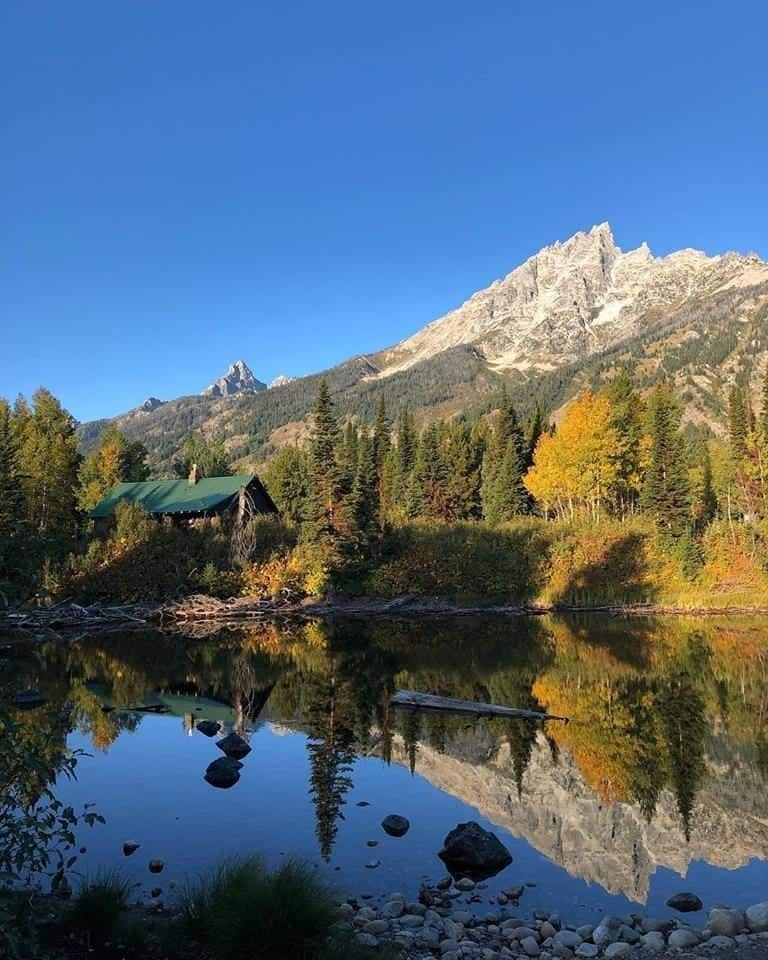 There is really no other gift I could recommend more highly than the National Parks Pass. It's one of those unique gifts for RV owners that will be well appreciated.
And if you're looking for retirement gifts for RV owners, I encourage you to check out the Senior pass option if your recipient is 62 years or older, the annual pass is only $20!
As far as gifts for RV owners go, it doesn't get much more unique and memorable than Harvest Hosts. This membership offers RV owners the chance to visit over 600+ unique locations around the continent for only $79 per year.

The locations they can visit include wineries, breweries, cideries, farms and other unique spots. And there is NO CHARGE for visiting and parking an RV at these locations for a night or two.
So, if you've got some wine or beer connoisseurs on your list, this gift gives them the opportunity to explore off-the-grid locations, meet great people AND enjoy their favorite beverage produced on site!
And the chance to get away from the normal "RV parking lot" experience and really get their hands into some local goods may be the best part of this gift.
We have loved our Harvest Hosts experiences and hope to have many more in the future. It is a gift that keeps on giving.
Practical Gifts for RV Owners
This section is focused on practical gifts for RV owners because it includes items they'll use on a daily basis. While these items may not seem like the most personal or exciting gifts to give, trust us when we say RVers will love them!
If there is one RV accessory for the exterior of our travel trailer that I am more thankful for than any other, it definitely has to be these Andersen Levelers.
The Andersen Levelers are also included in our list of top RV accessories. When it comes to RV travel, levelers are a must have item.
The standard leveling block kit is another option, but these require a tedious guessing game to find the right number of blocks needed to level the RV. In my opinion, that leads to unnecessary frustration, especially after a long drive.
If your beloved RV owner has a rig that does not include a self-leveling system (most likely a travel trailer), you will absolutely be their new favorite human for introducing them to Andersen Levelers. If they tell you they already have blocks for leveling, find out if they're the standard block kit and surprise your friends with the Andersen.
It will become one of their favorite RV gifts they've ever received!
As you can tell from the design, it's simply a matter of rolling one side of the RV on top of these wedged levelers until the height is just right.
Then you just throw the chocks under the levelers and walk away! Simple as that. (Of course, don't forget to set the emergency brake!)
Side note: These Camper Levelers by Rophor include anti-skid pads and grip channels on prevent the levelers from sliding backward as the tire makes contact. We haven't tried these in person, but by the looks of it and the reviews, it's worth checking out.
And, the 2-pack comes with a carrying case. We love tidy storage options in the RV!
Bottom line: Friends don't let friends use a block leveling system.
As an accessory gift item to combine with the levelers, consider these stick-on graduated levels. These inexpensive accessories are simple to install on the back of a camper. The process of finding the right position for the RV is simplified when using these levels.
We purchased this ladder before we left on our 17-month RV trip and it was one of the best purchases to date.
It got used over and over again for getting up to check on the roof, brushing leaves off the slideout and other RV repairs.
And because it's telescopic and lightweight (only 24 pounds), it easily fits in the passthrough of our travel trailer.
RVers need a ladder. It's that simple. Ladders, however, are also on the list of things that are kind of annoying to spend money on. Which makes it one of those great gifts for RV owners!
(There's our sticker map, too!)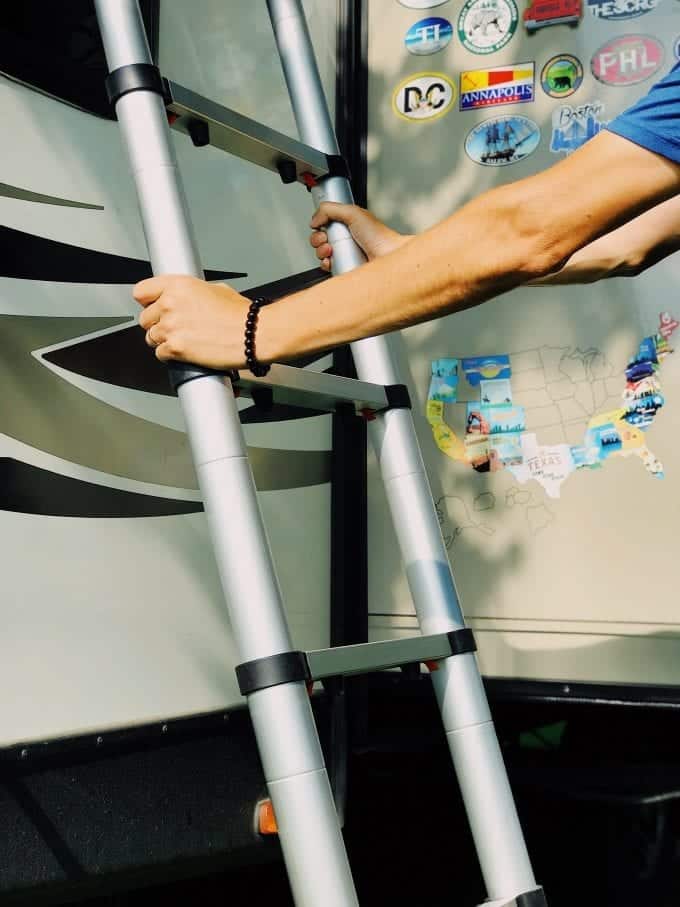 25. Portable Ice Maker – When you need a nice cold drink
A TREKKN reader suggested this gift idea! A portable ice maker is something we don't currently travel with, but after reading more about this countertop ice maker, I'm asking myself 'why not'?
If you have a regular-sized RV refrigerator, freezer space is just about non-existent. And if you love ice with your drinks, then a portable ice maker makes complete sense.
This ice maker gives you ice in about 6 minutes and it comes highly recommended from our Trekkn community!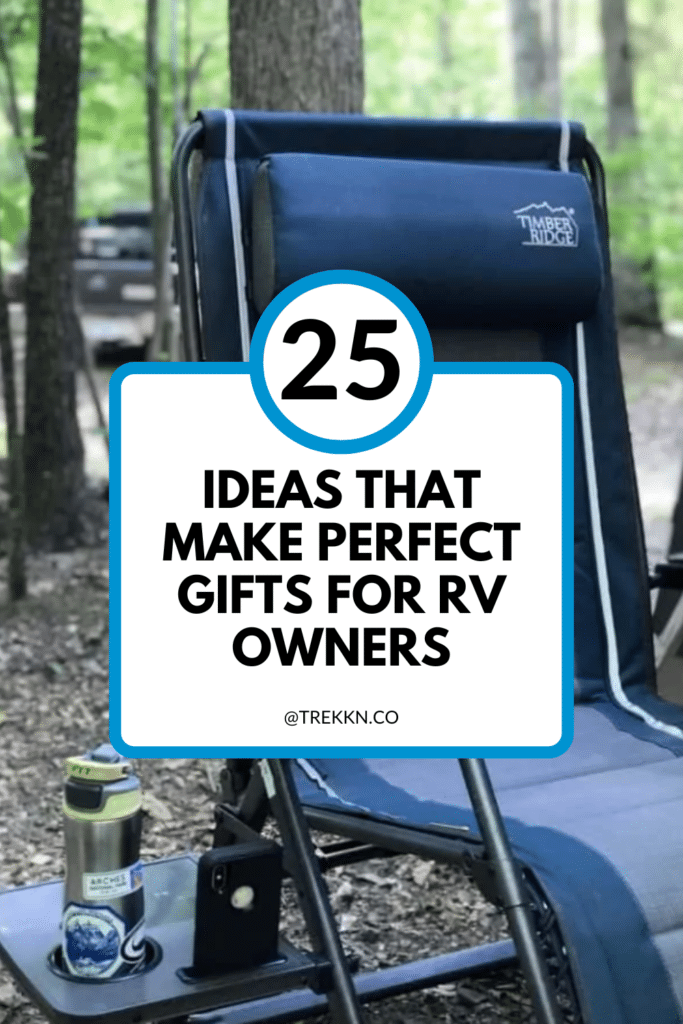 RV Gifts for Staying Connected & Entertained
Ask any full-time RVer what one of their favorite topics to discuss with other full-timers is and they'll tell you…Internet connectivity.
It's a hot topic for sure!
Some weekend and seasonal RVers like to go totally off-grid and aren't worried about connectivity. But if you're full-time or work from home, an internet connection is a must.
There are times you're on an RV trip and you're perfectly fine with no cell signal. But then there are other times when you don't want to be quite as unplugged, but you're in a spot where the cell signal is very weak.
Many times RV parks are located in these weird dead spots. Right outside the gate, the signal is fine but then you drive into the park and boom, no signal.
We've also experienced times where your RV neighbor has a signal, but you don't. Even a few yards can make the difference. The weBoost cell phone signal booster has saved us on many occasions.
These boosters are based on innovative technology that must be compatible with the phone carrier signals. Because of this, new version are introduced fairly often.
The weBoost Drive Reach RV is a cell phone signal booster kit that boosts 4G LTE and 5G signals for all major US carriers (AT&T, Verizon, T-Mobile, and more). The booster works by amplifying the signal received from the exterior antenna.
If the primary need is during long stays in remote areas, we recommend the weBoost Destination RV Signal Booster, which is designed for stationery use. It has a 25′ collapsible pole for extended antenna height and boosts 5G and 4G LTE for all major US carriers.
If you're interested, you can read more about RV internet solutions here.
The Top Gifts for RV Owners in 2023
More than anything else, I hope that this gift guide for RV owners has either shown you the perfect gift for the one on your list or has sparked some great ideas.
If you have any questions about this gift guide, please feel free to leave us a comment and we will get back to as quickly as possible.
Thank you for being a part of the TREKKN community!
PIN THIS TO SAVE FOR LATER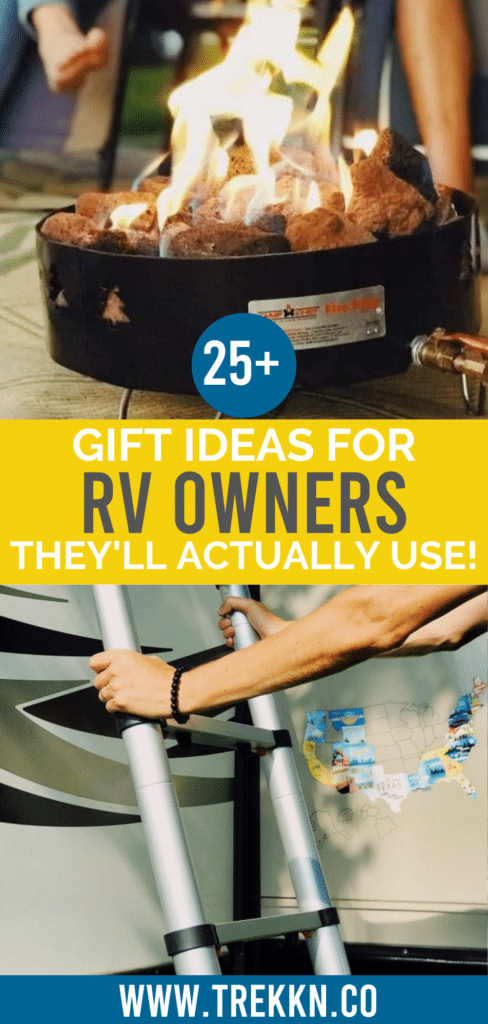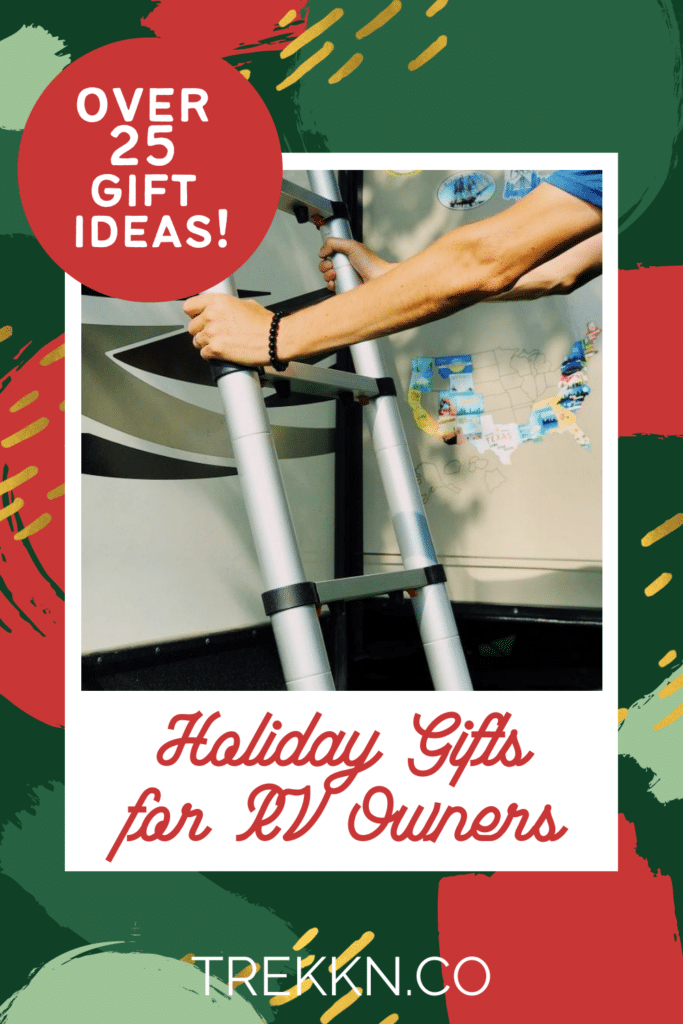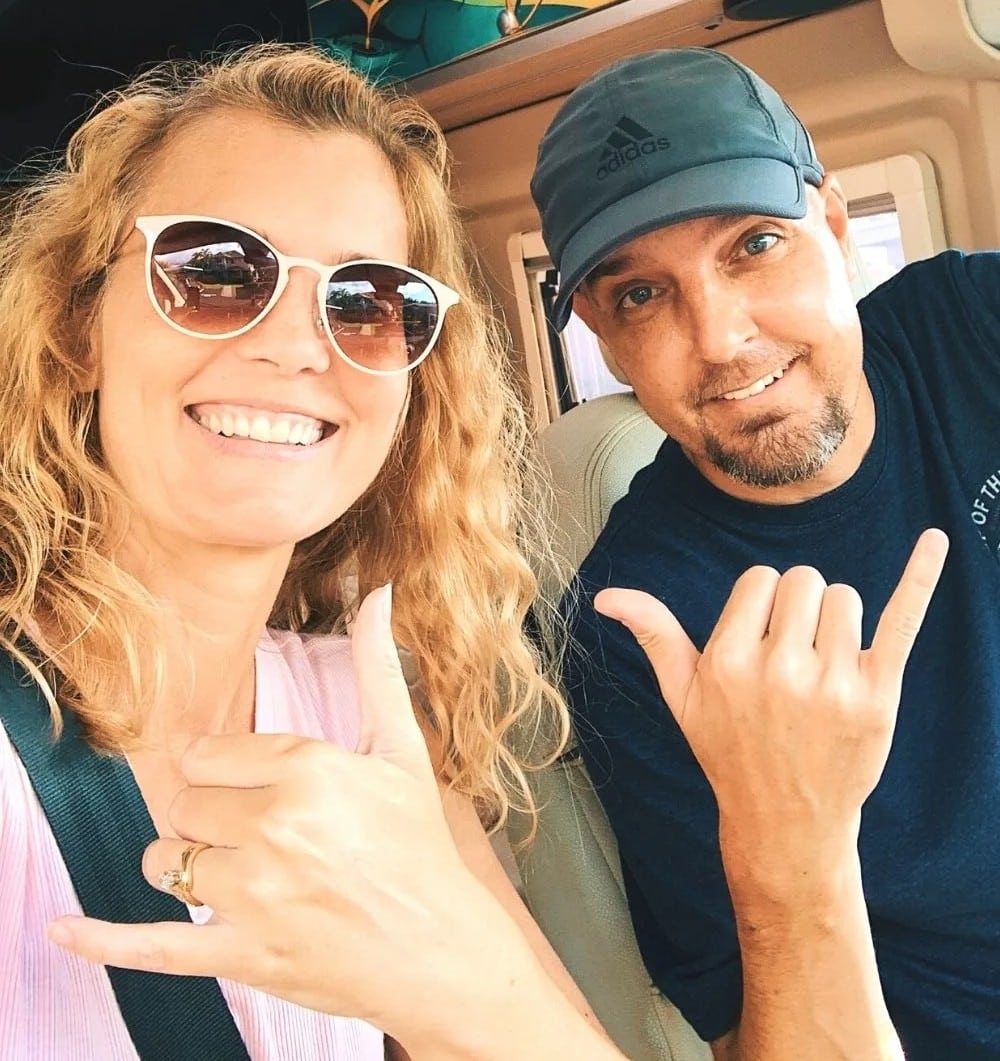 Todd loves a competitive game of table tennis, a breathtaking hike, and exploring new places. He lived and traveled in an RV with his family as they traveled throughout much of the US and parts of Canada. Todd has extensive knowledge about RV travel, safety, and accessories and has shared many of his stories here on TREKKN. When he's not busy launching and building small businesses, you may find him staring at pictures of Glacier National Park (probably his favorite spot on earth).