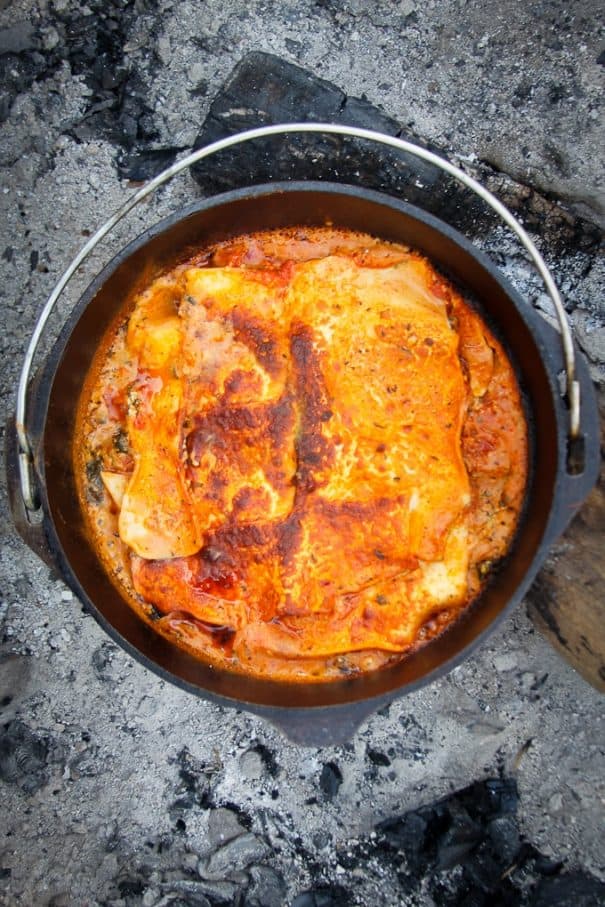 If you're looking for a fun way to feed your family while enjoying the great outdoors on a camping trip, these 40 insanely tasty dutch oven camping recipes are for you.
Does the idea of cooking over the fire in a dutch oven intimidate you? If it does, let me tell you, it shouldn't. This is one of the easiest ways to whip up a meal or dessert for your family.
It's hassle-free because there's one pot to cook in and one pot to clean up. That's my kind of camp cooking! It's also very versatile because you can use it over the fire, on a propane cooktop or in your RV oven.
(Hey, you should be sure to check out our convection oven recipes post while you're at it!)
Dutch ovens are also very durable and can take a beating. If taken care of properly, they'll last you a very long time.
We'll get into some of the basics of Dutch oven cooking in a bit for beginners who want a little more information. But for those of you who just want the recipes, let's dig in!
40 Insanely Tasty Dutch Oven Camping Recipes
Let's start with the first meal of the day, breakfast. From a breakfast fit for a mountain man to pancakes with berries and cinnamon rolls, these dutch oven recipes are worth waking up for.
Dutch Oven Breakfast Recipes
1. Mountain Man Breakfast
If you've got a busy day of outdoor activities planned, starting the day with a hearty breakfast is always a good idea.
This Mountain Man Breakfast includes sausage, hashbrowns, and eggs serves 6 to 8 people and takes about 20 minutes to cook. It's simple, it's easy and it's a crowd-pleaser.
2. Ron's Dutch Oven Biscuits
What goes perfectly with a Mountain Man Breakfast? Biscuits.
Ron, a real deal cowboy, shows us how to make homemade biscuits in the Dutch oven.
If you'd like a written recipe to follow, check out this homemade dutch oven biscuit recipe from Trek Southwest.
3. Dutch Oven Biscuits and Gravy
If you want to kick those biscuits up a notch, add some gravy. This recipe uses packages biscuits, which makes preparation a lot easier.
4. Sheepherder's Breakfast
We've got breakfast fit for a mountain man and now one for a sheepherder. This recipe has bacon, onion, frozen hashbrowns and requires about 30 minutes of prep and cook time. Serve it with some toast, coffee, and juice for a hearty complete meal.
5. Dutch Oven Cinnamon Rolls
These homemade cinnamon rolls require time for rising, so be sure to add that into your prep. You could always make the dough the night before. Let them rise, roll them up, cover tightly and put in the refrigerator (if you have one while RV camping).
If you'd rather used canned cinnamon rolls, check out this recipe.
This Giant Cinnamon Roll recipe in a dutch oven also uses canned cinnamon rolls. And it's giant, so it tastes better obviously!
6. Dutch Oven Breakfast Pizza
You had me at pizza.
Featuring a cornmeal batter on the bottom for the crust, eggs for the batter and ham, cheese, tomatoes and green onions for toppings makes this one flavorful breakfast.
7. Dutch Oven Dutch Baby with Berries
A dutch baby is also known as a German pancake and this recipe will have you wanting to try these asap. They are also known for being incredibly delicious and irresistible. Instead of covering this with syrup, try blackberries, powdered sugar and a squeeze of lemon juice. Hungry anyone?
8. Dutch Oven Caramel Apple French Toast
What do you get when you mix French bread with apples, cinnamon, and caramel? This amazing recipe for your camping breakfast. YUM.
Dutch Oven Bread Recipes
Bread is good for any meal of the day. Bread cooked in a dutch oven while camping is one of the best things you'll ever taste in your life. From sweetbreads to your basic white bread, you'll be making bread over the campfire in no time.
9. Crusty Dutch Oven Bread
With just four ingredients and no kneading necessary, there should be nothing holding you back from trying this dutch oven bread recipe from 4 Sons R Us.
All you need is flour, salt, yeast and warm water, which makes this the perfect no-fuss camping recipe. It delivers that yeasty, warm bread, fresh out of the oven taste we all know and love for very minimal work.
10. Dutch Oven Cinnamon Bread
While this recipe does require 12 hours of rising time, it sounds like it's well worth it. Just mix up the dough the night before and let it do its thing while you're peacefully sleeping away. When you wake up that next morning, just know that the dough takes an additional 25 minutes of rising time, plus 40 minutes to bake in the oven.
If you'd rather cook this over the campfire, here's a handy video on converting conventional oven recipes to dutch oven cooking.
11. Pull Apart Garlic Bread
Not only does this dutch oven bread recipe look absolutely amazing, but it is so easy because it starts with your basic grocery store artisan bread. I don't know about you, but I'm ready to go camping just to try my hand at making this!
You can see the entire recipe here or watch the video below. I'm drooling. Are you drooling?
12. Dutch Oven Banana Bread
Whether you use a mix or your own recipe, these tips and tricks for baking bread in a dutch oven while camping will help you make a loaf of bread everyone will be raving about.
For this recipe and Dutch oven cooking in general, Practical Self Reliance says the key to this kind of cooking is "to place hot coals both above and below the pot."
Get her Dutch oven banana bread recipe here.
13. No Knead Jalapeno Cheddar Bread
This is a very easy bakery style bread recipe made in the dutch oven. It does require 12-18 hours of rise time, but just quickly whip it up before bed (there's only 6 ingredients) and let it rise while you're sleeping. Or mix it up in the morning, letting it rise all day, and have it for dinner.
The recipe author says she believes parmesan garlic hummus exist just for this bread to be dipped in. I would have to agree. Get the recipe here.
14. No Knead Sun-Dried Tomato, Olive and Feta Bread
I'm imagining this bread served with a Mediterranean salad for lunch and wow my mouth is watering. Like many of the breads mentioned above, this also requires 12-18 hours or rise time at room temperature.
From reading through the comments, you can use either green or kalamata olives. Everyone is also saying how this bread is packed with flavor. Get the recipe here.
15. Dutch Oven Zucchini Bread
Fellow campers will be extremely jealous and might stop by for an unexpected visit when they smell this zucchini bread baking up at your campsite. With ingredients like ground cloves and cinnamon, get ready for mouths to water while it's baking.
It takes about 50 minutes to an hour to bake. Get the recipe here.
Dutch Oven Pizza Recipes
I felt pizza cooked up in a dutch oven deserved an entire category by itself because, well, it's pizza.
16. Dutch Oven Pizza – A Simple Dutch Oven Camping Recipe
This is such a simple recipe and the perfect meal to whip up quickly for lunch if your crew is starving. All that's needed for this recipe is refrigerated pizza dough, pizza sauce, shredded mozzarella cheese, and whatever topping you'd like.
To kick this pizza up a notch, I'd recommend adding some fresh herbs after it's baked like basil. YUM. Get the recipe here.
17. Dutch Oven Pizza + Tons of Topping Combo Ideas
This is by far one of my favorite dutch oven pizza recipes. Not only do they give a ton of topping combo ideas (I'm looking at you Mozzarella + Chicken + Red Onions + Cilantro + BBQ Sauce) but they also share some handy tips on how to make sure you're pizza turns out perfect in the dutch oven.
For example, a little bit of cornmeal can help improve the pizza crust and give it a little crunch.
You can either use prepared pizza dough or their 30-minute pizza dough recipe.
18. Dutch Oven Deep Dish Pizza
Here's a pizza recipe for all you deep dish lovers.
Hey Grill Hey has a delicious recipe for pear, brie and prosciutto pizza over the campfire. If you're wanting something other than your basic pepperoni pizza, this recipe is for you.
She also gives some great tips on dutch oven cooking so your pizza turns out just right.
Vegetarian Dutch Oven Recipes
Whether you're vegetarian yourself or are looking for some meatless ideas to save a little grocery cash, these vegetarian dutch oven recipes are perfect for camping.
19. Vegetarian Lasagna
Using no-boil lasagna noodles is the trick to making this vegetarian lasagna easy peasy for camping. Add in ricotta and mozzarella cheese, plus spinach and fresh herbs and you have the perfect meal to fuel you before a hike.
Get the recipe here.
20. Vegan Minestrone Soup
Imagine this yummy soup cooking up over the campfire on a cold night. To cut the prep time by quite a bit, used canned beans instead of soaking them overnight.
While this recipe is for the stovetop, you can easily make this over a campfire or coals. We'll include a couple of dutch oven cooking for beginner videos towards the end of this post.
Get this vegan recipe here.
21. Campfire Nachos
Fresh Off the Grid shares that the secret to fantastic dutch oven nachos are the layers. They say building from the ground up is key: chips, cheese, toppings, repeat…
If you build your nachos correctly, each chip is a celebration of crunch, cheese, and delicious topping.
A celebration of crunch? I'm in! Get the recipe here.
22. Vegan Sweet Potato Corn Chowder
Not only does this recipe look and sound delicious, but they even give you helpful tips on what to prep at home first.
Because you're grilling the vegetables, I can only imagine the flavor this chowder has. There's a huge difference between grilled corn fresh off the cob and a bag of frozen.
Top the chowder off with green onions and avocado for one amazing vegetarian meal for camping. Get the recipe here.
Dutch Oven Chicken Recipes
23. Chicken Cacciatore
Laura from Family Spice knows a thing or two about camp cooking. Her family goes camping a lot and what started as just a way to enjoy meals together while camping, turned into her very own cookbook. The Camp & Cabin Cookbook features 100 recipes for camping. Not only does it feature gorgeous food photography, but also detailed prep instructions.
You can get your own copy here and start cooking amazing camping meals your family will love.
Her Chicken Cacciatore recipe is made with chicken thighs, mushrooms, and more tasty vegetables. Get the recipe here.
24. Dutch Oven Sprite Chicken Recipe
I'll give you one guess for why this is called Sprite Chicken.
Yep, Sprite is the liquid used to make this recipe, but the recipe creator says you can substitute apple juice instead.
This is a hearty meal perfect for consumption after a busy day of hiking or other outdoor recreation activities. With chicken, potatoes, bacon and carrots, this is camping comfort food at its best.
Get the recipe here.
25. Sausage and Chicken Cajun Jambalaya
If you enjoy Cajun spices, this recipe is for you. It's also gluten-free and dairy-free, plus makes fantastic leftovers.
26. Dutch Oven Roasted Chicken
If roasting a whole chicken in your dutch oven while camping intimidates you, don't let it! This incredibly easy recipe features detailed instructions so you can make sure this meal turns out perfectly.
I would recommend bringing a meat thermometer with you so there's no guessing if the chicken is ready or not.
27. Dutch Oven Chicken Pot Pie
There is just something so comforting about a chicken pot pie isn't there?
This recipe takes about 15 minutes of prep and 30 minutes of cook time. By using an already prepared pie crust, this comes together easily and will be a definite crowd-pleaser.
28. BBQ Dutch Oven Chicken and Potatoes
This super simple recipe features flavorful ingredients and comes together quickly in your dutch oven. The hardest part of this recipe is waiting to eat it. Because, bacon.
Get the recipe here.
29. Dutch Oven Chicken Marbella
Would you like a gourmet campfire experience without all the work? This is the recipe for you.
Fresh Off the Grid does it again with this yummy recipe full of Mediterranean flavors.
They recommend combining the ingredients in a large freezer bag at home and throwing it in your cooler. This makes for super easy prep at your campsite.
30. Dutch Oven Chicken and Dumplings
Another comfort food winner – chicken and dumplings!
Cook time is about an hour, so be prepared to sit around the fire and chat for a bit while your delicious dinner cooks. The great thing about camping is you don't have to be in a hurry! Dinner is ready when dinner is ready.
Get the recipe here.
Dutch Oven Beef Recipes
31. Kalamata Olive and Sundried Tomato Pot Roast
Blow your family's mind by serving up pot roast on your camping trip. (Well, my family's mind would be blown.)
This is such a great Italian twist on pot roast and I can't wait to try it either at home or on our next camping trip.
Get the recipe here.
32. Campfire Stew
This campfire stew is easy to prepare and only requires four ingredients to make. Yes, four! Talk about the perfect recipe to serve your hungry camping crowd.
To make this while camping, be sure to refer to the notes in the post.
Get the recipe here.
33. Campfire Beef Stew and Dumplings
Believe it or not, this recipe only takes about 5 minutes to prepare, if you do some prep work at home like chopping up some of your veggies and meat. But be prepared for the 2.5 – 3 hours slow cook time.
Get the recipe here.
34. Dutch Oven Short Ribs
Roasting the short ribs for 30 minutes gives this recipe amazing flavor. On top of that, you mix beer, BBQ sauce, and water to cook the veggies in. The result? The most tender and flavorful ribs you've ever tried.
Get the recipe here.
35. Old Fashioned Goulash
If you need a meal that feeds a crowd, is packed with flavor and also very easy, this recipe is for you.
Another great thing about this recipe is you can add or substitute ingredients your family likes. Add corn or beans, make it Mexican style with different spices.
Get this recipe here.
Dutch Oven Desserts
Are you ready for the sweet stuff? Get ready to have a very happy sweet tooth.
36. Dutch Oven Upside-Down Pineapple Cake
This recipe is nearly fool-proof and feeds a hungry crowd. Follow her instructions and you should have one tasty cake ready in about an hour.
37. Dutch Oven Berry Cobbler
After a long hard day of camping, what's better than a warm berry cobbler? Not much.
This recipe uses refrigerated biscuit dough, strawberries, blackberries, and blueberries and comes together in a little over an hour. Get her recipe here.
38. Texas Peach Cobbler
Being a Texan myself, I can tell you just how popular peach cobbler is. It's a mainstay and something I look forward to every peach season.
For this recipe, you'll need two crusts; one for the top and one for the bottom. You could either used prepared crust or make it ahead and freeze, pulling it out about 15 minutes before you start cooking.
39. 10-Minute Dutch Oven S'Mores Cake
A lot of these dutch oven camping recipes take quite a bit of time to cook, that's just part of what makes the recipes so delicious. But, if you're tired or in a hurry, the last thing you want to do is spend an hour or more making dessert for those hungry camping people.
That's where this 10-minute Dutch Oven S'Mores Cake comes to the rescue.
How is a cake recipe done in 10-minutes you ask? It uses a prepared angel food cake. Brilliant! Get the recipe here.
40. How to Bake a Pie in a Dutch Oven
Whether you want peach or strawberry rhubarb, this dutch oven recipe for baking a pie is perfect for wet pies such as these. Baking a pie in cast iron helps the bottom crips up and to not be soggy like so many fruit pies tend to be.
Get the recipe here.
Dutch Oven Camp Cooking Beginner Tips
Are you a beginner dutch oven camp cook? No worries! Here are some resources to watch/read so you can be educated on the best practices. But remember, the best way to learn Dutch oven cooking is to just do it!
Are you ready for some Dutch Oven cooking while on your next camping trip? We truly hope these Dutch Oven camping recipes help you to put together a camping menu your family will devour.
Be sure to check out TREKKN's other recipe roundups for camping: Foil Packet Meals, Make-Ahead Camping Meals and easy RV meals.
PIN THIS