7 RV Packing Tips to Avoid a Disaster Inside Your Rig on Travel Days

Travel days while RVing can be quite stressful at times. From issues with your rig and tow vehicle to things getting thrown around in your RV. But we've got a few RV packing tips up our sleeves that will help make your move day go a bit smoother.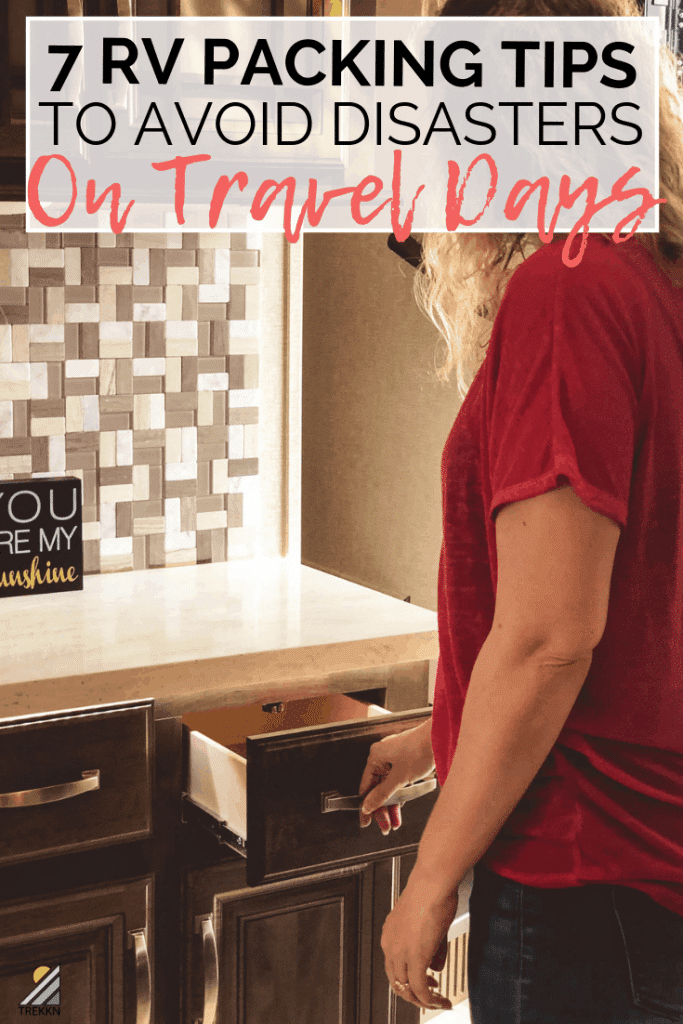 A TREKKN reader submitted this question:
"Any ideas on packing to move spots without having a disaster when you stop?"
What a great question! A question that's worthy of its own post.
Lessons Learned as Newbie RVers
Early on in our RV travels, we did what most newbies do and learned things the hard way. There's only so much you can read and watch and research before you realize the best way to learn is to just get out there and do it.
Side note: Here are 5 pieces of advice for the RV newbie we wish we'd been given.
As Todd has mentioned before, we had never RV'd before when we set off on our full-time RVing adventure. We went from a house to RV in 100 days with absolutely no experience. I tell people all the time…if we can do it, so can you. Scary, but true!
Needless to say, we had a lot to learn in those early days and did we ever learn them.
One thing I learned quickly was how to avoid a disaster inside our travel trailer on move days.
I learned how to make sure plates don't fly out of the cabinets after opening the door at our new campsite and seeing dishes scattered everywhere.
I learned how to secure items in the refrigerator after opening it and having a jar of pesto fall out and explode everywhere. (I still have a pair of shoes with a pesto stain I can't get out.)
I learned that latching the bedroom doors closed is actually necessary after seeing our doors and walls get a beating.
7 RV Packing Up Tips to Avoid a Disaster In Your RV on a Travel Day
So, how can you avoid disasters inside the rig on your travel days? First, read our tips below. Second, just get out there and learn from your mistakes. 😉
1. Clear Off Your Counters
I caught myself thinking a time or two, surely I can leave this on the counter and it won't go anywhere…it'll be fine, right? Don't do it. Don't give in. Clear those counters!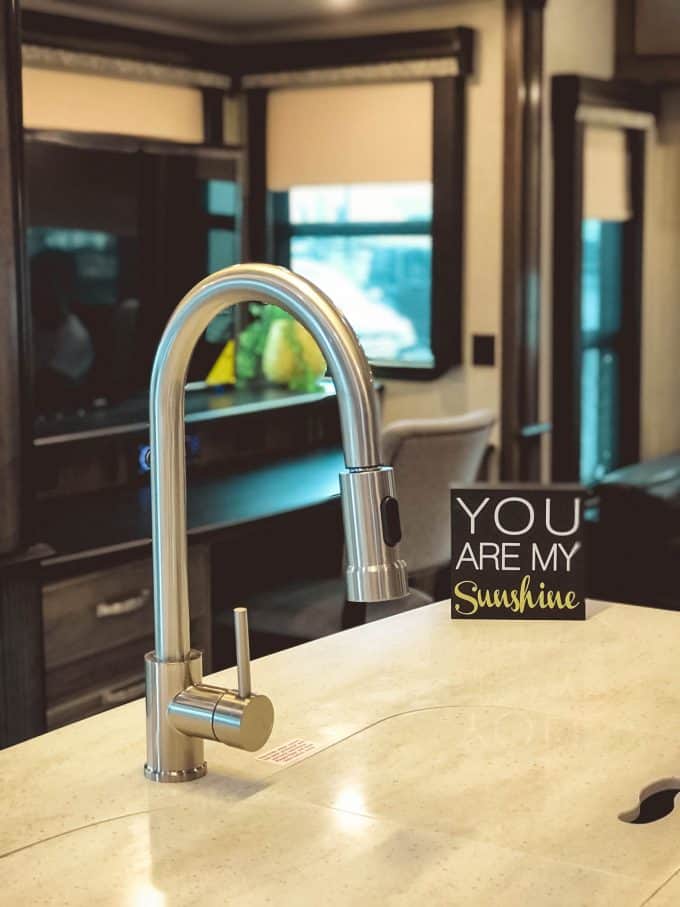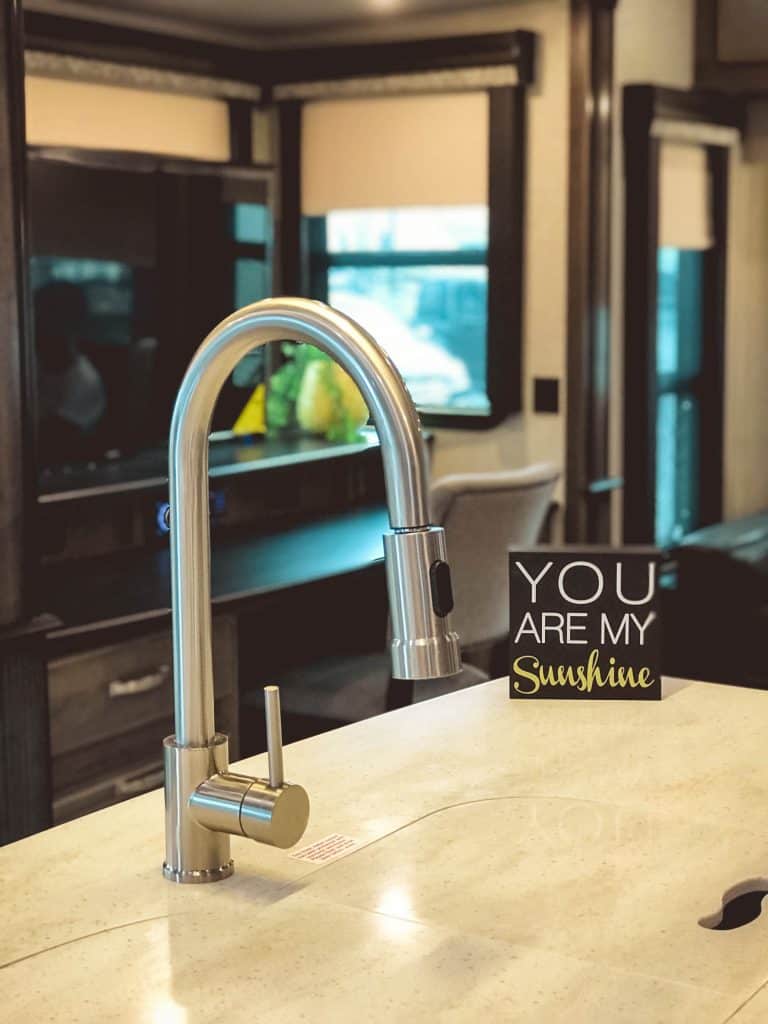 I once left bananas on the kitchen counter and after we reached our destination, although they didn't fly anywhere and stayed put, they looked like they had been through some hard things in their short little banana lives. They took a serious beating being bounced around the counters.
I've also left odds and ends on the counter, only to open the door and see that they had flown off the counter (probably like a torpedo) across the RV.
Your best bet is to just take the extra minute or two to clear off the counters.
This Camco RV Refrigerator Bar costs about $10 and is worth every penny. It's spring loaded to keep the items in your refrigerator where they belong. Just insert the bars across the opening like a gate, on the inside of the refrigerator door. These bars will save you a lot of clean up time.
The bars help save you clean up time because the contents inside your RV Refrigerator will shift and slide and fall during travel. When you open that door, items will fall out. Ask me how I know that? It's just another one of those lessons I learned the hard way.
But after a jar of oily, strong-smelling pesto falls out of your fridge and sprays bright green pesto all over the floor and walls, you realize the importance of using a refrigerator bar.
After purchasing one of those, we never had another spilling incident.
On a side note…if you plan on RVing to Canada, they will most likely open your refrigerator to check the contents. Imagine a jar of pesto falling on the feet of one of the border agents. You can read our handy guide about crossing the Canadian border here.
3. Use Tension Rods in the Cabinets
Another inexpensive and handy gadget for move day, are these cupboard bars.
Use them in your cabinets, pantry, and bathroom to keep things from falling and shifting. I used them in our kitchen cabinets to keep the plates, mugs, and cups from falling out when I opened the door.
4. Lock Your Cabinet Doors from the Outside
To keep your cabinet doors from opening in your RV and everything flying across the room, using simple child locks will keep them in place. We can recommend the Kiscords for cabinet knobs and these U-shaped locks for cabinet handles.
5. Put Loose Items in Bins and Store on the Floor
One item we used over and over, were these foldable cube storage bins.
On move day I put all of the loose items that were on the counter, the dining table, and any other areas in these bins on the floor. They didn't slide around since they were cloth. Also, when not in use, they fold up so I could store them flat behind our couch.
We use bins like these in our closets as well to store clothes and shoes.
In the bathroom, however, I use plastic bins in the tub to store shampoo, conditioner, and soaps on travel days.
6. Use Picture Frames with Plastic Covers Instead of Glass
Whether you use command strips, nails or screws to hang pictures on your RV walls, chances of them falling on a travel day are high. This happened to our pictures several times and I was incredibly thankful I had chosen frames with plastic covers instead of glass.
I've heard a story or two of RVers finding broken glass everywhere after pictures had fallen during travel.
Another option is to remove the glass cover completely, which is what I did with these printables I hung up.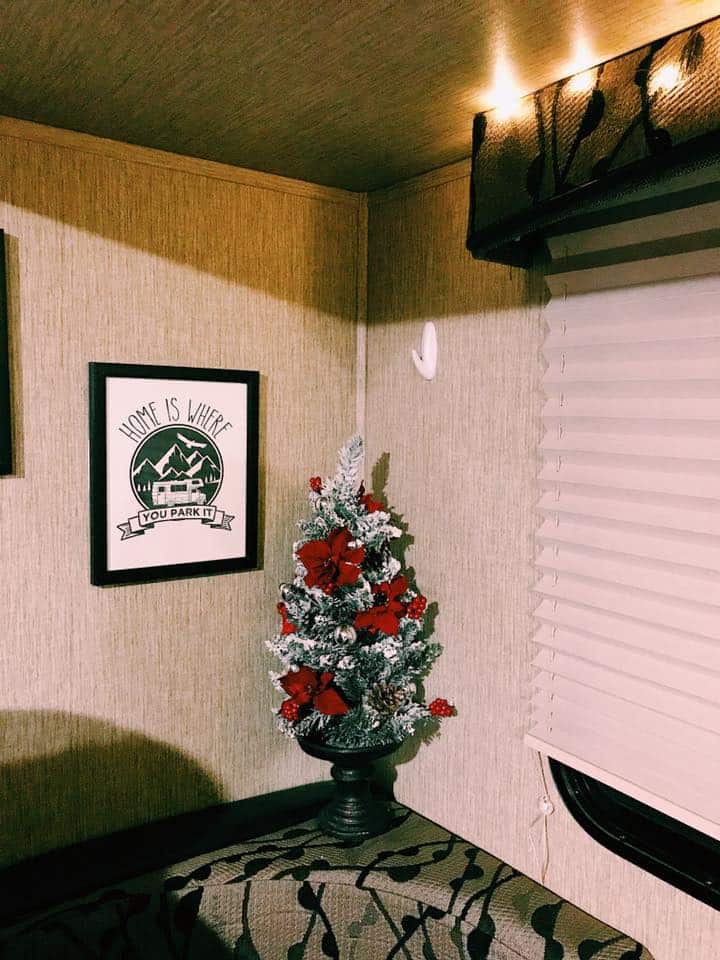 But, there was one piece of art we purchased from the Ansel Adams Art Gallery in Yosemite National Park that I wanted to protect. So it was hung with an acrylic cover.
7. Follow the Same Routine Every Time
The best way to make sure you're doing everything on your list to avoid any disasters on a travel day is to follow a routine. Whether that's starting from one side of the RV and making your way to the other side, or using a physical checklist to mark things off.
Having a routine of some sort will help you remember important things on a travel day, like taking all the soap containers off the shower shelves and storing them in the bins.
---
I covered a few of these packing-up tips in our RV tour video below. Check it out!
---
I truly hope these RV packing tips help you avoid as many travel day disasters as possible. I'm thankful our lessons learned were only minor ones!
If you have any tips to share, please do so in the comments below. We love hearing from fellow RVers what works for them!
PIN THIS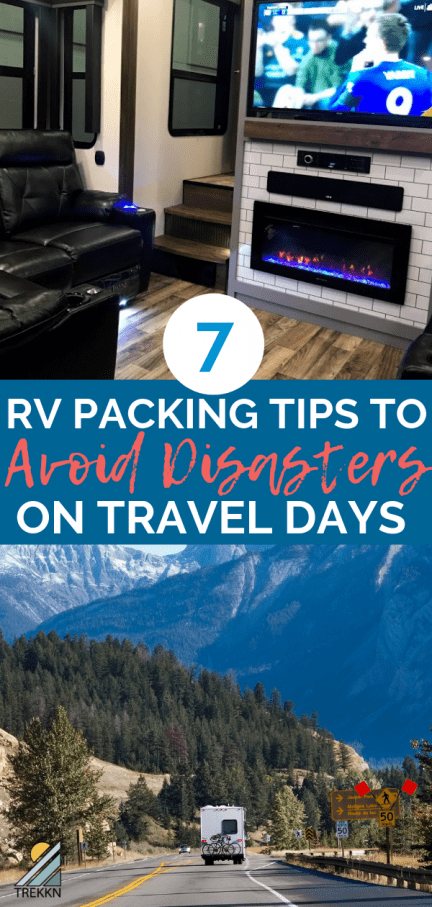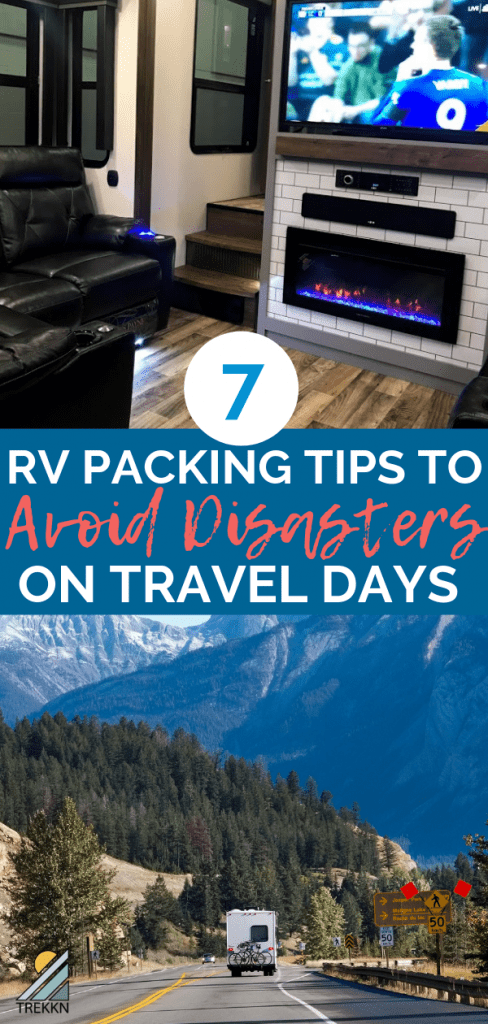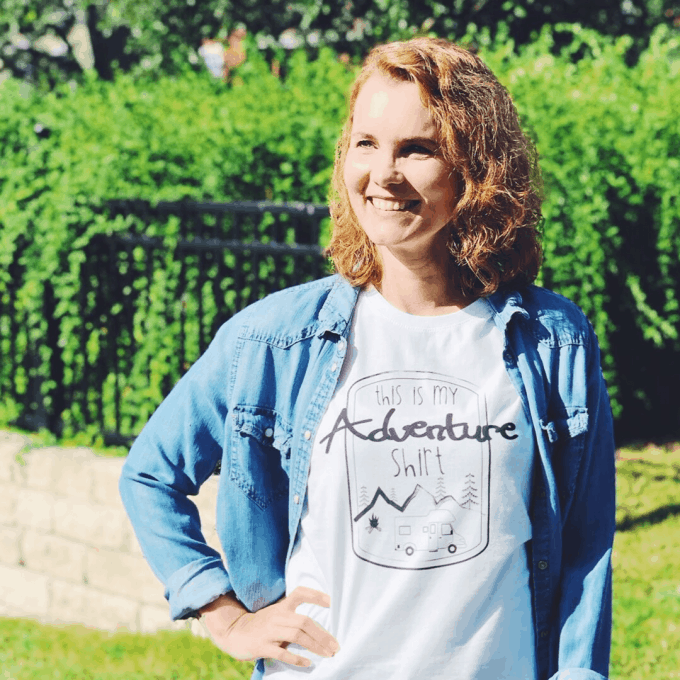 Julie specializes in helping you whip up delicious meals in your tiny RV kitchen, as well as RV organization tips and helping fellow RVers make their RV feel like home. Her favorite RVing spot is in Banff National Park in Canada where yes, the water really is that blue and the people really are that nice.