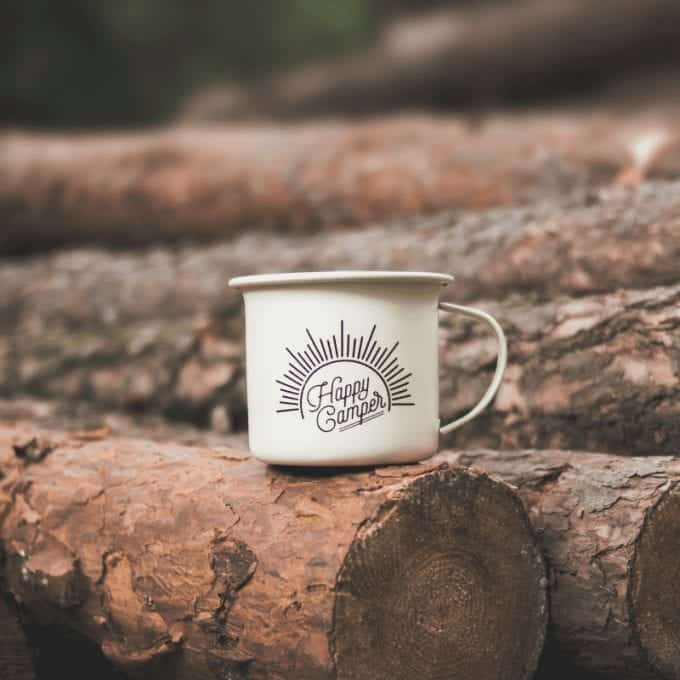 Is there anything cuter to decorate your space with or give as a gift than happy camper decor? I don't think so. From mugs, art, and a happy camper shirt or two, there are so many great ideas for expressing your love of camping and RVing.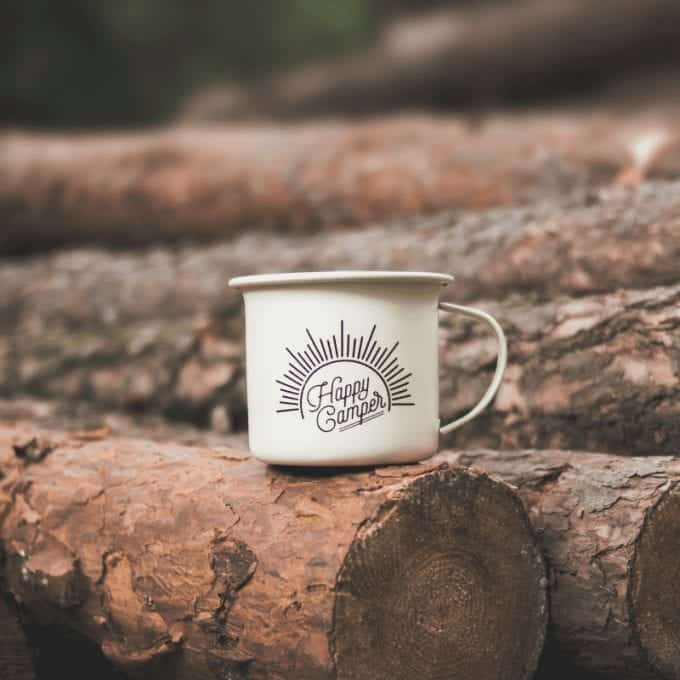 When we moved into our home on wheels for a year (or so) of travel, I couldn't wait to do a little happy camper decorating. I searched high and low for travel trailer decorating ideas. As I mentioned in this RV hacks post, we knew we weren't going to do any remodeling, just some simple decorating to make our space feel cozy.
After some printable artwork, pillows and an ottoman to put our feet up on, our RV started to feel like a real home. It didn't take much to turn us from confused newbie campers to happy campers ready to hit the open road.
Here are some of our favorite happy camper decor and gift-giving finds we think you'll love as well.
Happy Camper Decor Ideas
Happy Camper Art
From printables and tapestries to wood and canvas, there are camper decorating ideas for everyone.
This rustic happy camper sign is made with recycled and repurposed materials and is the perfect accent to your RV or home. It's easy to hang or it can also stand alone.
Wash, brush and flush – a cute reminder to hang in your camper bathroom. These 3 sings are easy to hang and come with non-marking wall mounts. The wall mounts are repositionable, so if you change your mind (or hang them crooked) you can easily remove and re-do.
This set is printed on quality, thick material with an edge, so no framing needed!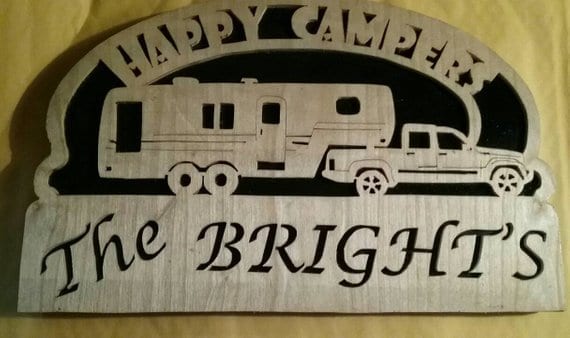 This custom order is for all you road warriors. It's custom and handmade, just provide the artist with your last name. It has a gloss finish and black wood backing.
The sign pictured above is for 5th wheels, but don't worry travel trailer and Class A owners, they've got you covered too:
This 3-piece art set is printed on wood and features a lantern and campfire, alongside 'Happy Camper'. This would be perfect for an RV bedroom or a camping themed bedroom at home.
Happy Camper Printables
Instantly download these Happy Camper Decor printables. Then just frame and hang!
Watercolor camper with flowers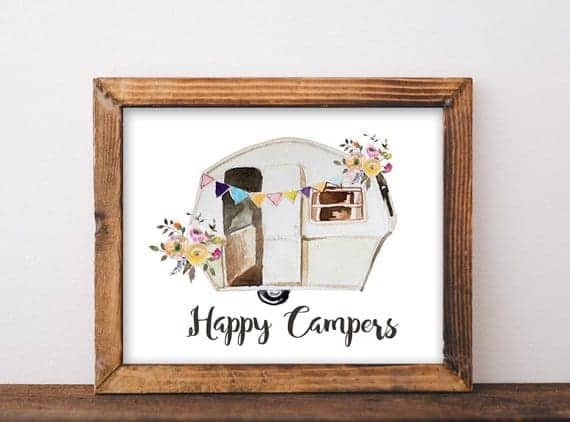 Happy Camper Printable with trees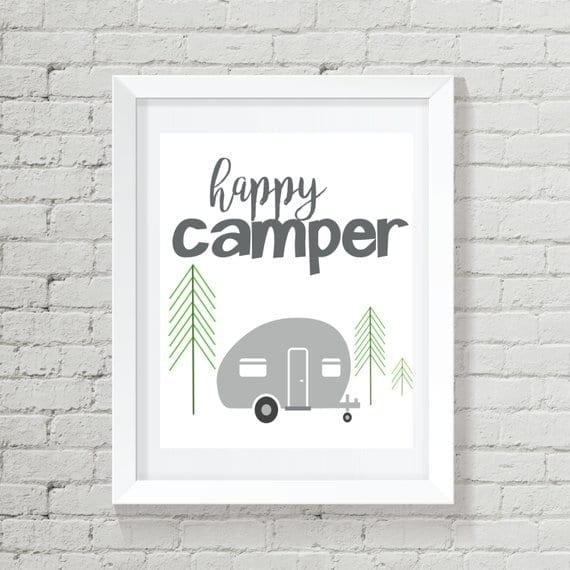 Simple Happy Camper Printable Sign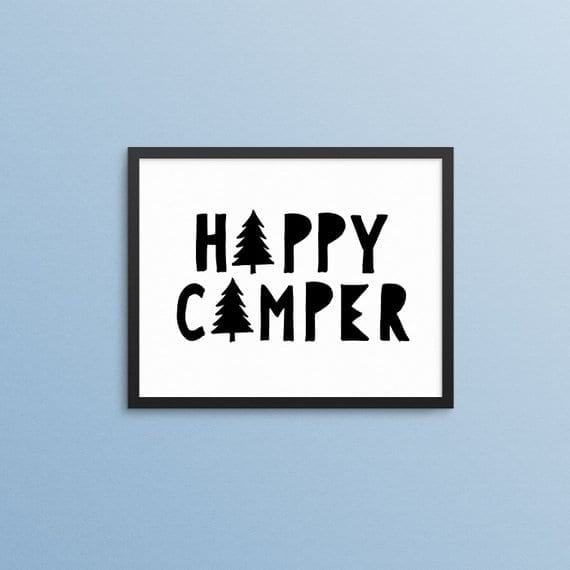 Happy Camper Instant Download Art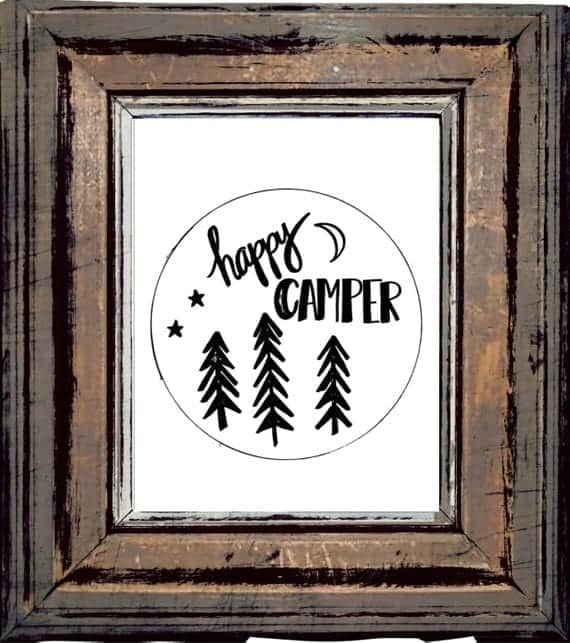 I definitely have my eye on the happy camper wall decor black and white prints.
Happy Camper Pillow
It's amazing what even one cute pillow can do for your RV decor. Of course, after you see all these cute happy camper pillow options, you're going to want more than one. 😉
One easy way to change out the decor in your camper is to purchase pillow covers. They store flat and don't take up much space. You can switch out your pillow decor for the different seasons and holidays. This teal one adds a pop of color to your space. Easy is my favorite when it comes to camper decorating ideas!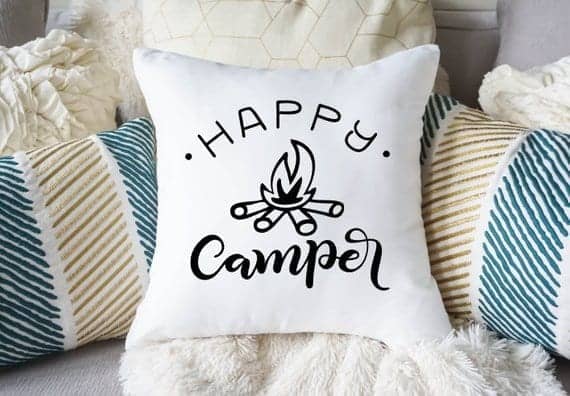 I love the simple minimalist look of this design. Like the one above, this only comes with the cover, not the pillow insert.
This pillow has that rustic lake and cabin vibe. The pillow is 10-inches square, comes with 100% polyester fiber insert and the cover is a grain sack material.
This happy camper pillow design includes arrows and evergreen trees, making it the perfect design for happy camper home decor too. You could decorate your lake house, cabin or RV.
Happy Camper Rug
Welcome your visitors with a happy camper rug.
Use this happy camper mat for the bathroom, the entrance, the edge of the bed or even outside at your steps. It's soft, is made with memory foam and features a non-slip design.
Order a personalized happy campers rug featuring your name. This is the perfect rug for the main entrance of your RV. It's made with durable heat-resistant non-woven fabric top and backed with a neoprene rubber non-slip backing.
Related post: The Best Gifts for RV owners – these are items we personally have, use and love!
Happy Camper Gifts
Happy Camper Shirt
A happy camper t-shirt is a fun gift to give your camping loving friend or family member.
Women's
Men's
Happy Camper Mug
Mugs always make a great gift! Give one of these with a pound of coffee or some hot cocoa and marshmallows, and they'll be ready to relax by the campfire with a mug in hand. I think happy camper kitchen decor is probably my personal favorite.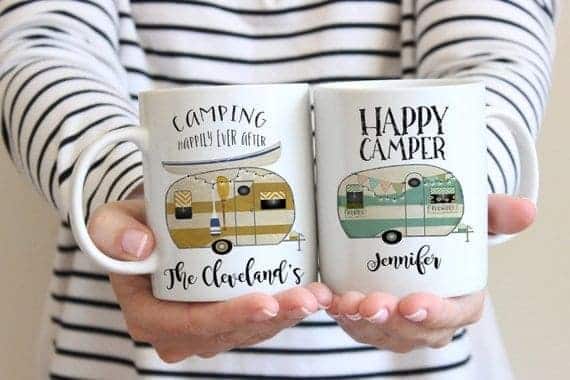 Happy Camper Ornament
Last, but not least, give this cute Happy Camper Ornament for someone special to hang on their Christmas tree.
Do you need more gift ideas for the RVers in your life? Be sure to check out our list of Gifts for RV owners here.
We hope you enjoyed these RV decorating ideas. For even more ideas, check out the posts below.
PIN THIS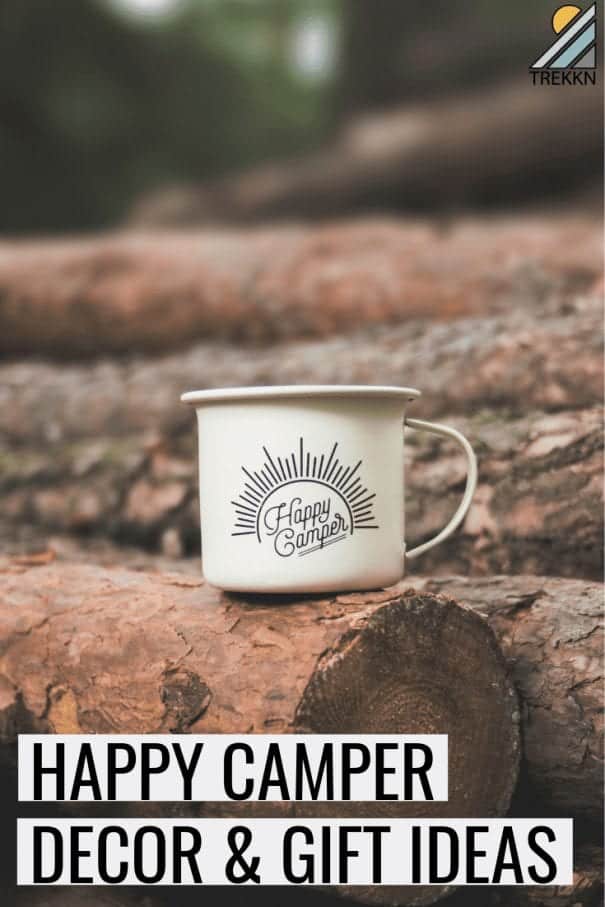 13 Ways to Make Your RV Feel More Like Home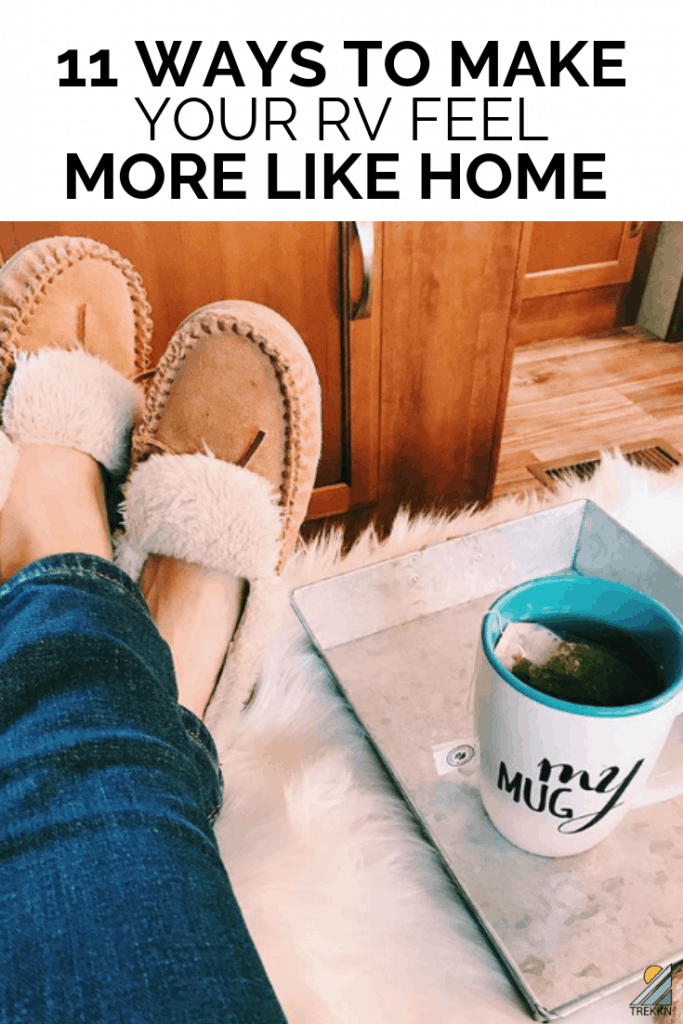 15 RV Renovation Ideas from Instagram for Some Serious Inspiration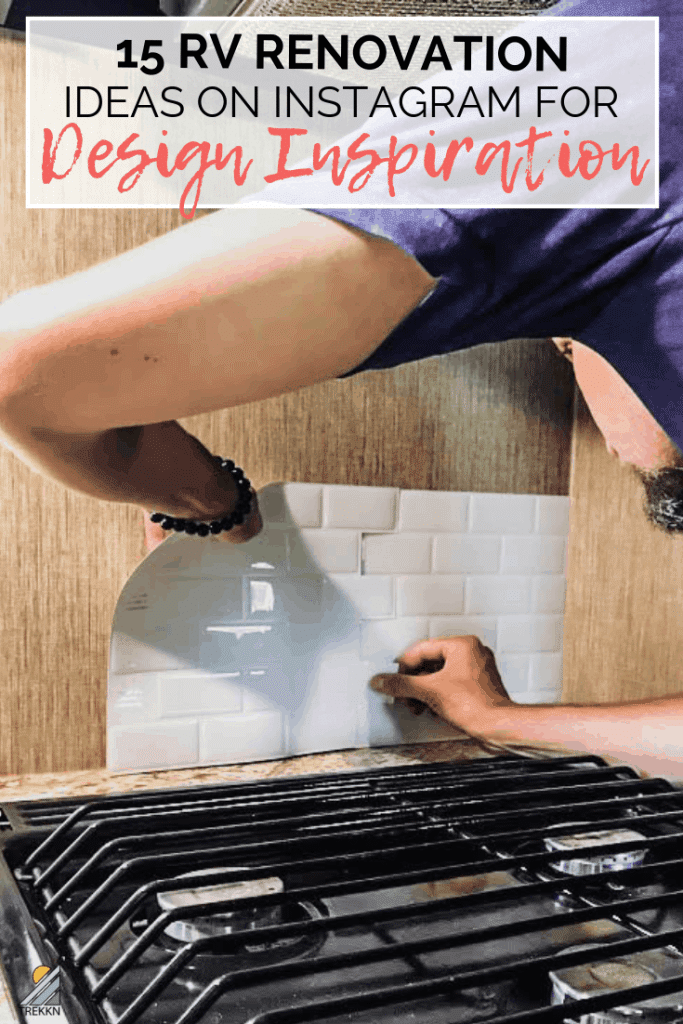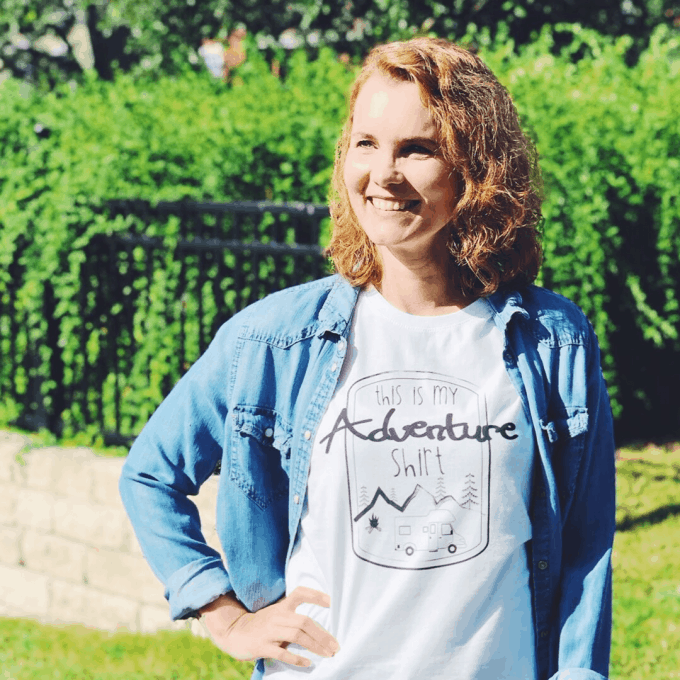 Julie Bonner is one-half of the TREKKN team. She specializes in helping you whip up delicious meals in your tiny RV kitchen, as well as RV organization tips and helping fellow RVers make their RV feel like home. Her favorite RVing spot is in Banff National Park in Canada where yes, the water really is that blue and the people really are that nice.